CNS Denounces Appropiating King For Political Purposes -- While It Does Exactly That
Topic: CNSNews.com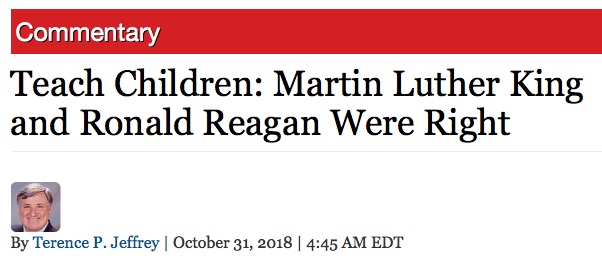 When Planned Parenthood issued a tweet honoring Martin Luther King Jr. on his birthday, CNSNews.com enlisted his niece, anti-abortion activist Alveda King (whom CNS, for once, refrained from giving her the unearned honorific "Dr.") for a Jan. 21 article denouncing Planned Parenthood for approprating King for a political cause: "To dishonor a prophet by raising a political banner which supports killing innocent babies on MLK's birthday is so inhuman. To dishonor a prophet by raising a political banner on his birthday is so inhumane."
Elsewhere the same day, CNS was, um, appropriating King for its own political causes.
A column by Media Research Center "senior fellow" Allen West appropriated King for the anti-abortion cause:
Last week was the National March for Life, and potentially hundreds of thousands, not just 1,000s, gathered to be the voice of life for our unborn. The march is going on 45 years, and I believe that Dr. King would have been part of this march. Why? Put simply, Dr. King was an impeccable man of faith, and watching now, some 18 million black babies having been killed in the womb of black mothers would undoubtedly bring tears to his eyes. In that number, how many could have been the next man, or woman, from the Old Fourth Ward, a leader and a visionary, not just for the black community, but for freedom and liberty for all?
CNS also reposted an October column by editor in chief Terry Jeffrey placing Ronald Reagan on the level of King, declaring them "two of the greatest leaders in American history not only because of the struggles they won but how they won them." Jeffrey equated Reagan's1987"tear down this wall" speech at the Berlin Wall to King's Letter from Birmingham Jail, then declared:
Reagan and King believed that human freedom depends on faith in God and respect for His laws.

Reagan led America in defeating an evil that threatened us from abroad by standing up for and righteously speaking that truth. King led America in defeating an evil that threatened us from within by using the very same means.

Today, as in other eras, there are forces that would like America to abandon this ultimate truth that King and Reagan embraced and acted upon. To these forces, the principle enshrined in the Declaration of Independence is like the sign of the cross shining off the tower at Alexanderplatz. It needs to be eradicated.

We should teach our children that these forces are wrong, and that King and Reagan were right.
So, apparentl, it's OK at CNS to appropriate King for political purposes after all.
Posted by Terry K. at 9:36 PM EST
Updated: Thursday, January 31, 2019 9:37 PM EST