MRC's Double Standard on Being Haunted By The Past
Topic: Media Research Center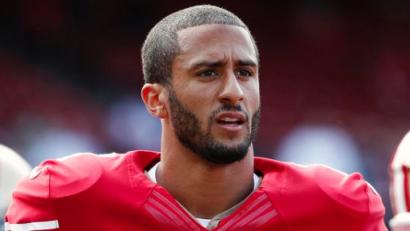 The mysterious Jay Maxson ranted in a Dec. 12 post about Heisman Trophy winner Kyler Murray's homophobic tweets as a teenager resurfacing:
Oklahoma University's superstar quarterback Kyler Murray won the Heisman Trophy on Saturday night, but by Sunday he was being shamed by the media for something that has absolutely nothing to do with his incredible 2018 football season. Instead, Murray became just the latest high-profile athlete to be busted by social media "cops" in the sports media exposing anyone who has written "anti-gay slurs" in their youth.

You won't find a single one of Murray's impressive stats (51 total touchdowns and nearly 5,000 all-purpose yards) in Sunday's USA Today story by Scott Gleeson, who's focused much of his career writing on LGBT issues.

Gleeson tackles Murray "for homophobic tweets that resurfaced after he won Heisman Trophy." Murray has apologized for what he wrote on social media six years ago, apparently calling a friend "a queer," when he was just 15. Now he's joined a growing list of athletes attacked by the media for similar "thought crimes" as a youth.
Maxson attacked Gleeson as "obsessed with the LGBT agenda to search and destroy adult athletes for youthful remarks," then lamented of Murray: "No matter where he plays in the future as a professional athlete, it's not likely the progressive media will let him escape the "homophobic" taint.
(You might recall that Maxson's Media Research Center colleague Michael Morris, of CNSNews.com, similarly targeted Gleeson for exposing Murray's homophobic tweets.)
But just a month earlier, Maxson was cheering an athlete's youthful behavior coming back to haunt him. Just a month earlier, Maxson was gleefully touting an unverified claim that former NFL quarterback Colin Kaepernick "allegedly mistreated women in the past," citing a blogger who said she received communication from an anonymous woman who claimed to know Kaepernick during his college years and that he allegedly was "disrespecting women, my friends and people I grew up with." The blooger herself admitted the claims are unverified. Maxson demanded: "The questions we're left with are these: will other media explore the claims of Salome about Kaepernick's history? Or will they sit on this and protect him and his social justice cause?"
Maxson has long been obsessed with Kaepernick.
Posted by Terry K. at 2:25 PM EST