CNS Again Privileges Alveda King With Bogus 'Dr.' Title
Topic: CNSNews.com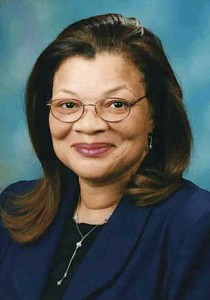 CNSNews.com has a bad habit of privileging anti-abortion activist Alveda King with the "Dr." title even though her doctorate is honorary, not earned, and thus has no business being used in someone's title.
CNS managing editor Michael W. Chapman bestows this bogus title on King once again in a Jan. 17 article:
During a discussion about religious freedom in America, Dr. Alveda King, the niece of the late Dr. Martin Luther King Jr., said that Facebook had "pulled down" ads for a movie about Roe v. Wade because the social media giant does not "want the message of the injustice of abortion broadcast," which, she added, is a "violation of religious freedom" and "very discriminatory."

Dr. King is one of the executive producers of the movie, which includes Hollywood actor Jon Voight. The fundraising website for the film can be viewed at Roevwademovie.com.

Dr. King made her remarks during a special edition of Washington Watch with Tony Perkins, who is the president of the Family Research Council (FRC). The live show on Tuesday was broadcast on the Facebook page of the FRC in honor of Religious Freedom Day. President Donald Trump proclaimed Jan. 16, 2018 as Religious Freedom Day on Tuesday.

While discussing religious liberty in America and abroad, both Tony Perkins and Dr. King praised the power of social media to spread information and especially the Gospel. However, as Dr. King explained, social media is not as freedom-loving as one might think.
And so on. It's a shame such misinformation is becoming a greater presence at CNS.
Posted by Terry K. at 5:31 PM EST