Newsmax Columnist Lionizes Late Navy Admiral, Ignores His Right-Wing Conspracy-Mongering
Topic: Newsmax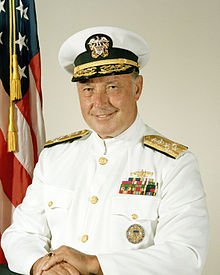 We missed that retired Navy Adm. James Lyons died in December. But Newsmax columnist Joseph Schmitz served up a gushing tribute in a Feb. 16 piece:
"We the People" need now more than ever a few more "Swamp Foxes" like the late great Admiral James Aloysius "Ace" Lyons: a 21st Century Francis Marion.

Francis Marion served during the American Revolutionary War. According to The Society of the Cincinnati, "the nation's oldest patriotic organization, founded in 1783 by officers of the Continental Army," past presidents general of which include George Washington and Alexander Hamilton, Marion fought "during the defense of Charleston in 1776 and rose to the rank of colonel in the Second South Carolina Regiment. After the fall of Charleston in 1780, Marion was appointed brigadier general of State Troops and launched an effective campaign of harassment against British detachments around the state. His cunning and success in eluding capture in the coastal lowlands earned him the grudging admiration of his opponents and an enduring place in South Carolina lore as the 'Swamp Fox'."

As a modern-day Swamp Fox, Admiral Ace Lyons continued to serve after his retirement from naval service in 1987 by taking on the same swamp that President Donald Trump was elected in 2016 to drain — the administrative state run amuck.

[...]

The ongoing abuses of power by inhabitants of the current "swamp" in Washington, D.C. wouldn't happen any more if more American patriots would follow the lead of the late great Admiral Ace Lyons, an extraordinarily courageous modern-day Swamp Fox.

May God rest the soul of Admiral James Aloysius "Ace" Lyons, a role model for any patriotic American willing to take on the administrative state run amuck, in or out of uniform.
Schmitz is not going to tell his readers what Lyons was best known for in his later years: pushing conspiracy theories. We caught a few of them: his membership on Accuracy in Media's "Citizens Commission on Benghazi" kangaroo court, his embrace of conspiracy theories about Benghazi, his speaking at Larry Klayman's anti-Obama rally.
And Schmitz is certainly not going to mention one of Lyons' final acts: a March 2018 column published in the Washington Times falsely claiming that Seth Rich's brother helped him download Democratic National Committee emails that were then given to WikiLeaks. That got the Washington Times sued by Rich's family, resulting in a settlement that included retracting Lyons' column.
We're not sure that allegedly meritorious military service balances out causing someone to get sued because of your own malicious screw-up. But Schmitz isn't going to talk about that at all.
Posted by Terry K. at 9:14 PM EST