WND Peddles Alveda King's Lies About Margaret Sanger
Topic: WorldNetDaily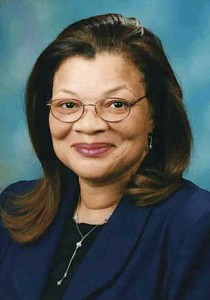 Jerry Newcombe writes in his Jan. 22 WorldNetDaily column:
Does Planned Parenthood target blacks? That is what Dr. Martin Luther King's niece thinks.

Recently, I spoke on my radio show with evangelist Alveda King, the niece of Dr. Martin Luther King Jr. She is the director of Civil Rights for the Unborn with the organization Priests for Life. The focus was on Planned Parenthood and the African-American community.

[...]

Alveda King told our listeners: "Margaret Sanger, the founder of the Birth Control League [later, Planned Parenthood], said, that 'colored people are like weeds,' and they need to be eliminated. They need to be exterminated. We don't want the word to get out, so let's not package it that way. So that's why they began to make a lot of propaganda and marketing materials, saying that abortion is a woman's right. It will help her to finish college, get a job, do this or do that."
But King is lying. As we've documented with others have made the same claim, there is no record of Sanger describing "colored people" as weeds. And since Newcombe is being a sympathetic host, he has no interest in fact-checking King as long as she keeps spinning the anti-abortion narrative he had her on his radio show to peddle in the first place.
(WND is not the only right-wing outlet to give King's lie a pass; a 2016 CBN article also uncritically quotes her making the same bogus claim.)
King is not the only misinformation peddler that Newcombe privileges and fails to fact-check. He also repeats right-wing historian Paul Kengor's biased, inaccurate framing of Sanger's speech to a women's Ku Klux Klan auxiliary: "Why would the KKK be so interested in Ms. Sanger? The reasons are obvious, a natural fit. It was because Sanger was a passionate racial eugenicist with grandiose dreams of 'race improvement.'"
As we've also documented, the KKK in the 1920s had a broad appeal beyond racism, to the point where it could almost be considered a mainstream conservative organization today. Further, Sanger spoke to a women's auxiliary of the KKK, not the KKK itself, and seemingly contrary to Kengor's portrayal of the speech as a "smash hit," she later called the speech "one of the weirdest experiences I had in lecturing." There's also no evidence that Sanger had any special fondness for the Klan, and it's clear from her writings that she would speak to any group that would have her. (Kengor walked back his portrayal of Sanger as a racist after we called him out on it.)
Newcombe also wrote:
Sanger did not want it known that she believed blacks should be targeted for a significant reduction in their population. She wrote, "We don't want the word to go out that we want to exterminate the Negro population." (Margaret Sanger, letter to Dr. Clarence J. Gamble, Dec. 10, 1939.)
That's another right-wing distortion. Anti-abortoin activists love to take that statement -- made in reference to a so-called "Negro Project" to target black women for birth control efforts -- out of context; in fact, it refers to an attempt to recruit black leaders for the effort in order to allay suspicions blacks might have had about whites like Sanger being involved.
But Newcombe wasn't done with pushing misinformation. He also writes: "To see for yourself the ongoing racism of Planned Parenthood in action, notice how often their clinics are still in very poor neighborhoods. Alveda notes some of those Planned Parenthood neighborhoods have streets nearby named after her uncle."
As we also documented, the Guttmacher Institute found that 60 percent of abortion providers are, in fact, located in majority-white neighborhoods. Newcombe seems to be alluding to an anti-abortion group's claim that a majority of abortion providers are "within walking distance" of a minority neighborhood -- which is defined as two miles.
Newcombe also refers to King at one point as "Dr. Alveda King," which is yet another bit of false privileging. As we've pointed out, King's doctorate is honorary, not earned.
You'd think that WND would have learned by now not to publish so much fake news.
Posted by Terry K. at 1:35 AM EST