Newsmax's Hirsen Pretends Extortion Isn't Extortion
Topic: Newsmax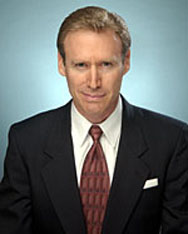 James Hirsen, who claims to be a lawyer, did a lawyerly job doing a little pro bono work for the National Enquirer in his Feb. 11 Newsmax column in attempting to insist that the apparent extortion attempt the Enquirer's parent, American Media Inc., is using against Amazon chief and Washington Post owner Jeff Bezos really isn't extortion at all.
AMI threatened to publish compromising photos of Bezos if, as Hirsen tells it, "he did not publicly state that the tabloid's reporting on his affair was not motivated by political concerns." But even as Hirsen admits, "David Pecker is the CEO of AMI, and he is known to be an associate and friend of President Donald Trump," and that Bezos "cited ways that the president and Pecker had cooperated in the past." It would seem, then, that AMI is demanding that Bezos state something that appears to be a lie.
He even concedes that the story "illustrates the hunger on the part of many in the mainstream press for anything that can be weaponized against the president and used to ratchet down his poll numbers" -- inadvertently acknowleging that it's legitimate for Bezos to breing up the Trump angle.
Hirsen insists that a "superficial read" is leading to claims of extortion. But, he adds, this is merely a business negotiation:
In analyzing this email, it is important to focus on the context within which both parties are seeking to settle a dispute.

In settlement negotiations, it is common practice for the parties to propose that each side will release the other from any potential claims. This is what was communicated through its legal counsel in the subject e-mail by AMI, along with a proposal that Bezos would agree to tell the public that AMI's coverage of Bezos was not politically motivated.

In return, AMI would agree not to publish the texts and photographs.

Outside of the settlement discussion context, criminal extortion would exist in a case such as this if money was demanded as payment for not making public an embarrassing secret. However, in this instance the key difference revolves around the settlement backdrop.

Why would the two sides be negotiating a settlement? It is clear that Bezos has been raising potential civil legal claims against AMI, while AMI has suggested that Bezos's Washington Post planned to publish a false news story about AMI.

These cross assertions are arguably the basis for both parties to be pursuing a settlement of their respective claims. A settlement agreement would mutually release the claims of both parties.

[...]

Prosecutors would have an uphill battle in attempting to use these facts as a basis for a criminal extortion case. Additionally, the First Amendment creates further problems for the prosecution, since Bezos is a very well known influential public figure and a power player in Silicon Valley, Washington, D.C., and Hollywood.
Hirsen is incorrect in claiming that it's only extortion if money is involved. As Slate detailed, the federal extortion statute prohibits communication "containing any threat to injure the … reputation of the addressee" in order to extort "money or other thing of value." The statement of exoneration AMI is demanding from Bezos is clearly a thing of value, and the compromising photos it's threatening to print if it doesn't get that statement are clearly intended to injure Bezos' reputation.
(Hirsen curious doesn't mention that other prominent people have also been on the receiving end of AMI's sleazy tactics.)
Further, Hirsen does not supply any evidence that this was an actual "negotiation." If Bezos' telling is correct, AMI made demands of Bezos, and when he "didn't react to the generalized threat with enough fear," it raised the ante by bringing up the compromising photos.
If this was really a First Amendment issue based solely on Bezos' newsworthiness as a "very well known influential public figure and a power player in Silicon Valley, Washington, D.C., and Hollywood," AMI would not need to negotiate with Bezos -- it would simply publish the photos. Every other legitimate news organization would do that.
Hirsen's column reads more like an audition as an attorney for AMI than a serious look at the legal issues involved here.
Posted by Terry K. at 5:31 PM EST