MRC Tries To Promote Itself By Attacking NFL Players
Topic: Media Research Center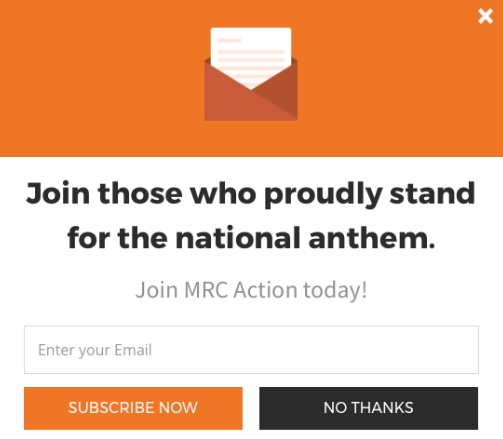 Over the past week, the Media Research Center glommed onto the controversy over pro football players kneeling during the National Anthem, despite the fact that it has nothing whatsoever to do with its claimed mission. Which tells us that for the MRC, it's all about publicity and blind support for Donald Trump and not about principle or even patriotism. A pop-up to prmote the protest doubled as a way to harvest email addresses for the MRC's political action arm.
The MRC network of websites generated numerous posts on the subject, which it incessantly retweeted to push the player-bashing meme in service of MRC chief Brent Bozell's attempt to stage a fan boycott of NFL boycott this weekend. Bozell made sure to twist intent so it was all about his beloved president and not about the issue that Colin Kaepernick voiced last year: "People tune in to football to enjoy themselves, not to have to subject themselves to attacks on our flag because spoiled players don't like the politics of our president."
It was throwing every attack and smear at the players that it could think of.
At the top of the smear-hurling list, of course, was the mysterious Jay Maxson, who already has a massive case of Kaepernick Deragement Syndrome. In one post, Maxson denied that the players have a point with their protest in calling attention to police brutality and justice for blacks, whining (boldface his):
Left-stream media and some of the NFL protesters insist that they are not dishonoring veterans or the national anthem, but if it's not about the national anthem or the sacrifices made by veterans, then why do these protests during the national anthem? Many a good man died in war zones just to keep our flag flying.
Because the players have made a point of saying not only does the protest has nothing to do with veterans, the kneeling is meant to show respect, as a former NFL player and military veteran told Colin Kaepernick to do.
Maxson whined further when a sportswriter pointed out the lack of mention of police brutality that sparked the protsts in the firstplace: "Speaking as a sports fan and a patriot, these outrageous pre-game displays are also too long on this word: disrespectful. And too short on this word: honor. No stadium PA announcer says, 'Please kneel to dishonor America.' They say, 'Please stand to honor America.' That's how it should be."
Curtis Houck, however, took a slightly different tack by surprisingly suggesting that Trump went a bit too far in demanding that players who knelt be fired, coming in the midst of a Heathering rant against "Never Trump diehard" Bret Stephens (whom Houck won't concede is a conservative): "What's so absurd about Stephens's arguments is that he assumes those against the players are onboard with the President calling for their firing. A slogan seen on Twitter (particularly by Ben Shapiro) has been that those against the protests 'oppose, but tolerate' them."
But tolerance has hardly been a hallmark of the MRC's anti-NFL campaign -- as illustrated by a CNSNews.com blog post by Michael W. Chapman touting self-hating black man Jesse Lee Peterson calling the protesters "evil."
That was joined by a Chapman post in which he touted how "actor, director, musician, and 7th-level Aikido black belt master Steven Seagal" opposed the protests. But then, Chapman undercut Seagal's credibility by noting that "Seagal also said that people who think Russia 'fixed' the 2016 presidential election are being fed 'astronomical propaganda' to create a 'diversion."
And, for some reason, the MRC called in the Catholic League's Bill Donohue to weigh in on the issue, even though football has even less to do with the Catholic League's mission than it does the MRC's.
So the MRC tried to make hay by trying to profit on an issue by making it even more partisan. Nobody's surprised by the sheer opportunism.
Posted by Terry K. at 9:44 PM EDT
Updated: Monday, October 2, 2017 12:07 AM EDT