MRC: Soros Is A Jew You're Allowed To Hate
Topic: Media Research Center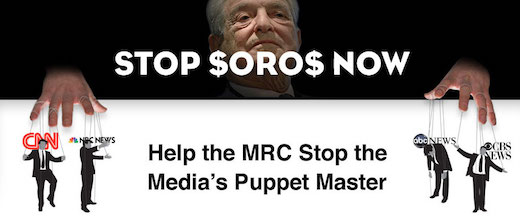 The Media Research Center hates George Soros, and it wants you to hate him as much as he does -- to the point that it has absolved anyone who criticizes him of anti-Semitism.
After Democratic Rep. Ihlan Omar got into trouble with a remark about conservative politicians being controlled by Jewish money that many considered anti-Semitic, others pointed out that convervatives like to attack Soros and other liberal Jews for funding their preferred causes. That did not go down well at the MRC.
Curtis Houck complained that "numerous analysts and hosts have tried to assist Omar by muddying the waters, suggesting House Minority Leader Kevin McCarthy (R-CA) is also anti-Semitic for a tweet last year criticizing the left-wing views of Michael Bloomberg, George Soros, and Tom Steyer." Houck added: "So criticizing the policies of specific individuals as radical is on par with suggesting money from Jewish people controls politicians? Yeah, no. Not the same."
Kyle Drennen huffed that some were taking "what was supposed to be a story about the anti-Semitism scandal swirling around Democratic Congresswoman Ilhan Omar" and bring up McCarthy's comments, insisting that "In reality, McCarthy's tweet simply criticized Soros for his left-wing influence over Democratic politics, in the exact same way that Democrats routinely attack the Koch brothers for donating to Republicans."
Alex Christy similarly got mad about the McCarthy parallel, sarcastically griping, "When Republicans warn about wealthy billionaires' influence on elections it is anti-Semitism, when Democrats do it, it is showing appropriate concern about money and lobbying in politics." Christy also complained that one cable news guest said that "Trump and Republicans have been peddling anti-Semitism through criticism of George Soros and 'globalists,' even seeming to imply that Trump's rhetoric had inspired the Pittsburgh synagogue shooting, despite the fact that the shooter hated Trump." Actually, the shooter supported parts of Trump's political agenda, though he allegedly didn't vote for Trump.
Ryan Foley groused that CNN's Don Lemon "couldn't resist the urge to call House Minority Leader Kevin McCarthy a hypocrite for knocking Omar despite the fact that he had accused 'Soros, Steyer, and Bloomberg,' three wealthy liberal Jews and Democratic donors, of trying to 'BUY this election.'"
Foley served up another defense of McCarthy, prlclaiming that he "offered a common sense explanation: it was election season and he was talking about Democrats and their big donors."
Houck went on another "whataboutism" tirade:
In what was a poorly mangled attempt to be the liberal and unfunny Seth Meyers, CNN'sThe Lead host Jake Tapper went on a rant Wednesday in which he pretended to throw fits at his control staff for not showing clips and tweets of anti-Semitic Congresswoman Ilhan Omar (D-MN), but instead ones that painted the Trump administration and House Minority Leader Kevin McCarthy (R-CA) as not only hypocrites but anti-Semites.

So, in other words, Tapper's four-minute-and-eight-second monologue seemed to muddy the waters and engage in what probably would be condemned on CNN as "whataboutism" if such a stunt was pulled on Fox News.

[...]

So what should have been an unequivocal condemnation of anti-Semitism, blasting Omar's treatment of [CNN reporter Manu] Raju, or even how Omar has repeatedly shown an apprehension toward Jewish people (including Wednesday's hearing with Elliot Abrams), Tapper tried to deflect attention toward the GOP as having a problem with anti-Semitism.

So, in other words, that's whataboutism, which was amusing considering what Tapper tweeted on February 4, 2017 about the topic and comparisons that didn't exactly line up. But Orange Man Bad, so that's perfectly fine.
Of course, Houck would never be so gauche as to call out such whataboutism on Fox News for what it is in the way he's attacking Tapper.
Houck even went so far as to give Trump the benefit of the doubt in tweeting an anti-Semitic meme, baselessly ascribing ignorance to him:
Alas, Tapper continued on, asking producers to fetch more footage of Omar, but instead was given "a deleted Donald Trump retweet from 2016 as conservative Erick Erickson tweeted at the time: 'A Star of David, a pile of cash, and suggestions of corruption. Donald Trump again plays to the white supremacists.'"

Yes, this was one of the more undeniably controversial things Trump did during the campaign, so let's give Tapper the benefit of the doubt, even if one thinks Trump didn't know what he was doing.
Even the MRC's semi-pro New York Times-hater, Clay Waters, got in on the action, complaining that a Times article "strained to turn the tables on Republicans" by bringing up McCarthy's statement.
It looks like a bunch of people at the MRC have forgotten how it has used anti-Semitic imagery by portraying Soros as a liberal puppetmaster. The MRC has never been held to account for that, and it has never apologized for using it, so it's walking on thin ice here in giving people a pass. The MRC also tried to whitewash unambiguous anti-Semitism against Soros, in the form of Roseanne Barr's false portrayal of him as a Nazi collaborator during World War II, as merely an "anti-Soros tweet."
Posted by Terry K. at 10:16 PM EST
Updated: Thursday, February 21, 2019 10:21 PM EST