MRC's Double Standard on Vandalism
Topic: Media Research Center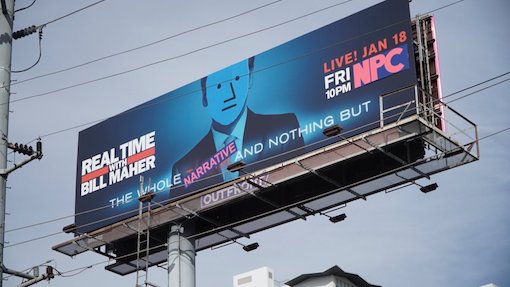 In March 2017, Tom Blumer, the departed contributing editor to the Media Research Center's NewsBusters blog, was offended that a Washington Post report on "far-left environmental vandals" defacing a Donald Trump-owned golf course called it "a daring act of defiance." "In a sane world, reporter Peter Holley and anyone else who reviewed the post before it went live would be severely and publicly disciplined," Blumer complained, adding that "The original report did not characterize the actions as "vandalism" until its fourth paragraph." Blumer further huffed of the vandals: "They and their destructive sympathizers are surely thrilled to see their handiwork given such prominent national visibility."
But the MRC has since found some vandalism it can get behind and give prominent national visibility to. Gabriel Hays cheerfully wrote in a Jan. 14 post:
It turns out there are still a few good-humored, politically-incorrect folks in Hollywood after all. Over the weekend, lefty-bashing street artist provocateurs publicly slammed HBO's Bill Maher with a satirical billboard depicting him not as the thought leader he imagines himself to be, but as a rote purveyor of mainstream liberal propaganda. Specifically he was made fun of as being an "NPC."

On Sunday pranksters from conservative street artist group "The Faction" decided to point out the fact that Maher might actually belong to this category, going after a Real Time with Bill Maher billboard located at the corner of La Cienega Boulevard & West Holloway in West Hollywood. "The Faction" spray painted a gray, expressionless face over Maher's and changed the image's tagline from "The Whole Truth and Nothing But" to "The Whole Narrative and Nothing But." They also changed "HBO" to "NPC."
Hays never uses the word "vandals" to describe the perpetrators -- they're "street artist provocateurs" -- or the word "vandalism" to describe what they did -- it's just "satirical" (though he did complain about Trump's Hollywood Walk of Fame star "being vandalized multiple times since his election."
Clearly, Hays and his editors were not "severely and publicly disciplined" for endorsing vandalism the way the MRC was demanding of others not too long ago, even though we can assume that The Faction and their destructive sympathizers are surely thrilled to see their handiwork given such prominent national visibility by the MRC. (Of course, the MRC couldn't even do that with the editors who let the white-nationalist links in Blumer's NewsBusters posts get through whatever editing process it claims to have, and then to stand unchallenged for years before it was pointed out to them).
In other words, more MRC hypocrisy.
Posted by Terry K. at 10:44 AM EST