WND Unhappy With Call To Impeach Trump, Forgets It Demanded Obama's Impeachment
Topic: WorldNetDaily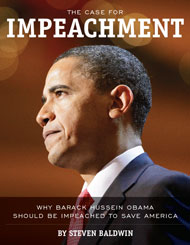 An anonymous WorldNetDaily writer appears upset in a Jan. 17 article:
Special counsel Robert Mueller has yet to issue a report on his probe of alleged Trump-Russia collusion, but the new issue of The Atlantic features the word "IMPEACH" in large, red letters.

The cover story by Atlantic senior editor Yoni Appelbaum argues Congress has the authority, through impeachment, to "rein in a president who is undermining American ideals," The Hill reported.

The title subhead reads: "It's time for Congress to judge the president's fitness to serve."

Appelbaum asserts Trump has "repeatedly trampled" on the Constitution through his policies, resistance to investigations and attacks on political opponents.

"These actions are, in sum, an attack on the very foundations of America's constitutional democracy," he writes.
We would remind WND that it didn't even wait the two years the Atlantic did, or that there was no special counsel investigation whose results needed waiting for, before calling for the impeachment of President Obama.
As we documented, WND promoted a call for impeachment of Obama in October 2009 -- less than a year after Obama was elected -- then teamed up with the Brown-operated Western Journalism Center (which WND editor Joseph Farah had founded in the 1990s) the following year to churn out "The Case for Impeachment," a shoddily written screed filled with misleading claims and outright falsehoods -- and, of course, birther conspiracy theories -- that purported to make the case for Obama's impeachment.
In other words, one could argue that the Atlantic is following in WND's footsteps. Shouldn't WND be proud of that, or something?
Posted by Terry K. at 2:01 PM EST