WND's Kupelian Repackages Ancient Interview As 'News'
Topic: WorldNetDaily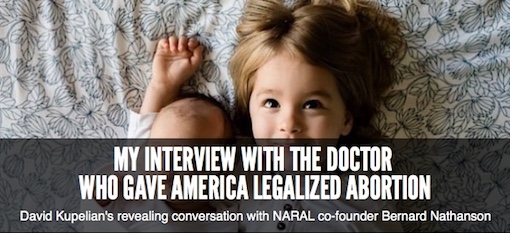 A Jan. 21 WorldNetDaily article by David Kupelian, tagged as a "WND Exclusive," carried the proud headline "My interview with the doctor who gave America legalized abortion: David Kupelian's revealing conversation with NARAL co-founder Bernard Nathanson." And it is indeed pretty lengthy -- of course, the right-wing Kupelian would not devote so much space to the co-founder of NARAL if had hadn't flipped and become an anti-abortion activist. He even gave Nathanson space to defend the misleading anti-abortion film he made, "The Silent Scream," with Kupelian lamenting that the film "provoked a massive campaign of defamation on the part of the pro-abortion movement."
But Kupelian obfuscates a bit on the newsworthiness of his interview with Nathanson. It's not until the fifth paragraph that Kupelian gets around to mentioning that the interview actually took place in 1990 -- almost 30 years ago. And it's not until the very end of his article that Kupelian makes clear that "Bernard Nathanson passed away on Feb. 21, 2011, at the age of 84." This is followed by an editor's note: "The preceding interview with Bernard Nathanson, M.D., is excerpted and adapted from David Kupelian's bestselling book, 'The Marketing of Evil.'"
In other words, Kupelian's interview is not only ancient, it's effectively copied-and-pasted from a book he wrote more than a decade ago. It has no news value whatsoever beyond its appearance around the time of the anti-abortion March for Life.
It may be very old news, but to WND's credit, it's not fake news.
Posted by Terry K. at 6:28 PM EST