CNS Touts Heisman Winner's Love of God -- Then Attacks Reporter Who Exposed His Homophobic Tweets
Topic: CNSNews.com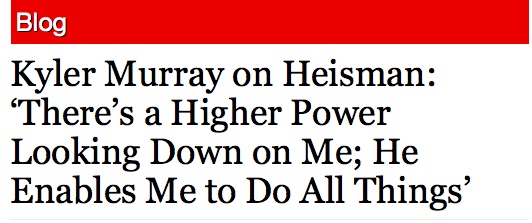 CNSNews.com loves to give space to athletes who offer praise to God for their accomplishments (though it was less than happy about the coach who praised God after his team beat Notre Dame). So it was no surprise to see Michael Morris' Dec. 10 blog post on Heisman Trophy winner Kyler Murray:
Oklahoma Sooners quarterback Kyler Murray became the 84th Heisman Memorial Trophy winner on Saturday, Dec. 8, 2018, an award that is presented annually by the Heisman Trophy Trust to college football's most outstanding player. During his acceptance speech on ESPN, Murray acknowledged that "there's a Higher Power looking down on me; He enables me to do all things."

"Man, this is crazy," Kyler Murray stated, beginning his Heisman Trophy acceptance speech. "I've worked my whole life to fulfill my goals, but at the same time, I know there's a higher power looking down on me; he enables me to do all things. And for that, I'm grateful for the many blessings God has blessed me with."
The day before, however, USA Today reported that Murray had made several homophobic tweets when he was a teenager, which resurfaced after he won the Heisman.
So, a few hours later, Morris dashed off another post that noted the controversy -- then took a swipe at Scott Gleeson, the USA Today reporter who first highlighted the tweets. Morris copied-and-pasted what Gleeson wrote about himself on his USA Today profile page, seemingly todocument the part in which he wrote, "My enterprise and human interest work on the LGBT movement in sports made me an APSE award finalist in 2016 and a USBWA award winner in 2017," and perhaps his "embarassing addiction to boyband music."
That seems entirely unnecessary. But that seems to be CNS' style these days.
Posted by Terry K. at 1:18 AM EST