WND Claimed Election Was Rigged -- But Bashes Recount
Topic: WorldNetDaily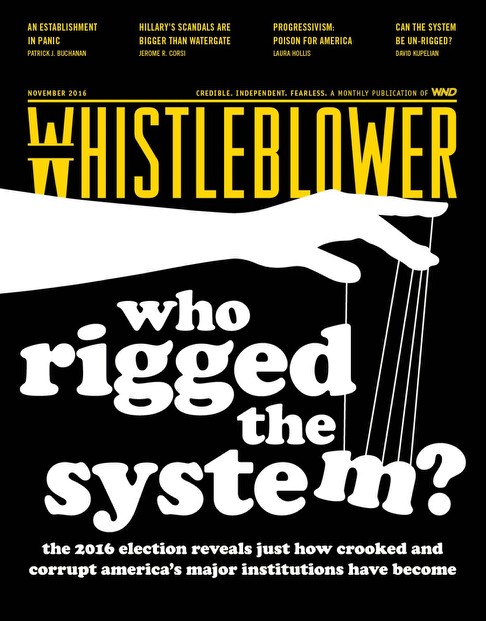 Before the presidential election, WorldNetDaily was filled with claims that the election was rigged:
On Oct. 20, for example, Joseph Farah wrote: "Is there any basis for Donald Trump's repeated claims that the 2016 election is rigged? That the question even needs to be asked, answered and defended days before the vote is somewhat astonishing." Three days later, he ranted: "Yes, the 2016 election has been corrupted. Fraud has been perpetrated on the American people and the rule of law. The multiple scandals – provable now through prima facie evidence – actually make this political year, from primaries through general campaigns, represent something bigger than Watergate!"
And the November issue of WND's Whistleblower magazine was dedicated to portraying everything as rigged. No, really: it rants that "America – once heralded as an unparalleled land of blessings and freedom, limitless opportunity and a level playing field for all – is 'rigged.' Rigged for the benefit of some, at the expense of others. So rigged in fact, in so many areas and so many ways, as to shake Americans' confidence not only in their government, schools and news media – institutions most people already consider compromised or corrupt – but also their criminal justice system, their economy, even their elections."
Of course, there's a caveat. WND never accuses right-wingers of rigging, even though there's plenty of evidence of that; it is only, in the words of WND managing editor David Kupelian, "the Clinton crime syndicate" that can possibly be to blame.
Nevertheless, one would think WND would be happy that recounts of election results in at least two states are being conducted -- after all, a recount can uncover evidence of election rigging. But WND has been bashing it.
A Nov. 28 WND article by Bob Unruh is typical. Its headline warns of "ulterior motives" behind the recounts, quotes people saying the recount would likely not result in any significant change in the vote total, and suggests the real goal is "to build support for a movement that aims to eliminate the constitutional requirement for an Electoral College."
The word "rigged" or its variants do not appear in Unruh's article.
And an anonymously written Dec. 5 article touted how Trump gained a few votes in the recount and approvingly quoting Rush Limbaugh smearing those backing the recount as "a bunch of spoiled brats unable to accept rejection." No mention of WND's previous warnings about the election being "rigged" could be found here either.
How entertaining that WND is trying to flush much of its election coverage down the memory hole. After all, an election that came out the way it wanted to can't possibly be rigged.
Posted by Terry K. at 6:52 PM EST
Updated: Tuesday, December 6, 2016 7:38 PM EST