MRC Invents A Biden 'Gaffe'
Topic: Media Research Center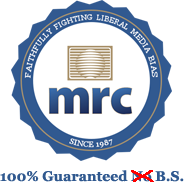 Scott Whitlock writes in a Dec. 4 Media Research Center item:
Vice President Joe Biden unleashed another gaffe on Tuesday while talking to female employees at an internet company in Japan. According to the Examiner, Biden was "scheduled to address the company's female employees" and "discuss the economic impact of women in the corporate world." Instead, while talking to the women, he blurted, "Do your husbands like you working full time?"

ABC's Good Morning America, CBS This Morning and NBC's Today all ignored the remark. Imagine if a conservative Republican like Rick Santorum had made such a similar comment? The politically correct media would likely trot out the "war on women" theme.
But as the Washington Post points out, Biden asked the question for a reason -- to bring up the issue of women in the workplace in a country where sexism still dominates:
Biden agreed to highlight the issue because the Obama administration, which has made women's rights a key pillar of its foreign policy agenda, wanted to support Japanese Prime Minister Shinzo Abe's push for women to augment the shrinking workforce in a nation with a rapidly aging population and plummeting birthrate. In Japan, an estimated 60 percent of women quit their jobs after having children, in part because companies do not offer flexible leave or work schedules and day-care options are expensive and scarce.

[...]

At the Japanese Internet company, [U.S ambassador for global women's issues Cathy] Russell told an anecdote about her own experience when she quit her job as then-senator Biden's staff director to raise her children full-time. After 10 years, she called him to ask if he'd hire her back on a part-time schedule.

"He said to me, you come back whenever you want, on whatever schedule you want, because you are worth it to me," Russell said.

Aides said that behind the scenes, Abe thanked Biden for highlighting the issue, and Biden introduced Russell to both Abe and South Korea's Park. Russell paid separate visits to government officials in Japan and South Korea, visited students at two women's universities to learn more about their concerns and ambitions and also met with survivors of violence at a pair of women's shelters.
The Post also noted that CNN's Jake Tapper "apologized to Biden on the air for failing to 'provide the proper context' while playing the sound bite of the vice president's remarks in Tokyo." Don't hold your breath waiting for the MRC to issue a similar apology.
Much as the MRC would like this incident to forward the conservatively correct meme that Biden is a gaffe machine, there wasn't a gaffe here.
Posted by Terry K. at 1:33 PM EST