WND Reacts Unhappily to Pope's Critique of Capitalism
Topic: WorldNetDaily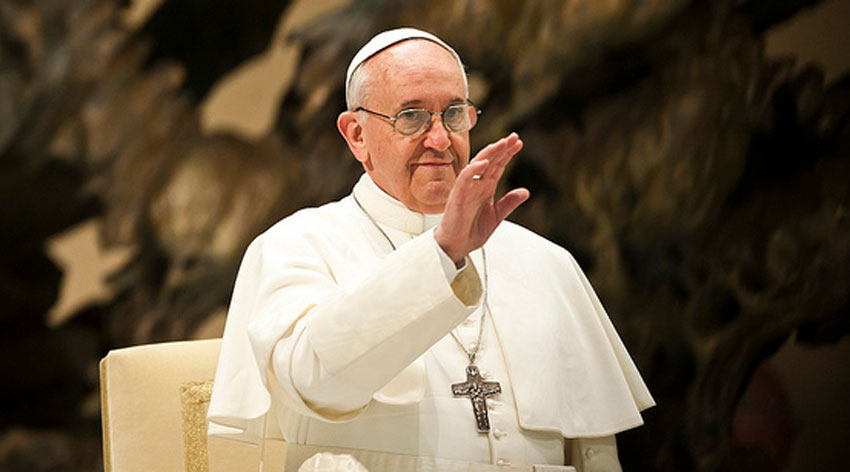 There have been a lot of outraged right-wing reactions to Pope Francis' critique of capitalism. WorldNetDaily, of course, can't help but take it to the next level.
Johnathan Moseley took the pope's words quite hard, lamenting in a Dec. 1 WND column that "Jesus was a capitalist, preaching personal responsibility, not a socialist," adding: "Jesus Christ is weeping in heaven hearing Christians espouse a socialist philosophy that has created suffering and poverty around the world. It is impossible to love one's neighbor as yourself without fighting against socialism, meaning government meddling in private lives."
Ileana Johnson Paugh used her Dec. 3 column to bring in the conspiratorial ranting WND is famous for, claiming that the pope's "social justice" gospel was really an invention of the KGB:
The Latin American pope from Buenos Aires spoke for the masses that are still waiting for "social justice." Yet the United States always pledges and helps when tragedy strikes; Americans give generously of their wealth, time and expertise. "Social justice" is an entirely different manufactured creature.

According to Lt. Gen. Ion Pacepa, the Soviet communist-led idea of "social justice" was infiltrated successfully by the KGB into Latin America's Catholic Church as a religious movement called "liberation theology." The goal was to "incite Latin America's poor to rebel against the 'institutionalized violence of poverty' generated by the United States." (Lt. Gen. Ion Mihai Pacepa, "Disinformation," WND Books, 2013)

From the government's point of view, what kind of "social justice" are the masses waiting for when pining for socialism and communism? They are waiting to vote again and again for the same individuals and socialist or communist governments that brought them to poverty and kept them perennially downtrodden. They are waiting for socialist governments to give them welfare and free minimal health care through Castro clinics while they stay home and procreate more dependents. They are waiting for the redistribution of wealth from productive citizens. They are enslaved to their governments that decide their daily lives, yet they are told their enslavement is the United States' fault.
WND -- never one to let an opportunity for self-promotion go to waste -- followed up with an article by Jerome Corsi highlighting how Moseley's column was cited by an Italian journalist.
Posted by Terry K. at 1:14 PM EST