SHOCKER: WND Not Biting Yet On Harris Eligibility Conspiracy Theory
Topic: WorldNetDaily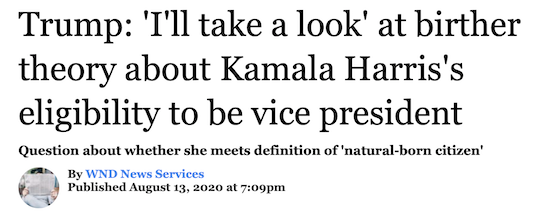 Given that WorldNetDaily is best known for its eight-year embrace of the conspiracy theory that Barack Obama was not eligible to be president because he may have been born in Kenya (or some other reason), you'd think it would be rushing to promote the conspiracy theory that Democratic vice presidential candidate Kamala Harris isn't eligible to hold the position.
Shockingly, that's not the case -- at least not yet.
When the question popped up several days ago, WND published only two articles on the subject, neither of which it wrote on its own: a Washington Examiner piece on President Trump declaring he'll "take a look" at the claim, which also noted that Harris was "born in the United States" and, thus, in eligible; and a piece from The Hill noting that Newsweek magazine apologized for publishing a column advancing the conspiracy theory.
That's it. WND is staying away -- at least so far.
(Note the WND is still laughably calling these articles it steals without permission or payment "WND News Services." In fact, it pays no other "news service" for the use of other people's content, as it has since its founding, claiming that its theft of others' property is "fair use.")
Then again, there's still a couple months left before the election, so there's still plenty of time for it to start treating Harris like it did Obama.
Posted by Terry K. at 12:27 AM EDT
Updated: Wednesday, August 26, 2020 1:49 PM EDT