Allen West, Useful Idiot
Topic: CNSNews.com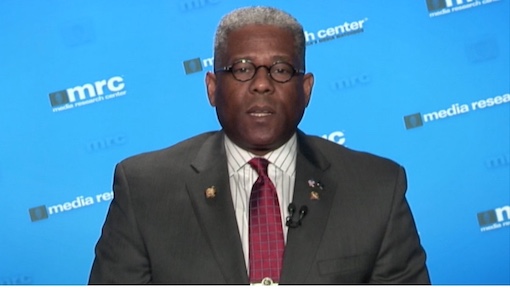 Allen West ranted in his July 13 CNSNews.com column:
"Useful idiots" is a phrase attributed to Vladimir Lenin, who supposedly used it to describe communist sympathizers in Western Civilization.

It is a very appropriate descriptor when it comes to the so-called "woke" mob of the so-called "resistance" that has overtaken the streets of America. Well, let me rephrase that: They have overtaken the streets of major population centers in America. The infestation of wokeness and idiocy seems concentrated in the very places where progressive socialist policies have failed in America.

[...]

America's useful idiots want to embrace a philosophy of governance that is the antithesis of the liberty and freedoms that they enjoy. Do not believe me? Well, how about our woke little temper tantrum kids take a trip to Hong Kong. There you will find young people resisting the very ideology that our young people want to live under. How about our useful idiots talk to those Venezuelans who now reside in the United States, like former Miss Venezuela Carmen Maria Montiel, and learn just how awesome socialism truly is.

America's useful idiots are busy searching and destroying anything that they claim is connected to systemic racism. Then why are these little cherubs aligning themselves with the Democrat [sic] Party? If we were to do a truly historical analysis of the Democrat [sic] Party, you would find the real purveyors of systemic racism in our country. I could go on, but think about the history of a political party that voted against the 13th, 14th, and 15th Amendments. A political party that created our first domestic terrorist organization, the Ku Klux Klan -- oh, yeah, they created the second one also, Antifa.
As fact-checkers have pointed out, the Democratic Party did not not create the KKK, and West provides no evidence that Antifa is a Democratic Party creation. But as his deliberate misnaming of the Democratic Party demonstrates, the real useful idiot here is West.
His main function in the Republican Party is as a black man in an overwhelmingly white party, and it's unlikely that CNS' parent, Media Research Center, would name him a "senior fellow"(despite having no relevant experience in the "media research" realm) or give him a weekly column if he didn't hold that rare distinction -- something he has tried to exploit to benefit Republicans.
In his June 22 column headlined "A Black Man's Letter to Black Lives Matter," West self-aggrandized: "There is a high possibility that I have forgotten more black history than some may ever learn -- or certainly know. I just authored a book titled, "We Can Overcome, An American Black Conservative Manifesto."I do not need to "qualify" my being Black based upon some pre-determined ideological agenda." He went on to huff:
I am tired of our Nation cowering, appeasing, acquiescing, and surrendering to this absurd organization calling itself Black Lives Matter (BLM). There is nothing true or sincere about this ideologically aligned progressive socialist, cultural Marxist organization.

BLM is just another leftist organization created by the same ilk of progressive socialists who created the NAACP. When one reviews the goals and objectives of BLM, they have nothing to do with the real issues facing the Black community in America. The focus of BLM is to cleverly advance the leftist ideological agenda under the guise of a witty name that forces people into guilt, shame.

I do not need any white person in America to kneel before me, apologize, wash my feet, or as the insidious comment of Chick-fil-A CEO, Dan Cathy, shine my shoes. I did a doggone good job of shining my own boots during my career in the US Army -- that was my individual responsibility, in which I took great pride.
West also went on a tirade against Planned Parenthood: "Planned Parenthood was founded by a known white supremacist, racist, a woman who spoke at Ku Klux Klan rallies -- Margaret Sanger. Planned Parenthood has over 70 percent of their "clinics" located in black communities across America." West is lying' Sanger was not a "known white supremacist," and most of its clinics are not in "black communities."
But West gets away with those lies because it benefits his political ideology and his fellow ideologues will not hold him accountable for it.
IN his July 6 column, West condescendingly wrote:
If American Blacks are to truly overcome, the time has come for them to stop being driven into irrational emotionalism.

Somehow, in the Black community, reason and rational thought have taken a backseat to the acceptance of thoughts, perspectives, and ideologies that are not consistent with the "proclaimed" principles and values over which many in the black community shout "hallelujah" on one particular day of the week -- Sunday.

Why are we watching a community self-implode but go right along "whistling past the graveyard" in addressing its real, true issues.
One of those issues, West claimed, is black-on-black crime. West chose to attack the NAACP over the issues, claiming that "I have yet to hear the NAACP voice any concerns about the rampant shootings, black on black, in our American urban population centers." West obviously couldn't be bothered to do basic research, because the NAACP has spoken out numerous times on black-on-black crime.
West served up more right-wing talking points: "The bottom line is that the left has once again coopted a title for an organization that dupes Blacks into believing that white liberal progressive socialists care. The only thing they care about is power. The only thing they care about is maintaining a victim class for political patronage." Because that, ultimately, is what the MRC is paying him to do.
Posted by Terry K. at 3:37 PM EDT