MRC Lamely Defends Trump's Social-Media Site From Jimmy Kimmel
Topic: Media Research Center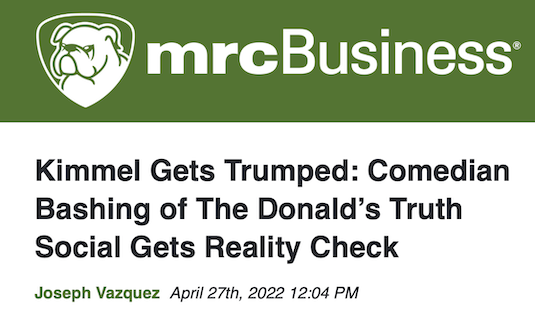 The Media Research Center may be orgasming over the idea of Elon Musk buying Twitter, but it hasn't completely forgotten about its previous love, Donald Trump's Truth Social. If you'll recall, the MRC was essentially Trump's PR agent for the launch, hyping its purported "free speech" agenda (as long as you don't make fun of Trump or Devin Nunes) while censoring what an absolute mess the app is. It has little to say about Truth Social since, but Joseph Vazquez felt compelled to speak up in an April 27 post after Jimmy Kimmel told some jokes about both:
The Trump-obsessed comedian Jimmy Kimmel thought he caught the former president in a "got heem" moment last night when trying to make fun of the former president's Truth Social app. It aged horribly.

A review of the Apple App Store found that Truth Social has taken the No. 1 "Free App" spot, with Twitter down to No. 2. The China-controlled TikTok, another competitor, sits at No. 5.

The development comes just hours before Kimmel claimed Tesla CEO Elon Musk's landmark purchase of Twitter put Trump in a very tough spot as a competitor in the social media market on the April 26 edition of ABC's Jimmy Kimmel Live. "Now that he probably won't be banned from Twitter anymore because Elon owns it, he's kind of stuck." Kimmel mocked Truth Social as "such a disaster, he himself hasn't even posted on it for eleven weeks."

Kimmel proceeded to dig himself into a deeper hole. He flailed how Trump's "dumb new company he conned everybody out of their money for, will become, I guess, the social media equivalent of a RadioShack." Too bad for Kimmel, the "RadioShack" app is No. 1 for the time being.

[...]

The fact that Trump's app has emerged from a rocky start to contend with a formerly censorship-obsessed platform that dominated the public discourse for many years illustrates the enduring relevance of the free market. Kimmel, however, was concerned with spouting yet another milquetoast rant about Trump that fell flat on its face.
Did it, though? Vazquez didn't dispute that Trump was not posting on his own platform, and it was not until a few days later that he finally started regularly posting there. A few weeks later, it was revealed that Trump is contractually obligated to make Truth Social his primary social-media outlet, and he can't repost his musings to other outlets for a minimum of six hours. So even if Musk restores Trump's Twitter account, it can't be his primary one.
(That's also the first time the MRC admitted that Truth Social has a "rocky start," though Vazquez made sure not to detail how bad it was -- which contradicted the MRC's rosy PR work -- and provided only a external link about it.)
Also note that Vazquez only cited the Apple app store as a source for his proof that Truth Social is more popular than Twitter. That's because there's no Android app yet, even though more than 80 percent of the world's smartphones run on Android -- it seems that "rocky start" is continuing. And Truth Social's user base remains a tiny fraction of Twitter's -- heck, the total number ofTruth Social users is a tiny fraction of the 89 million Twitter followers Trump had before he was removed for helping to incite the Capitol riot.
Vazquez's touting of Truth Social has not aged well. As of this writing, Truch Social is no longer even in the top 200 of free apps at the Apple app store, while "China-controlled TikTok" is at No. 4 and Twitter is at No. 42. Who's falling flat on their face now, Joey?
Posted by Terry K. at 2:27 PM EDT