MRC Dances On Jeff Zucker's CNN Grave, Smears Him As 'Puppetmaster' Again
Topic: Media Research Center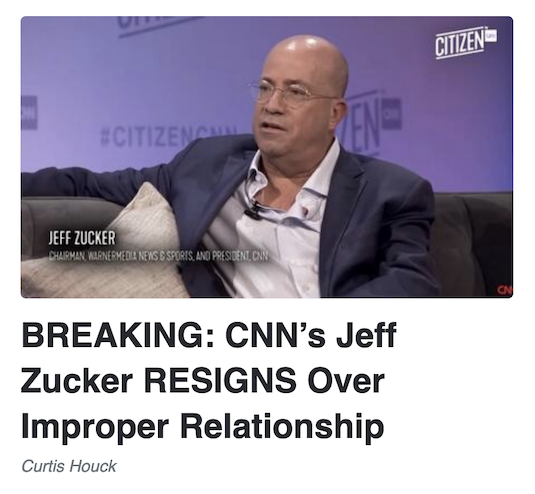 Jeff Zucker has long been a nemesis of the Media Research Center, where Curtis Houck has repeatedly smeared the Jewish Zucker with the anti-Semitic "puppetmaster" trope -- putting him on the same level of hate that it places George Soros. When Zucker resigned as CNN chairman last month over an improper relationship with a subordinate, Houck was positively gleeful in response, repeating his immature sniping at CNN's ratings and hurling the "puppetmaster" slur again:
On Wednesday morning, CNN president, longtime overlord, and puppetmaster Jeff Zucker resigned effective immediately from the failing, far-left network after nine years over what he called "a consensual relationship with my closest colleague" with fellow CNN executive Allison Gollust that he had failed "to disclose...when it began."

[...]

It remains to be seen who will take over the network (which has lost ratings battles to the likes of a Hallmark movie, Moonshiners, My 600 Pound Life, and Pepa Pig [sic]) in this surprising move ahead of its merger with Discovery but, almost a year ago, former CNN media reporter Dylan Byers reported Gollust was a frontrunner.

Houck also huffed: "Given CNN's recent track record of alleged and verified allegations of sexual misconduct, one could give them a new slogan offered up by NewsBusters deputy managing editor Nick Fondacaro: This is CNN, the most pervy name in news.
Needless to say, both Houck and Fondacaro memory-holed -- along with the rest of the MRC -- the pervasive sexual misconduct at their favorite channel, Fox News, and its longtime leader, Roger Ailes.
A couple hours later, Houck lashed out at CNN anchor Brian Stelter for praising Zucker's work at CNN, even though Stelter, as a CNN employee, is much more familiar with it than he is:
Playing the role of Baghdad Bob after the 2003 fall of the Iraqi capital to U.S. troops, CNN's Reliable Sources host and chief media correspondent Brian Stelter crawled out of his shell to spinelessly shill for Jeff Zucker moments after his resignation from CNN and "pioneering figure" and their "rock" who's left them in "a stunner."

As if some national hero had passed on, Stelter coached those watching inside CNN to continue covering "the news" as he would want them to do.

CNN has been anything but in Zucker's nine years and instead a shell of itself, having become one of American's most hated media organizations and hemorrhaged viewers in both prime time and total day since he took over in January 2013.
By contrast, when the Ailes scandal broke, one NewsBusters blogger insisted that Ailes shouldn't be blamed for the pervasive culture of sexual harassment at Fox News, and another claimed it was "liberal bias" for anyone to even discuss Ailes' sexual harassment issues -- or, for that matter, anything remotely critical about him, no matter how accurate.
Houck's obsessive attack on any CNN employee who praised Zucker continued the next day:
CNN spent Wednesday in mourning as if CNN boss Jeff Zucker had passed away when, in fact, he was pushed out for having carried on an inappropriate relationship with fellow CNN exec Allison Gollust, calling him "incredible," "remarkable," "larger than life," and "singular" person who brought "a clarity of mission" to the network.

In other words, it was something North Korean news reader Ri Chun-hee would have found creepy.

With praise so gushy and reports those inside CNN are some combination of despondent and enraged over Zucker's ouster, it's safe to wonder whether CNN can ever be saved as a serious, sober news organization considering their desire to stay the course from what Zucker made them.
Houck again called Zucker a "puppetmaster."
If Houck wants to read obsequiously gushy praise for a terrible person, all he needs to do is read his boss Bren Bozell's sickening tribute to Ailes upon his death in 2018, which fawned that "The good Roger did for America is immeasurable" and censored all the harassment stuff.
Houck entered his third day -- yes, the third day -- of shrieking at CNN employees for praising Zucker in a Feb. 4 post (and, yes, he hurled the "puppetmaster" slur again):
Through a series of stories this week, it was evident CNN's current staff have no interest in being salvaged as a serious news organization and anything other than a far-left propaganda outlet worthy of being some combination of mocked and ignored. Instead of seeking to move on from their disgraced former boss Jeff Zucker after his Wednesday ouster, they've tried to canonize him as a tent pole of American democracy.

[...]

To underline the level in which Zucker was some combination of puppetmaster and hand-holder for these sheep, he quoted chief political correspondent Dana Bash as having said "the punishment didn't fit the crime" and it went against Zucker's morals in giving people "a second chance."

Without a sense of irony for how CNN has shown nothing but hate in seeking to treat conservatives as enemies of the state, chief political analyst Gloria Borger lamented Zucker wasn't given "a lot of dignity" with Kasie Hunt fretting the Zucker news will cloud the launch of CNN+.
Houck is clearly lacking irony for how his obsessive hatred for all things Zucker and CNN makes his rantings look like an unhinged hatchet job and not "media research."
Houck called those who praised Zucker part of a "cult" in the headline of his piece, and that theme was also pushed in Tim Graham's Feb. 4 podcast: "We were all sitting around reading these stories saying, CNN should never again try to talk about somebody else as a cult, whether it's the followers or Trump or anyone else, because these people, when they talk about Zucker, it's just kinda creepy." Of course, Graham and his fellow MRC employees are all cultish followers of Trump -- not to mention cultishly devoted to Ailes desipte his disgrace -- so he's a little sensitive on the issue.
Posted by Terry K. at 8:57 PM EST