MRC's Double Standard On Legislative Descriptions
Topic: Media Research Center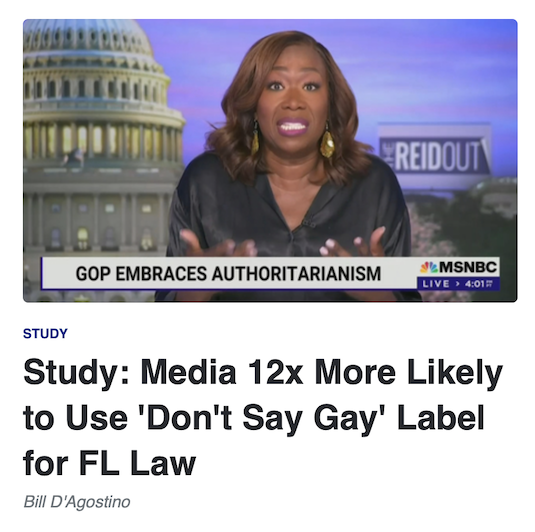 The Media Research Center's Bill D'Agostino complained in an April 28
post
:
If you relied exclusively on broadcast or liberal cable networks for your news, you'd likely be surprised to learn that Florida's recently-passed education law was not officially titled, "the Don't Say Gay law." An MRC analysis found that TV networks almost exclusively referred to the law by this politically-charged epithet, with most outlets only using the law's official name — "Parental Rights in Education" — one or two times in the past months.

MRC analysts examined all broadcast (ABC, CBS, NBC) and liberal cable (CNN, MSNBC) coverage of Florida's latest education law between February 1 and April 28. During that time, we found 230 instances in which anchors, analysts, and contributors referred to the law as the "Don't Say Gay" bill, but only 18 cases where they used its official name — the "Parental Rights in Education" bill.

[...]

Labelling can be a very effective means of controlling political discourse, and it's one the media use frequently. By relying almost exclusively on the Democrats' framing, the media are conditioning their audiences to react negatively to this legislation.
D'Agostino isn'tgoing to tell you that the MRC is guilty of the same thing he accuses non-right-wing media of doing. A search of the MRC's archive shows that it called the Florida bill (and other similar bills across the country) and "anti-grooming" bil, despite the word "grooming" appearing nowhere in the bill, let alone its name. It happens in these articles:
The MRC is quite enamored with maliciously smearing all LGBT people and anyone who doesn't hate them as much as it does as "groomers."
If critics of the law are not allowed to call it what they believe it does despite that decription not appearing in the bill, the MRC isn't either. But then, the MRC has never felt that the rules it demands others follow apply to itself -- which makes it look utterly hypocritical.
Posted by Terry K. at 8:23 PM EDT
Updated: Tuesday, June 7, 2022 8:40 PM EDT