CNS' Favorite Hate-Filled Rabbis
CNSNews.com has spent the past year giving a platform to the far-right, pro-Trump Coalition for Jewish Values, which lashes out at anything it deems not as right-wing as it is -- including, nonsensically, the Anti-Defamation League.
By Terry Krepel
Posted 4/25/2022
---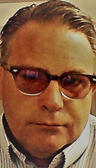 Michael W. Chapman
The Coalition for Jewish Values is less about Jewish values than it is about Trump values -- it's a group of right-wing rabbis who support highly Trumpy Republicans and conservatives. No wonder, then, that CNSNews.com managing editor Michael W. Chapman loves them, giving them the kind of stenographic coverage he usually reserves for the likes of Franklin Graham.

Chapman uncritically reported in an April 5, 2021, article:
In a letter to House Speaker Nancy Pelosi (D-Calif.) and Minority Leader Kevin McCarthy (R-Calif.), which was largely ignored by the left-wing media, more than 1,500 Orthodox rabbis explained that the pro-LGBT Equality Act "is a direct attack upon our religious values."

Further, Rabbi Avrohom Gordimer, chairman of the Coalition of Jewish Values' Rabbinic Circle, said "the law even explicitly rejects religious freedom as a defense, meaning it provides Anti-Semites with a new way to persecute the religious Jewish community."
Chapman simply and lazily copied-and-pasted from the group's website to describe it: "According to its website, the Coalition for Jewish Values (CJV) 'represents over 1,500 traditional, Orthodox rabbis in matters of public policy.' The coalition 'advocates for classical Jewish ideas and standards in matters of American public policy. The CJV begins from the premise that something can be called an authentic Jewish value only if it is rooted in Biblical and Rabbinic teachings through millennia of Jewish history. Neither spurious references to 'Tikkun Olam' nor the use of Biblical verses plucked out of context transform personal views into Jewish tenets.'" No mention, of course, of the group's kneejerk right-wing Trumpism.
On April 9, Chapman uncritically forwarded the group's assertion that "By deciding to renew funding for the Palestinian Authority and the United Nations Relief and Works Agency (UNRWA), the Biden administration is funding terrorism." Five days later, Chapman uncritically presented evidence of just how far-right the CJV is with its attack on its fellow Jews at the Anti-Defamation League for criticizing Tucker Carlson's turn to white supremacy:
In a letter to Anti-Defamation League CEO Jonathan Greenblatt, the Coalition for Jewish Values, which represents more than 1,500 traditional, Orthodox rabbis, strongly criticized the ADL leader for calling on Fox News Channel to fire conservative commentator Tucker Carlson for his alleged "white supremacist ideology."

The coalition also criticized the ADL for its apparently selective denunciation of anti-Semitism.

[...]

"Your recent attack on Tucker Carlson of Fox News, calling it 'white supremacist' to question whether particular policy choices enable illegal immigrants to nullify the votes of American citizens, is merely one example," reads the letter.
Interestingly, Chapman made no note of the evidence, if any, the group had to support its contention that Carlson isn't echoing white supremacy by invoking the "great replacement" theory that immigrants are replacing white people in the U.S. in order to make it more liberal -- an argument regularly invoked by white nationalists and white supremacists.
Chapman further promoted the group's endorsement of Carlson's racist conspiracy theory (and another attack on the ADL) in a May 10 commentary (surprisingly labeled as such, not passed off as "news" as CNS typically likes to do):
The ADL "does not speak for Jews and no longer even is a Jewish organization," said Rabbi Dov Fischer, the Western Regional vice president of the CJV in an article for The American Spectator.

Rabbi Fischer also stressed that the Biden administration's immigration policy is designed precisely to allow as many illegal immigrants into the country as possible, as part of a decades-long policy, to "replace" American voters and secure a Democrat-majority electorate.

[...]

"Carlson is absolutely correct," wrote Rabbi Fischer, referencing a recent column by Jeffrey Lord in The American Spectator. "Voter 'replacement' is exactly, precisely what the Biden-Pelosi-Schumer Democrats now are endeavoring to do, with the U.S. Supreme Court's nine seats next in their sights."

"Of course we now are watching, before our very eyes, a concerted effort to replace the electorate that was electing Republicans," said the rabbi. "And look where newcomers are being sent, all those unaccompanied children who are wrapped up by Biden's administration in aluminum foil and placed initially in Obama–Biden cages — places like San Diego, one of the last redoubts of conservatism in California, and Texas, the red state with the most electoral college votes. Understandably, North Dakota Gov. Kristi Noem has spoken out forcefully, telling Biden that she will not let her state be next."

"How can anyone objective not see what is happening?" he added. "The reason that Biden insists that the chaos at the border is not a 'crisis' is plain to see: it is planned chaos, aimed at overrunning the system to leave no choice but to move millions of future Democrat voters ultimately into states where they can turn those tides as they have in the American Southwest."
CNS also gave space to Moshe Parnes, the CJV's "southern regional vice president," for an April 27 column further whining about the situation on the border while gushing that how "under Trump, the border was—for all intents and purposes—finally secured."
In a Sept. 17 article, Chapman called on the CJV to denounce the "marriage" (his scare quotes) of "the openly gay Democratic governor of Colorado," Jared Polis, to his longtime partner "a small Jewish ceremony":
Asked for comment about the "marriage," Rabbi Yaakov Menken, managing director of the Coalition for Jewish Values (CJV), told CNS News that his organization opposes such arrangements because marriage is reserved for a man and a woman.

"Marriage is described in Genesis as directly connected to having children," said Rabbi Menken. "So even without reference to clear prohibitions in Leviticus, it is obvious that a same-sex union is foreign to Judaism."

As is his homophobic nature, Chapman also made sure to declare that "Traditional, orthodox Judaism teaches that marriage is between one man and one woman."
Nasty attacks on Omar, 'Squad'
A particular target of the CJV is the group of Democratic lawmakers known as "The Squad," and Rep. Ilhan Omar in particular, and Chapman is all too happy to serve as the group's PR agent. Chapman dutifully wrote in a June 3 article:
The Coalition for Jewish Values (CJV), which represents 1,500-plus traditional rabbis in American public policy, denounced "The Squad" for its "hateful rhetoric" against Jews and Israel, stressing that the "hateful bias shared both by The Squad and at 'pro-Palestinian' demonstrations ... now motivates violent attacks against Jews in American cities."

[...]

"Hateful rhetoric against Jews has increased since the 'The Squad'—Reps. Ilhan Omar (MN), Rashida Tlaib (MI), Ayanna Pressley (MA), and Alexandria Ocasio-Cortez (NY) first arrived in Congress in 2019," said CJV Western Regional Vice President Rabbi Dov Fischer in a statement.

"What we see now is a Republican leadership anxious to condemn statements that lack sensitivity, while their Democratic counterparts are giving blatant hatred a pass," said Rabbi Fischer.
Fisher apparently did not provide any evidence of any anti-Jewish attack that could be directly linked to any member of "The Squad" or any thing they said, and Chapman was too locked in stenography mode to ask for any. The attacks continued:
A June 15 article by Chapman hyped Republican attacks on Omar as a "radical anti-Semite," adding, "In February 2021, the Coalition for Jewish Values (CJV), which represents more than 1,500 orthodox, traditional rabbis, denounced Omar's appointment as vice chair of the Africa, Global Health, and Global Human Rights subcommittee within the U.S. House Committee on Foreign Affairs.
A June 23 article by Elizabeth Nieshalla hyping how "Some 200 rabbis from the Coalition for Jewish Values (CJV) sent a letter to House Speaker Nancy Pelosi last week, calling for the removal of Rep. Ilhan Omar (D-Minn.) from the House Foreign Affairs Committee." Nieshalla quoted the coalition claiming that "Jews are being attacked day and night on American streets by mobs incited by Rep. Omar's rhetoric," but no evidence was offered of any direct incitement.
An Aug. 11 article by Chapman repeated the unsupported claim -- ironically, in an article complaining that Omar's spokesman pointed out that pro-Israel activists' attacks on Omar were endangering her life.
A Sept. 23 article by Chapman enthusiastically promoted the CJV's vicious attack on the members of Congress, quite literally calling them Nazis:
Democratic members of "The Squad" reportedly lobbied behind the scenes on Tuesday to kill $1 billion in renewed funding for Israel's Iron Dome interceptors, a step that could only be supported by "those who want more Jews to die," said Rabbi Yaakov Menken, managing director of the Coalition for Jewish Values (CJV).

"Less than a century ago, these people called themselves #Nazis; today they are called 'The Squad,'" tweeted Rabbi Menken on Sept. 22.
In 2020, CNS made a big deal of promoting complaints that some likened Donald trump to Nazis; Chapman didn't explain why the CNS collective mind changed on going Godwin.
Chapman then offered his own biased definition of the group: "'The Squad' is composed of radical, left-wing Democrats, who support socialist policies and are often critical of Israel, sometimes spewing anti-Jewish remarks." Of course, Chapman and the CJV are simpatico in wanting people to believe that any criticism of Israel is "anti-Jewish" and make no clear distinction between the two.
Chapman gave space to another attack on the "Squad," mixed with a nonsensical CJV attack on the ADL, in a Sept. 28 article:
The Coalition for Jewish Values (CJV), which represents more than 1,500 traditional, Orthodox rabbis, strongly criticized the Anti-Defamation League (ADL) for not calling for consequences against antisemitic members of Congress, and instead attacking Fox News over illegal immigration.

[...]

In a statement about ADL President Jonathan Greenblatt, the CJV President Rabbi Pesach Lerner said, "In January, Greenblatt correctly stated that Tlaib's depiction of Israel as 'apartheid' was both ' restated that same false and antisemitic claim in order to demonize Israel's self-defense, and joined her fellow 'Squad' members to strip funding from a program designed to neutralize the war crimes of the Hamas terror organization."

"Greenblatt was right to say that this ' shameful act' by 'the Squad' emboldens Hamas & Hezbollah, but why has he not called for consequences after yet another antisemitic fiasco from the 'Squad?'" said Rabbi Lerner.

"Instead, he diverts our attention with another partisan fight against a conservative public figure who made controversial, debatable, but certainly not hateful remarks," said the CJV in reference to Fox News' Tucker Carlson, who has reported on Democrats' using illegal immigrants to replace voters in the U.S.
In fact, Carlson's pushing of "replacement theory" is quite hateful, since it comes from a basis of racism and white nationalism. But Chapman's job here is PR, not reporting, so he continued:
In August, the CJV criticized the ADL for partnering with a Jewish college organization to combat antisemitism on campuses because, the CJV explained, the ADL "lacks the moral clarity to properly identify antisemitism, let alone combat it."

An ADL spokesman wrongly claimed, according to the CJV, that "anti-Israel activism in and of itself is not antisemitism."

Rabbi Moshe B. Parnes, the CJV Southern Regional Vice President, said, "Only someone with no sense of Jewish history could claim that BDS [Boycott, Divestment, Sanctions] is not antisemitic."
Actually, there's plenty of debate over whether criticism of Israel equates to anti-Semitism, and there is arguably at least some criticism of the country's policies that is clearly not.
And because Chapman is doing PR and not actual reporting, he couldn't be bothered to contact the ADL for a response to the CJV's hateful, ahistorical criticism.
Chapman praised the group's leader for going Godwin in an Oct. 11 article:
Commenting on the left-wing protesters who followed Sen. Kyrsten Sinema (D-Ariz.) into a bathroom to denounce her opposition to the high price tag of the $3.5 trillion Build Back Better bill, Rabbi Yakkov Menken, managing director of the Coalition for Jewish Values (CJV), compared their actions to Nazi stormtroopers, saying, "you don't have to go back too far to find German people who acted exactly as these protesters did."

"Early in the Nazi era they [stormtroopers] would go into where people were congregating and shout them down, and make sure no other voices could be heard except the Nazis," said Rabbi Menken.

"That's how you lose dialogue," he added. "That's how you lose a First Amendment. That's how you welcome in totalitarianism."

Rabbi Menken made his remarks during an Oct. 5 interview on the True Story with Mike Slater, broadcast on thefirsttv.com. After showing a video of Sen. Sinema being accosted by activists while she used a restroom, Slater asked the rabbi, "What do you think when you see activists like this act the way they act?"

Rabbi Menken said. "It's incredibly scary. If we lose the ability to distinguish between people rallying and expressing their own voice, and intimidation and bullying and shutting down the voices of others. I mean, you don't have to go back too far to find German people who acted exactly as these protesters did."
It can be argued that the protesters' tactics against Sinema weren't all that different from those used by anti-abortion activists against abortion doctors and clinics and even other clinic employees. We don't recall Chapman or anyone from the CJV being bothered by that.
Even though Chapman was defending Sinema against her critics, he wanted to make sure readers knew he wasn't a fan of Sinema herself. So his final paragraph read: "Senator Sinema is a moderate Democrat, but on some 'social' issues, she is very liberal/left. Sinema is the first openly bisexual member of the U.S. Senate and the first woman from Arizona elected to the upper chamber. She is ranked among the top conservative voters in the Democrat [sic] caucus."
Still bashing ADL
The CJV renewed its attacks on the ADL and its embrace of Carlson's replacement theory -- with the additional feature of portraying George Soros as a Jew right-wingers are allowed to hate -- in a Jan. 28 article by Chapman:
The Coalition for Jewish Values (CJV), which represents more than 2,000 traditional, Orthodox rabbis in matters of American public policy, sharply criticized the Anti-Defamation League (ADL) today for attempting to smear Fox News Channel's Tucker Carlson as a peddler of antisemitism.

The ADL described Carlson's new documentary on left-wing billionaire George Soros, Hungary vs. Soros: The Fight for Civilization, as a "dangerous antisemitic dog whistle."

"It is disappointing that the ADL has doubled down on what we called 'grossly misplaced charges of antisemitism' last spring, aimed once again at a favorite target," said CJV Southern Regional Vice President Rabbi Moshe B. Parnes in a statement. "The ADL has a pattern of saying that Carlson is using 'dog whistles' when he expresses political viewpoints with which they disagree."

In reference to the documentary, The Daily Beast wrote, "Carlson echoed antisemitic tropes that Jewish people wish to upend Western civilization, claiming Soros' goal was 'destruction aimed at the West' and aims to make society 'more dangerous [and] dirtier.'"

[...]

In the documentary, Carlson documents many of the left-wing organizations and policies that Soros' foundations fund. Carlson also interviews Hungarian Prime Minister Viktor Orban, a conservative, who states that Soros is "the condensed symbol of everything the Hungarian right hates."
Related articles on ConWebWatch:
Actually, Orban is much more than a "conservative"; as ConWebWatch documented when CNS' parent, the Media Research Center, bizarrely embraced him as a hero of "free speech" for wanting to control social media, he's a right-wing authoritarian leader who suppresses dissent and free speech, and his portrayal of Soros as an enemy of the Hungarian people is a part of that.

While Chapman didn't quote anyone from the CJV criticizing Soros, he made sure to denigrate Soros' heritage on his own: "George Soros, 91, was born into a non-observant Jewish family in Budapest, Hungary. In interviews, Soros has said he does not believe in God. Soros has a reported net worth of $8.6 billion."Chapman also referenced a MRC "special report" attacking Soros, though he didn't mention his employers bad habit of using anti-Semitic tropes to bash Soros.

Chapman then rehashed the CJV's defense of Carlson for pushing the "replacement theory" conspiracy that Democrats are conspiring to replace American voters with, in Carlson's words, "more obedient voters from the Third World," and quoted a CJV official as saying this is "exactly, precisely what the Biden-Pelosi-Schumer Democrats now are endeavoring to do."

A Feb. 2 article -- this one anonymously written -- featured the CJV lashing out at Amnesty International as anti-Semitic for criticizing Israel's treatment of Palestinians:
The Coalition for Jewish Values (CJV), which represents more than 2,000 traditional, Orthodox rabbis in matters of American public policy, denounced a new Amnesty International report that paints Israel as an apartheid state, and charged the organization with being an "antisemitic hate group."

[...]

In a statement, Rabbi Yaakov Menken, managing director of the Coalition for Jewish Values, said, "The Amnesty International report, which we have seen and examined, is openly antisemitic. No one should pretend it is about a political dispute when it is rife with hatred against individual Jews.
Neither the CJV nor the anonymous CNS writer explain how criticizing the way Israel treats its neighbors is inherently and reflexively "anti-Semitic."
The latest from