CNS Lets Right-Wing Rabbis Fret Over Libs of TikTok Writer Being Exposed As An Orthodox Jew
Topic: CNSNews.com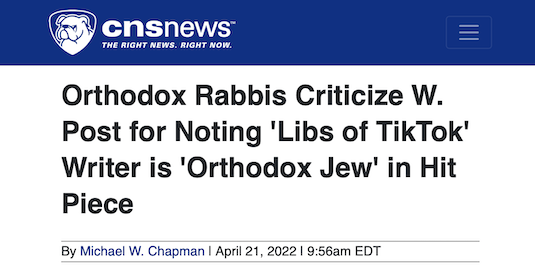 The Media Research Center relentllessly attacked Washington Post reporter Taylor Lorenz for exposing Chaya Raichik as the LGBT-hating woman behind the Twitter account Libs of TikTok, and its "news" division, CNSNews.com, served up it own version of it, courtesy of its favorite group of hate-filled right-wing rabbis in an April 21 article (which curiously did not name Raichik even though it's public record now):
On April 19, the Washington Post published an article that was sharply condemnatory of the Twitter-user who posts the "Libs of TikTok" account, a writer whose name, profession, city, and religion -- "proudly Orthodox Jewish" -- were printed in the piece.

The Coalition for Jewish Values, which represents more than 5,000 Orthodox rabbis, responded by describing The Post's actions as "simply unacceptable" and "bordering on antisemitic."

[...]

The Libs of TikTok account on Twitter has 915,000 followers and is influential, especially among conservative pundits.

In the Washington Post article, written by columnist Taylor Lorenz, the name, city, occupation, etc., of the Libs of TikTok writer are revealed, what social media users call "doxxed." This was done, according to critics, to try to intimidate and bully the writer.

[...]

The Coalition for Jewish Values issued a statement on April 20, noting that "the WaPo article highlighted that the subject had, under a previous anonymous Twitter handle, identified herself as an Orthodox Jew, a fact entirely unrelated to the larger story."

Rabbi Yaakov Menken, managing director of the Coalition for Jewish Values, said, "The Washington Post's behavior here is simply unacceptable. Jews constitute a small minority, yet are disproportionally targeted by hate crimes. An individual Jew, especially a visibly Orthodox Jew, is thus most likely per capita to be the victim of a hate crime in America today, by far."

"Given this context, identifying the Twitter user as an Orthodox Jewish woman placed her at heightened risk of physical harm," said Rabbi Menken. "The Post not only did this, but then defended itself by insisting that her membership in our community was not a personal detail."

"That ludicrous denial is extremely offensive, bordering on antisemitic, especially at a time when media outlets routinely mask ethnicity details regarding members of every other minority group," he said. "If this is what the Washington Post describes as its 'professional standards,' we call upon the paper to upgrade those standards immediately."
In defiance of its proclaimed mission to "cover the news as it should be, without fear or favor" -- which should involve telling all sides of a story -- Chapman made no attempt to give the Post or anyone else an opportunity to respond to the CJV. Indeed, a writer for the Cleveland Jewish Press detailed why Raichik's identity as an Orthodox Jew is a germane issue:
The Coalition for Jewish Values, an organization of right-wing Orthodox rabbis, said that "identifying the Twitter user as an Orthodox Jewish woman placed her at heightened risk of physical harm."

But if identifying someone as Jewish subjects them to antisemitism, that seems to be a bigger and more insurmountable problem than any one journalist can address or avoid. It assumes, without evidence, that antisemitism has become so pervasive that living and identifying publicly as a Jew has become an existential risk. And it clashes with an ethos of Jewish pride and self-confidence that educators are trying to instill in Jewish schools and camps, and no doubt in the synagogues to which many of the Washington Post's critics belong.

Jews are visible and assertive in public life, and in almost every occupation you can think of. Jews are overrepresented in activist spaces where the arguments are impassioned and sometimes unhinged. They don't live as marranos. It's not clear why Raishik deserves special handling, especially when she has willingly placed herself at the white-hot center of our national argument.
If Raichik was not doing something shameful, there would be no reason for anyone to fret about her religious identity.It seems like the CJV should be criticizing Raichik for acting in a shameful, hateful manner instead of fearing for anti-Semitic attacks against her.
Posted by Terry K. at 6:30 PM EDT