New Press Secretary, Same Hate: MRC's Houck Berates Jean-Pierre
Topic: Media Research Center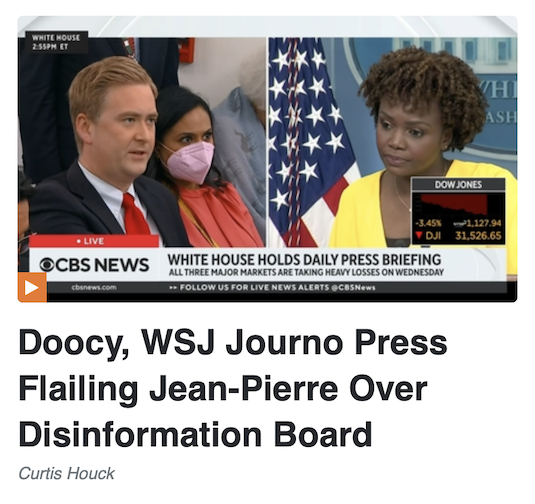 Media Research Center writer Curtis Houck has already denigrated Karine Jean-Pierre as a diversity hire, so his hatred for her was destined to continue after she replaced Jen Psaki -- whom Houck had spent the previous 14 months spewing hate at -- as White House press secretary. Thus, Houck came out guns a-blazin' after Jean-Pierre's first briefing as press secretary on May 17:
With The Psaki Show out to pasture until it resurfaces on Peacock, White House press briefings continued on Tuesday with Psaki's former deputy and former MoveOn.org and MSNBC activist, Karine Jean-Pierre.

Predictably, the liberal media showered their fellow progressive with syrupy platitudes and questions from the left demanding the federal government crusade against Fox News host Tucker Carlson and Congresswoman Elise Stefanik (R-NY) for supposedly causing the Buffalo shooting.

Jean-Pierre repeatedly insisted Tuesday wasn't about her, but she repeatedly did just that. She capped her opening remarks by stating "about how honored I am to be here with all of you today in this role, in this room, standing behind this podium" as the first "a Black, gay, [and] immigrant woman...to hold this position" and that it wouldn't have been without "barrier-breaking people before me."

She added that "[r]epresentation does matter...and no one understands this better than President Biden, which is why his administration is not only the most diverse in history" and moved on to the job itself by insisting "this podium, this room...belong[s] to the American people."

Before going to the AP's Zeke Miller, Jean-Pierre insisted she'll make "truth, honesty, and transparency" the center of her briefings even though she "might not see eye-to-eye...all the time" with reporters.

Speaking of reporters, Jean-Pierre thanked her comrades for "the work that you all do, which I know it's not easy" "play[ing] a vital role in our democracy, and we need a strong and independent press now more than ever."

Miller led off with a variation of a snotty question that's been asked of past secretaries as to whether they'd be truthful with reporters.
Houck thinks the question is "snotty" because it was asked of his beloved Kayleigh McEnany -- and she couldn't even get through that day's presser without telling falsehoods. He was also so obsessed with spewing hate at Jean-Pierre that he didn't even hype "Doocy time" from his man-crush, Fox News' Peter Doocy, instead telling readers to check out the full transcript.
For the May 18 briefing, Houck devised a new narrative that Jean-Pierre was already a failure after two days on the job, declaring in the headline that she was "flailing" as he man-crushed on Doocy for repeating the right-wing narrative du jour:
Wednesday's White House press briefing featured five questions on the so-called pause of the Department of Homeland Security's (DHS) dangerously Orwellian Disinformation Governance Board (DGB) and the resignation of its controversial head, Nina Jankowicz. In the midst of the questions from< Wall Street Journal's Tarini Parti and Fox's Peter Doocy, Press Secretary Karine Jean-Pierre confirmed the pause, but let slip that the DGB's "work" will "continue."

Parti broke the ice, asking whether "the White House play[ed] a role at all in perhaps expressing frustration on how it was rolled out or...any — involvement in how it — whether or not it should be paused."

She also wondered whether the administration had "a response to" what "some experts" who've argued the DGB "was sort of set up to fail[.]"

Jean-Pierre went right to her binder (which she's relied on as more than a crutch in both her tenure and back to being Jen Psaki's understudy), insisting "the board has never convened" but would be "pausing in the sense that it will not convene while former Secretary [Michael] Chertoff and former Deputy AG [Jamie] Gorelick" conduct "their assessment."
By contrast, Houck had nothing but praise for McEnany's "binder of facts."
After that, Houck took an unexplained break from berating Jean-Pierre and didn't returnn to his self-appointed job until June.
Posted by Terry K. at 9:32 PM EDT
Updated: Friday, June 17, 2022 9:34 PM EDT