MRC Can't Stop Defending Lara Logan's Bad, Biased Journalism
Topic: Media Research Center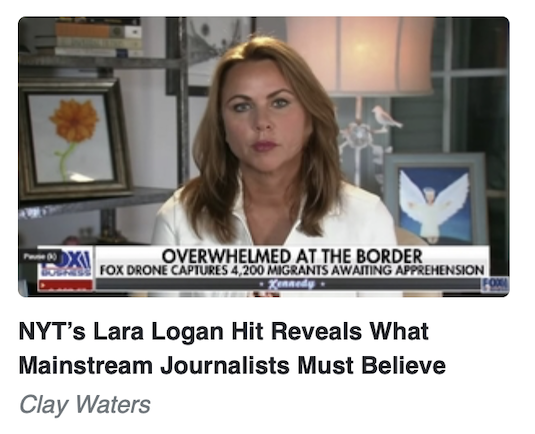 Is there any depth to which Lara Logan will sink that the Media Research Center won't defend? It seems not.
The MRC hid her misdeeds in reporting a false claim about the Benghazi attack for "60 Minutes," then continued to promote her even as she spread Antifa hoaxes. When Logan outrageously likened Anthony Fauci to notorious Nazi doctor Joseph Mengele in a Fox News appearance late last year, the MRC refused to criticize her without resorting to lame whataboutism, even as it has whined about conservatives being likened to Nazis. When the New York Times documented Logan's descent into far-right conspiracy theories, it wasthe MRC's Clay Waters rushing to her defense against the "hit job" in a May 23 post:
The New York Times ran a hit piece on former CBS journalist Lara Logan by Jeremy Peters, who is the paper's go-to reporter for criticism of conservative media figures: "Former Star At CBS News Follows Path To Far Right."
After introducing Logan as someone who had "reached the heights of American journalism….as the chief foreign affairs correspondent for CBS News," he lamented "today Ms. Logan cuts a far different figure in American media. Instead of on national news broadcasts, she can be found as a guest on right-wing podcasts or speaking at a rally for fringe causes, promoting falsehoods about deaths from Covid vaccines and conspiracy theories about voter fraud."

Peters characterized her supposed decline as "one of the most puzzling in the modern history of television news." But more interesting than what Peters had to say about Logan was his assumptions about what a mainstream journalist is allowed to believe.

More than half a dozen journalists and executives who worked with Ms. Logan at "60 Minutes," most of whom spoke anonymously to discuss private interactions with her, said she sometimes revealed political leanings that made them question whether she could objectively cover the Obama administration's military and foreign policy moves. She appeared increasingly conservative in her politics over the years, they said, and more outspoken about her suspicions of the White House's motives and war strategy.

Wasn't it a requirement for any reputable journalist to be suspicious of the "White House's motives and war strategy" when George W. Bush was president and the Iraq War was raging? Is doubting presidential motives only a problem when the president is a Democrat?
Waters made sure to hide the exact deeds that caused people to doubt her objectivity -- namely, she uncritically promoted the claims of a self-proclaimed first-person witness to the Benghazi attack who, it turned out, had told his employer he wasn't. Waters also censored her descent into Antifa conspiracy theories. And like his MRC co-workers, he played whataboutism to dismiss Logan's Nazi smear:
Peters noted Logan comparing Dr. Anthony Fauci to Nazi doctor Josef Mengele, which got Logan canned from Fox Nation. If we can agree that contemporary Hitler comparisons are bad, perhaps the media (including Times reporters) will stop comparing Republicans to Hitler or Nazis.
If Waters must resort to whataboutism, he can't possibly be sincere about ridding the world of Nazi comparisons.
Posted by Terry K. at 9:32 AM EDT
Updated: Saturday, June 25, 2022 9:34 AM EDT