MRC Targets Another Cop Show For Not Fawning Over Police Enough
Topic: Media Research Center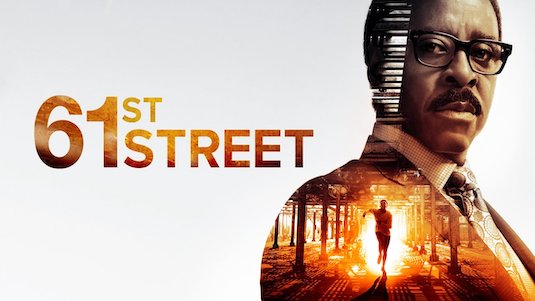 The Media Research Center is a kneejerk defender of the police, insisting that they should not be criticized at all -- especially in TV shows that pull its storylines from the events of the day -- and it's still complaining about TV show plots that offer even the slightest criticism of law enforcement. Dawn Slusher found a new cop show to hate-watch -- and, thus, target with her own hate -- in an April 15 post:
The last thing we need from Hollywood right now is another anti-cop show that puts the lives of our heroes in blue at risk and contributes to a record high number of officers being ambushed and killed across the country by painting officers as evil monsters out to prey on innocent victims. But that's exactly what AMC's new drama 61st Street is all about, unfortunately.

61st Street centers around black track star Moses Johnson (Tosin Cole), a good kid with a promising future despite growing up in Chicago's impoverished South Side. Michael Rossi (Patrick Mulvey) appears to be the only good cop on the show who's secretly trying to uncover the bad ones.

[...]

And of course, the show isn't depicting how real-life corruption in Chicago happened and happens under Democrat leadership, and that the city is dealing with a severe increase in crime after leaders defunded the police. Nor are they showing how they've had to greatly lower their hiring standards amid staffing shortages due to attrition in the police department, resulting in a spike of applications from those who otherwise wouldn't be qualified. Nor are they depicting how Democrat leaders spent millions on their own police protection while defunding it for the rest of Chicago's citizens.

In other words, the Democrat-run city is a mess, and they've only made things worse by chasing out the good cops and enlisting lesser qualified ones. Shows like 61st Street only contribute to these problems by furthering an anti-cop climate and widening this country's racial divide while putting good officers' safety at risk as mentioned before. Let's hope it's canceled before it can do more damage with a second season.
So criminals watching an obscure cable show for escalating attacks on law enforcement when the real problem is Democrats? Who knew?
In fact, Chicago police weren't actually "defunded" -- their budget for this year is nearly $2 billion. What cuts did happen to Chicago police, largely elimination of vacant positions, was driven by pandemic-induced budget deficits. Additionally, crime is also up in cities that didn't "defund" police.
Three days later, Slusher attacked another episode of "61st Street," complaining that characters called for defunding the police -- while failing to note that it never really happened in Chicago -- and huffing that "They've made it clear their goal is to make all police look as bad as possible and sway public opinion against them" and blaming "hatred" of police and the purported "defunding" of them for how "so many good officers" are leaving the department. Needless to say, Slusher didn't breathe a word about the notorious corruption of Chicago police, making criticism of them having at least some basis in reality.
Slusher ranted in an April 25 post about yet another episode of the show:
How many liberal talking points can Hollywood writers fit into one scene? Apparently a lot if we go by AMC's new anti-cop drama 61st Street, which managed to rant about feminism, white people, and the police all in one brief scene on Sunday's episode, "Barefoot and Dangerous." They even went so far as to claim policing is "just personal security for rich, white folks."
Again, Slusher is mad that the ugly reality of Chicago police is being pointed out. For instance, it has been documented that Chicago police pull over black drivers seven times more often than white drivers and are more likely to use force against black people than white people -- and it solves murder cases involving black victims at less than half the rate it solves murder cases involving white victims.
Slusher's hate-watching -- and repetition of false narratives -- continued in a May 11 post:
AMC's super woke, anti-cop drama 61st Street has continued to pour it on thick with their extremist, far-left, Black Lives Matter (BLM) agenda. In the past two episodes, the show has falsely claimed that police presence in schools is a "declaration of war" and that the system can't be reformed, because it supposedly began as a slave-catching patrol and is therefore "functioning as it should." It also denounced the justice system for "locking (black) people up."

[...]

Pushing the false narrative that policing has origins in slave-catching on plantations is rather dubious of the show, but it's a typical straw man argument used by SJWs in an attempt to bolster their position. Of course, black lives matter, and any cop who is racist and/or abuses their power needs to be held accountable.

But, if 61st Street truly cared about black lives, they wouldn't be depicting the South Side as an innocent, safe neighborhood as they have. If the show is to be believed, police are the only real threat to residents, when in fact, less than half a percent of black lives are taken during police conflicts.

What they should be showing is the reality that crime is the biggest threat to black lives and that more black lives are lost weekly to criminal violence than all lives lost weekly at the height of the Vietnam War. Defunding police has only made things worse as crime rates have skyrocketed, standards in hiring officers have been lowered, and the attrition rate has soared.

BLM initiatives are actually destroying black lives, yet 61st Street wants to promote them? AND do away with the justice system that has held bad officers accountable? In what kind of world would any of that make sense?

Oh, that's right. Liberal Hollywood. Too bad their harmful propaganda isn't self-limiting. It has far-reaching effects across the entire country. All the more reason to cancel this dangerous show immediately.
As we've noted, many Southern cities had slave patrols that predated the creation of police departments there, and that all such police operations were created to enforce the existing social hierarchy -- you know, racism and segreation -- before evolving into a force for protection starting in the late 19th century, so it's not a "false narrative" to point out that policing has at least some history in the slave trade.
Slusher's messaging also got confused in the links to the mostly right-wing sources she used to back up her claims about black crime. If black crime is so bad on the South Side, isn't that in large part a failure of police to do their job adequately and that their methods so far have been a failure? And the idea that "less than half a percent of black lives are taken during police conflicts" (taken from a right-wing New York Post column that doesn't reveal the source of the stat or the actual number of blacks killed by police) is hardly the reassuring statistic Slusher wants you to think it is; that number should effectively be zero, and the fact the number is where it's it is also in no small part because of inadequate police training.
Posted by Terry K. at 4:12 PM EDT