Who Cares About Facts? ConWeb Wants You To Believe A Bird Pooped On Biden
Topic: The ConWeb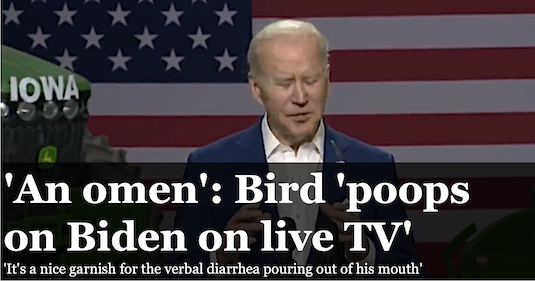 It was a story too good to fact-check: Something appeared on President Biden's suit coat during a speech in Iowa, and it obviously had to be bird poop. Susan Jones wrote in an April 12 CNSNews.com article illustrated with three photos and a video:
About three minutes into his speech at an ethanol plant in Iowa Tuesday, President Biden was annointed from above by -- a bird?

Biden, standing near a pile of corn in what he called a "giant barn," was talking about "the work we're doing to lower costs for American families and put rural America at the center of our efforts to build a future that's made in America. And that's not hyperbole; it's about being made in America," he said.

Biden started to say, "A lot of that has — has to do with this industry." And as he said the words "a lot," something from above stained the shoulder of his navy blue blazer. Biden did not pause, assuming he even noticed.

The white splotch remained on his collar, above the pocket handkerchief and pin, as Biden took several minutes after his speech to meet and greet the plant workers.

But later, as he prepared to depart Iowa, the stain was no longer evident as Biden stopped briefly to speak to reporters.
WorldNetDaily followed suit the same day, with Joe Kovacs copying-and-pasting social media insults:
Is it a message from above?

Joe Biden was the recipient of a "gift" from the heavens Tuesday when something dropped on him during his televised speech.

The president was speaking in Menlo, Iowa, during the first stop of his administration's new "rural infrastructure tour."

As Biden said, "It's not hyperbole. It's about being made in America," a dropping of something that itself was made in America suddenly appeared on the left shoulder of the president's blue blazer near the neckline.

And, of course, the video was posted on social media.

"Look closely. It 100% looks like a bird just pooped on Joe Biden. Lmfaoo," tweeted Greg Price of Philadelphia.

The providential dropping is uniting Americans, with reactions online including:

"It's a sign 😂"
"Literally a sh** show."
"Or what's left of brains spilling out of his ear."
"Everyone's a critic."
"It was #Putin.🙄"
"A new national bird."
"I wish it had been a bald eagle."
"Looks like the bird's aim was a little off there."
"It's a nice garnish for the verbal diarrhea pouring out of his mouth."
"An omen from the gods."
"Even the bird knows he's full of cr**!"
"Insurrection! We must ban birds."
"God has the best sense of humor 🤣"
"The bird did what all of America wants to do."

Biden's dropping incident is reminiscent of a series of times when Barack Obama was bugged by flies and bees during his time in the Oval Office.
Oddly -- considering how much WND enjoys publishing falsehoods and misinformation -- Kovacs updated his article on April 18: "A fact check by Politifact, one of Facebook's partners, indicates: "Something did stain the president's suit during his speech, but it was distillers grains, according to reporters in the room and the White House. A video clearly shows particles flying around from a giant, nearby grain pile."
And because the claim was fact-checked, Media Research Center rushed to object to the fact-check in an April 18 post, even though he admits the claim is "erroneous":
Even the silliest content about President Biden can be grounds for punishing conservative sites.

Take the erroneous "Biden had bird poop on him" story. The president gave a speech in Iowa promoting how corn-enhanced gasoline could help reduce the price at the pump. PolitiFact didn't offer a "fact check" on anything Biden said, but it did trash conservative sites for what appeared on Biden's jacket.

It was "FALSE" to say "A bird pooped on Joe Biden during his speech" in Iowa. PolitiFact's Jeff Cercone summarized on April 13:

[...]

Notice Cercone didn't evaluate Biden blaming price hikes on Putin. He was poop-focused. But PolitiFact looks like a partisan site when Sen. Ron Johnson gets a "Mostly False" for blaming high gas prices on the Democrats and Joe Biden gets a Mostly True for claiming "The current spike in gas prices is largely the fault of Vladimir Putin."
At no point does Graham apologize for publishing false information. To the contrary, he's mad that conservative media is being held accountable for it, huffing that "Based on the "fact checkers," Facebook has restricted our sister site MRCTV's 3.3-million-follower page for the next three months for an article insisting that the president had the poopoo, and the article having now been branded with a "false information" label to protect the public from such damaging myths." Graham included a screenshot of an MRCTV Twitter post featuring the false claim -- which Graham admits is false -- that "A bird pooped on Joe Biden in Iowa."
A post the next day from Joseph Vazquez whined at length about the MRC being held accountable for its false claims:
The hypocrisy of Facebook's fact-checking partners knows no bounds. In an act of discrimination against the Media Research Center, a Meta platform fact-checking partner threw a fit after MRC's video division, MRCTV, dared to write about a video that showed President Joe Biden getting smacked with a white or yellow substance, depending on the photo or video.

MRCTV managing editor Brittany Hughes headlined, "Yes, a Bird Just Crapped On Biden During a Speech." Hughes quipped that "It appears a bird proceeded to crap on Joe Biden while the president was speaking in Iowa Tuesday, dropping a big, dripping pile of poo directly on Biden's shoulder in full view of God and everyone."

"False information," cried Facebook in a filter it slapped over MRCTV's post of Hughes' blog. The platform linked out to an absurd article by left-wing fact-checker PolitiFact that tried to protect biden. Facebook in turn canceled MRCTV, restricting its account and reducing its page quality for at least 90 days for supposedly having "repeatedly shared false information." Oh, please. MRCTV received previous "missing context" flags, which are supposedly not supposed to hurt the quality of its page but did anyway.
Vazquez then bizarrely attacked the PolitiFact fact-checker for not personally investigating the substance on Biden's lapel:
While Cercone acknowledged that "there were birds in what the president called the 'giant barn,'" he appears to have taken others' word for it and dismissed the poop theory out of hand. "It became clear fairly soon after that the theory was a load of bird poop, but by that point the video had been widely shared." Cercone continued: "A video clearly shows particles flying around from a giant, nearby grain pile. We rate this claim False." Did Cercone examine the substance himself? Did he smell it? Did he smush it between his fingers? Did he taste it? Did he ask the White House for a sample of the substance and have it tested in a lab somewhere? It doesn't appear so.

[...]

Cercone's "bird poop" of a fact-check ridiculously tried but couldn't prove with hard evidence that the substance wasn't feces. Yet, Facebook took PolitFact seriously anyway.

But it got even more ridiculous. PolitiFact cited a Des Moines Register article which "showed a closeup image of the president's jacket, which clearly shows a yellow color, not the traditional white usually dropped on us by our avian friends." Ah, so the brilliant rebuttal from PolitiFact's in-house ornithologist is that the substance was too yellow to be bird poop? Apparently Facebook saw that as enough of an excuse to censor MRCTV.
Vazquez refused to admit the MRC was wrong, and Hughes' post remains live and uncorrected. That's right-wing arrogance and disregard for the truth in a nutshell.
Posted by Terry K. at 10:36 AM EDT