MRC's Houck Cranks Up The Hate For Jean-Pierre
Topic: Media Research Center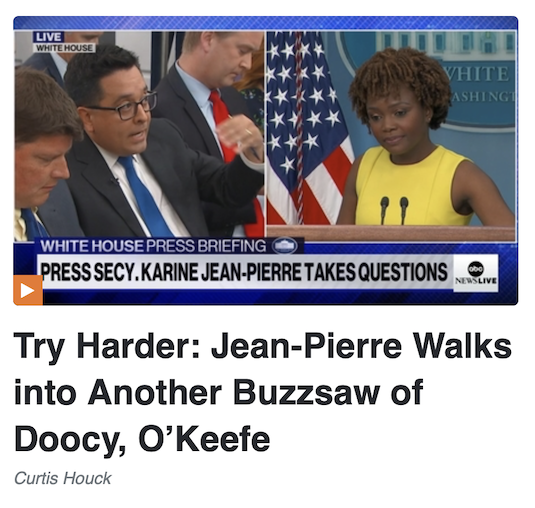 After taking several days off around Memorial Day weekend, the Media Research Center's Curtis Houck was back in full denigrating form to attack new White House press secretary Karine Jean-Pierre with his overly quick narrative of incompetence in his hyperbolic (and Doocy-fluffing-filled) writeup of the May 31 briefing:
After K-Pop band BTS led Tuesday's White House press briefing, economic adviser Brian Deese and Press Secretary Karine Jean-Pierre faced questions about the economy, gas prices, gun control, inflation, and student loans. In the case of Jean-Pierre, she continued using her briefing binder as a clutch.

Deese went first and dealt with mostly open-ended questions and softballs such as one from Team Biden potted plant Kelly O'Donnell of NBC about whether the recent pickup in administration outreach on the economy has been an "implicit...acknowledgement that you have not been telling the story of the economic picture in a way that has been satisfactory to the President."

[...]

Things didn't let up for the former MSNBC political analyst as it was Doocy Time, which began with a simple question:"Canada is making it impossible to buy, sell, transfer, or import handguns anywhere in that country. Would President Biden ever consider a similar restriction on handguns here?"

Jean-Pierre retreated to her notes and meandered about other gun control proposals (including Biden's demand there be a "ban on the sale of assault weapons") before insisting "[h]e does not support a ban on the sale of all handguns, to answer your question."

Doocy moved onto gas prices and the fact that gas prices are now above the minimum wage. Predictably, Jean-Pierre insisted Biden knows what it's like to struggle as ordinary Americans are currently (even though Biden's been part of the D.C. elite since 1974) and, in response to a Doocy follow-up, Russia and Vladimir Putin are to blame[.]

[...]

Doocy wrapped with another basic question: "Does President Biden take any responsibility for his policies potentially contributing to inflation?"

Jean-Pierre replied with what could be described as reckless abandonment for basic grammar: "His policies has [sic] helped the economy gets back on its feet. That's what his policies has [sic] -- his policies has [sic] done."
Houck continued to mock and insult Jean-Pierre the next day, as well as falsely putting words in President Biden's mouth:
Amid White House Press Secretary Karine Jean-Pierre's worst press briefing yet as she faced questions Wednesday about the baby formula shortage, the economy, inflation, and presidential leadership, Bloomberg's Justin Sink came from the left on abortion by twice wanting to know why Biden hasn't made abortion more of a focus in his administration following the leaked Supreme Court draft opinion striking down Roe v. Wade.

[...]

Jean-Pierre replied that she didn't "have anything to preview on his schedule, but the President is clear on this....that a woman has the right to make their own decisions when it comes to their own healthcare and their own health and their own reproductive rights."

In other words, it's that Biden supports abortion on-demand, up to the moment of birth.
Houck went full hate-blast for the June 1 briefing in order to fluff Doocy yet again for peddling right-wing narratives:
White House Press Secretary Karine Jean-Pierre suffered the first of what could be many terrible, horrible, no good, very bad days as reporters from conservative and liberal outlets as well as the front and back of the room hammered away with questions about the baby formula shortage, inflation, and presidential leadership. For Jean-Pierre, she had little in the way of answers besides lengthy, pre-written notes she used as a heavy crutch.

[...]

Fox's Peter Doocy cut to the chase:"[W]ho is the person, in the West Wing, who decided after six or eight weeks that this baby formula shortage was finally something that somebody should tell the President about?"

Obviously, Jean-Pierre didn't answer and instead said she'll need "to go back and talk to the President." Following more meandering, Doocy moved to inflation: "When are you guys going to admit that you were wrong about inflation?"

A flustered Jean-Pierre then offered up this quip that went over like a lead balloon: "No easy questions today. Huh?"

Doocy persisted:"The Treasury secretary says that she was wrong. So why doesn't anybody here at the White House?"

Jean-Pierre blamed supposedly unforseen events like COVID-19 and Russia, so Doocy gave her one more chance to give a different answer (which she didn't): "Just so that I understand the treasury secretary says that she was wrong but the White House was not wrong about inflation."
We again remind you that Houck had nothing but praise for McEnany's " binder of facts," meaning that Houck is being utterly hypocritical in criticizing Jean-Pierre for similarly using a binder.
Posted by Terry K. at 10:02 PM EDT
Updated: Friday, July 8, 2022 12:41 PM EDT