This Is 'Media Research'? MRC Immaturely Cheers The Demise Of CNN+
Topic: Media Research Center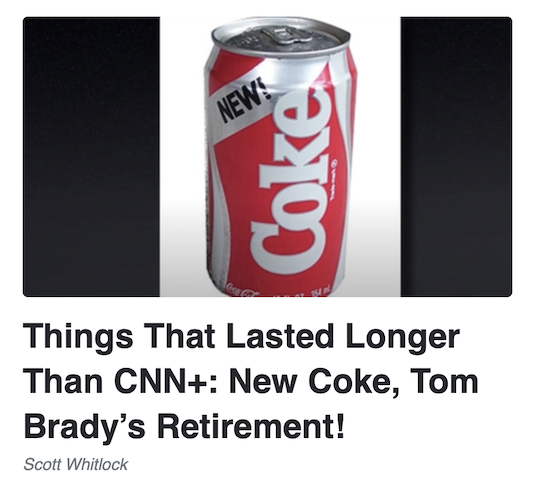 One of the Media Research Center's missions is to obsessively hate all things CNN, so when the channel announced its straming service, the MRC was on the attack from the beginning. In a July 2021 post on the announcement of ther service, Tim Graham was quick to brand it as biased even though it didn't exist yet: "So you'll be able to watch Kamau Bell ask giggly softballs to Antifa or the CNN Films love letter to RBG, but "it's not going to be ideological." Morse claimed people turn to CNN for 'trust,' for 'credibility,' for "authenticity," for programming that's 'smart and entertaining.'" When CNN's Brian Stelter pointed out that Fox News' streaming service Fox News was filled with "right-wing opinion programming" but billed as "entertainment," Graham didn't dispute the description but instead deflected: "It's obvious that "growing the CNN brand" is going to rely on 'left-wing opinion programing' and 'entertainment product,' since they will expand on shows like actor Stanley Tucci's foodie tour of Italy." Of courrse, if Graham really did care about bias in the media, he'd be attacking Fox Nation the way he was bashing a CNN service that wouldn't exist for months.
When Chris Wallace announced in december he was jumping ship from Fox News to join the CNN venture, Nicholas Fondacaro lamented that "Wallace's recent years with the network were a bit of a mixed bag" -- MRC-speak for complaining that he stopped being a ciomplete right-wing shill.
The actual launch of CNN+ at the end of March was drama-free at the MRC. But when rumors of trouble surrounding the service started popping up, it was quick to pounce. Curtis Houck used an April 12 post -- with a snotty "You Hate To See It" headline -- to hype a report that "massive cuts are expected at CNN+ in the near future after a spectacularly poor rollout" and the amount of money that had been put into "what former CNN puppetsmaster Jeffrey Zucker had tried to paint as the network's future." (Yes, the MRC still can't stop hurling the anti-Semitic "puppetmaster" trope at the Jewish Zucker.) Fondacaro later added an update with more bad news about allegedly low subscription numbers, claiming that "this paltry number only gives credence to the notion that CNN's new parent company Discovery will have even more leverage in extracting both budget cuts and changes to the liberal news outlet." Fondacaro sneeringly concluded, "To make a point of sarcasm, this all couldn't have happened to a nicer, more positive and constructive group of people."
The MRC then rushed to hasten the death knells. On April 14, in an echo of its immature gloating on the ratings of various CNN shows, Houck and Kevin Tober cobbled together a list of "Eight Things More Popular Than Epic Failure CNN+," adding:
It was revealed on Tuesday that, according to CNBC, CNN+ has fewer than 10,000 active users on the streaming service a scant two weeks since its launch. Add in a report of looming budget cuts and layoffs and CNN and its executives found a way to make the brand even more pathetic and launch something even more of a failure than the parent cable network.

To reiterate the insanity of this entire venture, consider the fact that CNN thought there would be a robust market paying $5.99 a month to watch the likes of Brian Stelter, Chris Wallace, Jemele Hill, and Anderson Cooper when practically nobody watches them on regular cable?

With there being more pagans and witches out there than CNN primetime viewers, we saw this coming from miles away.
This was followed by an April 19 post by Houck cheering that the marketing for the service had been suspended, sneering that "When it rains, it pours for the most poisonous name in news." And when CNN announced it was shutting down the service after less than a month -- seemingly due more to management changes as CNN gets absorbed into new owner Discovery than an allegedly slow launch -- it was unsemly grave-dancing time at the MRC (just like it did when Zucker left the company). Houck was first out of the hate gate:
CNN+, launched March 29 as a flaming heap of failure and narcissism, is set to be killed off come April 30. CNN and parent company Warner Bros. Discovery confirmed the death late Thursday morning. The move came a month after its birth and reportedly went off despite objections from Discovery.

Its cause of death was due to public disinterest with liberal punditry and paying money to hear more from the likes of Anderson Cooper, Don Lemon, and Brian Stelter. Interest was so low that CNN+ reportedly only brought in& fewer than 10,000 daily users and only 150,000 subscribers.

For a network whose daily users are less than the reported number of Jedi in Australia and brought in less revenue than a kickstarter for a random guy making potato salad, it was unsurprising that this hilariously bad idea will soon meet a fitting end.

[...]

With the exception of those of us at NewsBusters (who watch things like CNN+ so you don't have to), one had to have been a masochist for parting with hard-earned money to watch CNN+ for pleasure.
Another post by Houck promoted a Discovery executive criticizing the service, then tried and justify the hate spewing from the MRC over it "If this were Fox Nation going under, it's safe to say both outlets wouldn't be so somber." Taht doesn't justify the childish hate emanating from the MRC, of course -- Houck is simply making excuses to be unprofessional.
This was followed by a post from Scott Whitlock listing things that lasted longer than CNN+, like New Coke and Tom Brady's retirement, but he didn't mention that it lasted longer than Anthony Scaramucci's tenure as communications director in the Trump White House. After that -- speaking of unprofessional -- the MRC touted Fox News folks bashing the competition:
On April 22, Fondacaro attacked Stelter for making the obvious point that CNN+ was shut down before it could have a chance to be successful, substituting right-wing anti-CNN hate for any effort at reasoned argument:
Instead of addressing the fact that they were struggling to get subscribers, had uninteresting content, and were just so full of themselves that they couldn't see it as the folly that it was, Stelter laid the blame on conflicting visions with the new leadership:

[...]

In reality, we've seen the reports that CNN+ had under 10,000 daily users and barely 150,000 subscribers despite them throwing over $300 million at the pipedream and hiring talent they couldn't support.
Jeffrey Lord devoted his April 23 column to trashing CNN+ in general and Wallace in particular for not buying into the right-wing narrative that the 2020 election was stolen from Trump:
The real problem here is that Wallace lives in the liberal media bubble – and to be on a network with others who not only do not live in that bubble but challenge the Left's so-called "truths" finally was just to much. "Unsustainable" in Wallace's words.

Read his words again. "But when people start to question the truth — Who won the 2020 election? Was Jan. 6 an insurrection? — I found that unsustainable."

The fact that there are plenty of Americans who question Wallace's "truth" – the results of the 2020 election – is not simply real world reality. The fact is that serious films, books and articles by serious people have emerged or are about to come out that exactly questions those results in detail.

Rather than blithely dismiss as "unsustainable" the issue of who won the 2020 election, a serious journalist with his own television show on CNN+ would invite, say, The Federalist's editor Mollie Hemingway on his new CNN+ show and grill her about her book Rigged: How the Media, Big Tech, and the Democrats Seized Our Elections.

Mollie Hemingway is a journalist's journalist. Her book is a decidedly serious, seriously detailed look at the 2020 election and the massive shenanigans that went on to, as her title proclaims, rig an election. Mollie should have been high on a Wallace list to talk to. It would have been great television! But no, instead he dismisses the argument about 2020 out of hand.
In fact, Hemingway's book is highly biased and little more than right-wing catnip.
The hate continued. When Stelter made his not-enough-time argument in a CNN discussing, Fondacaro headline his post on it "Through the Heart: Stelter Gets Confronted with CNN+'s FAILURE." Houck mocked a claim that "the liberal network hilariously claimed there are '29 million 'CNN super fans'' out there willing to pay up for the soon-to-be-deceased streaming platform." When the service was shut down on April 28, Fondacaro felt the need to post video of what "what the final moments of CNN+ look like since you more than likely never bought a subscription like most Americans." Whitlock cranked out a post on what the money spent on CNN+ could have bought elsewhere, like pizzas and Teslas.
And the MRC couldn't stop slagging the service weeks after it was shut down. A May 16 article by Whitlock summarized an article by its fellow conservatives at the Wall Street Journal declaring that, in Whitlock's words, "It was even worse than anyone thought. At any one time, there were as few as 5000 people watching. That's in a country of 329 million." Of course, no context is provided for that number with audience counts from other streaming services in their startup phases.
That's the MRC approach to CNN+ in a nutshell -- juvenile gloating and immature dunking on a designated enemy came before any sort of cogent analysis that could be described "media research." Perhaps the MRC should be renamed the Hateful Hot Take Center.
Posted by Terry K. at 11:40 PM EDT
Updated: Monday, May 30, 2022 11:59 PM EDT