Nyet To Biden, Da To Putin
CNSNews.com hates President Biden so much, it's actually siding with Russia's Vladimir Putin against him.
By Terry Krepel
Posted 9/7/2021
---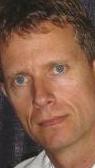 Patrick Goodenough
It's disturbing when a "news" operation appears to be taking the side of a foreign country against the president of the United States, but that's what CNSNews.com appears to have done.

In March, President Biden referred to Russian President Vladimir Putin as a "killer" in reference to a poisoning attempt on Putin critic Alexei Navalny. CNS didn't do a story on that, but a March 18 article by Dimitri Simes hyped Putin's response that "it takes one to know one," going on to call the exchange "a serious diplomatic row" that Biden created.

The next day, CNS reporter Patrick Goodenough sounded like he was writing for Russian state media and not a U.S. "news" outlet:
Russian President Vladimir Putin has challenged President Biden to take part in an urgent livestreamed dialogue amid a diplomatic chill following Biden's portrayal of the Russian president as a "killer."

Putin says he's available on Friday or Monday, although the White House gave no indication it was interested in taking up the invitation.

Meanwhile Dmitry Medvedev, who as Russian president had dealings with then-Vice President Biden during the Obama administration, suggested that the remark which sparked the spat could be attributed to Biden's age and state of health.

Asked during an ABC News interview aired on Wednesday if he thought Putin was a killer, Biden replied, "I do."

Fallout over the comment, accompanied by a declassified U.S. intelligence assessment that Putin had authorized "influence operations" to undermine Biden's presidential campaign, has already seen Moscow recall its ambassador for consultations.

[...]

Meanwhile, Russian media quoted Medvedev, who served as president from 2008-2012, as telling reporters, "I met with incumbent U.S. President Joe Biden at various international events. He gave the impression of a reasonable person then."

"However, it seems that time hasn't been kind to him," he said.

Medvedev, who now chairs the Russian Security Council, added, "I can only quote Freud: 'Nothing in life is more expensive than illness and stupidity.'"
Goodenough omitted any mention of Navalny, thus taking Biden's "killer" comment out of context -- despite that assessment being one that even the conservative Heritage Foundation agrees with.
The same day, CNS published a column by Pat Buchanan -- whose 1996 presidential campaign CNS editor Terry Jeffrey managed -- complaining about the comparison: "What is Biden doing? Do we not have enough enemies? Does he not have enough problems on his plate?"
Also on March 19, CNS managing editor Michael W. Chapman touted his favorite evangelical, Franklin Graham, bizarrely playing whataboutism over the exchange by invoking the abortion card:
After President Joe Biden said on Wednesday that Russian President Vladimir Putin is a "killer," Rev. Franklin Graham, son of the late Pastor Billy Graham, noted that President Biden and his administration support abortion, the "killing of the innocent," and that since Jan. 1 "more than 185,000 babies have been murdered through abortion in this country."

"We will be held accountable by God," said Rev. Graham.
CNS published another column by Buchanan on March 23 in which he complained that "Biden is himself responsible for the poisoned relations with Russia, after telling ABC that, yes, Vladimir Putin is 'a killer' whom he once told to his face that he had no 'soul.'"
That same day, Goodenough wrote an article suggesting the Biden remark was pushing Russia toward China because it caused an "an uptick in U.S.-Russia tensions," and he uncritically quoted Russian officials accusing the U.S. of standing in the way of the "rise of a truly multipolar democratic world." Goodenough didn't mention that Russia is not a democracy.
Even when attempting to be critical of Russia, Goodenough found a way to hate Biden more. He complained in an April 14 article:
The Biden administration has been pledging "costs" and "consequences" for malign Russian behavior for several months but at a time when a large troop buildup on Ukraine's borders has sent tensions soaring, a senior State Department official on Tuesday called for patience, while suggesting that steps may be coming soon.

"Be patient," the official told reporters accompanying Secretary of State Antony Blinken on a visit to Brussels dominated by the crisis. "Stay tuned."

On the day of President Biden's inauguration the White House announced that he had tasked the intelligence community to carry out a review of Russian actions including hacking, election interference, the attempted assassination of dissidents, and allegations of bounties offered on the lives of U.S. troops in Afghanistan.

Since then administration officials have repeatedly cited the review, asserting that there will be consequences for Moscow's damaging actions.
The Biden administration announced sanctions against Russia the very next day -- but Goodenough did not see fit to devote a story to that. Instead, it was given only passing mention in an article in which the headline was that the administration admitted "low to moderate confidence" in a claim that Russia had offered terrorists bounties to kill U.S. troops in Afghanistan which "Joe Biden repeatedly flayed President Trump over the allegations" during the presidential campaign, hyping how "White House press secretary Jen Psaki on Thursday dodged a question on whether the president now regrets that." Of course, Goodenough didn't mention others have pointed out that "low to moderate confidence" in the story does not necessarily mean it was false, and paying bounties to kill U.S. soldiers is not exactly out of character for Putin's Russia.
In between, Goodenough wrote an article featuring how "Russia is 'working actively' to move away from the U.S. dollar and Western payment systems, Foreign Minister Sergei Lavrov said during a visit to Iran this week" -- thus implicitly blaming Biden for the situation. But later in the article, he admitted that "Russia has been pivoting away the dollar since 2014, when the U.S. and many European governments targeted senior Russian officials and sectors of the Russian economy for sanctions in response to Moscow's annexation of Crimea and support for separatists in eastern Ukraine," while also adding that "some economists have argued in recent years that Washington's sanctions policies could weaken the dollar's global leadership in the long run."
That's some severe anti-Biden bias happening at the MRC.
Biden-Putin summit
CNS showed that anti-American sentiment again during the Biden-Putin summit in Geneva in June.
In a June 10 article, Goodenough uncritically touted Putin's attacks on Ukraine's desire to join NATO. On June 14, Susan Jones seemed to be complaining that Biden wouldn't hold a joint press conference with Putin the way Trump did with Putin at a 2018 summit. The same day, Jones promoted a separate interview with Putin in which he claimed China was not a threat to his country. Also that same day, Melanie Arter did an article on Biden discussing Putin that surprisingly did not make Biden look like a senile idiot as CNS is wont to do (though that would come later).
June 15 started with a Buchanan column in which he suggested that Biden wouldn't do a joint presser because he was "afraid" of Putin, followed by an article by Goodenough criticizing Biden for being noncommital about Ukraine's entry into NATO. Then it was time for Jones to cast aspersions on Biden's cognitive capacity, illustrated by a photo of an apparently confused-looking Biden:
At a news conference following his meetings at NATO, a Washington Post reporter asked President Joe Biden what he would say to allies who are "pretty rattled by what happened on January 6th" and "may still be alarmed by the continued hold that Donald Trump has over the Republican Party and the rise of nationalist figures like him around the world."

The reporter wondered if promises Biden makes to U.S. allies will be kept by the next president.

"What I'm saying is -- to them, is watch me," Biden said -- beginning a long and rambling reply that touched on American leadership, a "diminished" Republican Party, Trump's "phony populism," the failure of Republicans to vote for a January 6 commission, and even COVID vaccinations.
Trump gave many long and rambling replies to questions, but we're willing to bet that Jones never suggested he was in "cognitive decline."
On June 16, Goodenough complained that "President Biden's much-anticipated summit with Russian President Vladimir Putin could go on for four or five hours, but there are no plans for a working meal," then gave space to former Trump secretary of state Mike Pompeo to do some Biden-bashing. Jones then devoted an entire article to Pompeo's Biden-bashing. Another Jones article noted Hillary Clinton pointing out that Putin interfered in the 2016 presidential election in a way that helped Trump get elected, but framed it as her "still blaming Russia."
Related articles on ConWebWatch:
Goodenough served up another article grumbling that "the controversial issue of the Nord Stream 2 pipeline appeared to be off the agenda, in public at least"; Goodenough didn't mention that Trump failed to stop the Germany-to-Russia gas pipeline project when he had the chance as president. It was left to Arter to write two articles on Biden's responses to questions that managed not to be biased. And editor Terry Jeffrey played word police, accusing Biden of the nitpicky offense of not using the word "Creator" when he otherwise ably explained the Declaration of Independence to Putin.

Goodenough dutifully repeated Putin's side of the summit in a June 17 article, under the insulting headline "Putin Says He Felt 'No Pressure' in His Talks With Biden – Who Spoke About His Mother." He also included Russian chess champion Garry Kasparov bashing Biden for elevating Putin (even though the tone of CNS' summit coverage has been all about elevating Putin). This was followed by numerous articles featuring Republican attacks on Biden, including an attack from Goodenough's (and CNS') favorite former president:

By contrast, CNS published only two articles defending Biden after the summit. The first was a piece by Goodenough noting national security adviser Jake Sullivan supporting Biden, which eventually devolved into anti-Biden attacks, and the second was a piece by Arter quoting White House press secretary Jen Psaki, which also concluded with anti-Biden criticism.

It's just not a good look for CNS to take Russia's side against Biden. Seems pretty un-American.
The latest from