MRC Pushes Republican Playbook Downplaying Hearings On Capitol Riot
Topic: Media Research Center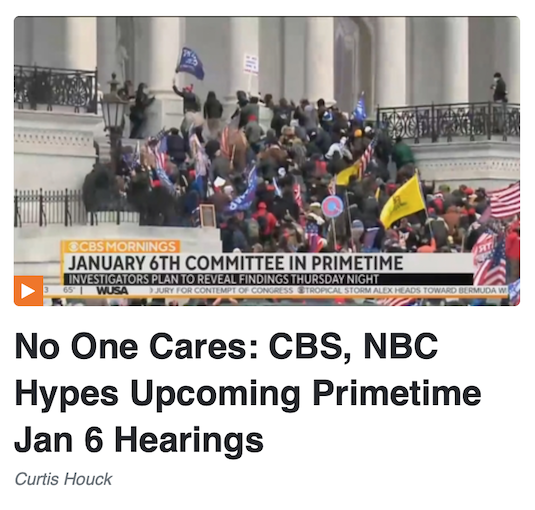 The Media Research Center had its marching orders from the RNC or whatever dark-money right-wingers run the show: Pretend that the public hearings being put on by House committee looking into the Capitol riot are meaningless and biased, and conservatives should spend more time being fed right-wing propaganda instead of watching them. The flagship piece for this narrative was a June 6 item by Curtis Houck lashing out at non-right-wing outlets for covering the first hearing, which carried the desperate-sounding headline "No One Cares":
Amid a decaying culture, rampant crime, record-high inflation, struggling wages, and surging gas prices (among other things), Monday's CBS Mornings and NBC's Today want Americans to focus this week on a different issue: primetime hearings from the House Select Committee on January 6. On Monday's shows, the two combined for five minutes and 37 seconds of coverage doing the bidding of their loyal source, Congressman Adam Schiff (D-CA).

CBS co-host Tony Dokoupil boasted that come Thursday, his fellow liberals are "promising to show Americans never-before-seen evidence of the most violent assault on the capitol in more than 200 years."

[...]

NBC's Today was also enthused at a pet project that matters little to those outside insufferably elite and liberal newsrooms and The Swamp.
A post the same day from Tim Graham complained that the committee made use of a former ABC News executive to help polish their presentation:
Now imagine if the Republicans stacked an investigative committee and then hired a Fox News president as an "unannounced adviser" for prime-time hearings. The liberal outlets would all scream that there's no difference whatsoever between the GOP and Fox. So, in this case, there's no difference whatsoever between Pelosi's hand-picked committee and ABC, and CBS, and CNN, and so on. ABC News apparently has no concern that Goldston's advising will hurt the image of ABC News.
Actually, the Trump administration did hire former Fox News executive Bill Shine as an adivser. Graham was mad that people pointed out that this revolving door showed just how tight Trump and Fox were.
Three days later, Alex Christy dismissed the hearings as a "made-for-TV spectacle" becaiuse of the ex-ABC executive's hiring. He didn't mention that Trump also hired a TV executive to help turn his administration into a made-for-TV spectacle.
A post by Kevin Tober groused that CNN's Brian Stelter pointed out that right-wing outlets Fox News and Newsmax would not be airing the first hearing live despite the word "news" in their channels' names:
CNN and particularly Stelter always want to dictate what the rest of the media should or should not be covering. Why would Fox News cover a hearing where Republican congressional leadership's appointments to the committee were rejected by House Speaker Nancy Pelosi?

Also the committee and their Democrat allies have repeatedly lashed out at Carlson and his network, so why would they give them airtime? Stelter doesn't get to demand what Fox News puts on air.
Um, isn't the MRC's main job lashing out at non-right-wing media outlets for not covering things that advance right-wing agendas? Graham similarly played dumb in a June 6 podcast echoing Tober's Stelter-bashing.
The MRC did a lot of other whining about the hearings both before and after the first hearing:
And as usual, the MRC also tossed around agenda-driven ratings numbers. A June 10 post by Bill D'Agoistino cherry-picked numbers to portray the first hearing as a failure:
The preliminary broadcast network ratings are in for last night's January 6 committee hearings, and they paint a disappointing picture for Democrats and their media pals.

Based on the most recent ratings data, January 6 hearing coverage on broadcast networks (ABC, CBS, and NBC) drew significantly smaller audiences than those networks' own evening newscasts generally do on a standard weekday. Evening newscast audiences on any given night last week were 1.6 times larger than the total number of broadcast viewers who tuned into the hearings on Thursday.

[...]

Perhaps CBS morning host Tony Dokoupil was right when he proclaimed on Friday morning: "Obviously, January 6 is the big story today." But based on the numbers, it certainly wasn't the big story last night.
Graham pushed the same talking point in his podcast that same day, sneering: "Democrats talked all the networks (except Fox News) into a breathless hearing (or retelling) of January 6. But it felt like a summer rerun."
Meanwhile, back in reality, the first hearing drew more than 19 million viewers across all channels that aired it, dwarfing Fox News' non-coverage.And Fox News was so afraid that viewers might be distracted enough to change channels to the hearing -- and, thus, learn that Fox News has been lying to them about the riot and the events (and bogus claims of election fraud) that led up to it -- that it didn't run any commercials while the hearing was on, costing it hundreds of thousands of dollars if not millions in revenue.
Posted by Terry K. at 10:52 PM EDT