CNS Spent 2021 Obsessing A Little Less Over Bette Midler
Topic: CNSNews.com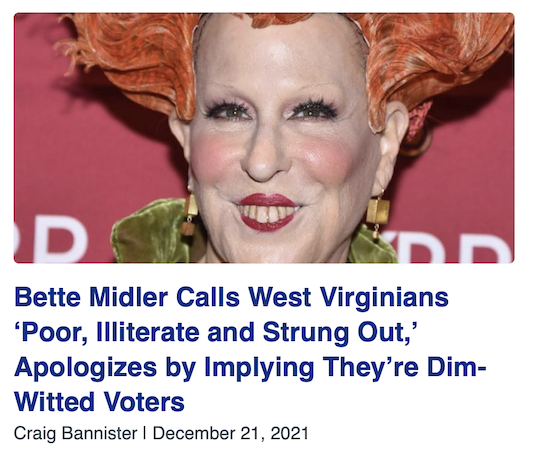 We've noted how CNSNews.com bizarrely cares so much about what Bette Midler tweets that devotes numerous articles to them. Surprisingly, CNS has restrained that obsession; after devoting 40 articles in 2020 to Midler's musings, it cranked out only six articles on her in 2021:
Even more surprisingly, there was a seven-month gap in which CNS decided not to obsess over Midler statements, from March 1 (the Cruz tweet) to Oct. 14 (the "conservative Christians" tweet). There was a seventh related article, a Dec. 22 article about someone from West Virginia responding on Fox News to Midler's West Virginia tweet.
In another surprising development, CNS' obsession with Cher tweets dropp3ed as well, from 14 articles in 2020 to just three in 2021:
CNS has not explained publicly why its Midler and Cher output declined so much in 2021, or why it has devoted so much press to them in the first place, given their lack of relvance to today's popular culture. Perhaps it's mandated by its Media Research Center parent .which has been similarly obsessed with her.
If there's one consolation, it's that Mark Levin shouldn't feel so alone at being relatively neglected by CNS.
Posted by Terry K. at 12:55 AM EST
Updated: Saturday, February 19, 2022 12:05 AM EST