S.D. Governor Hates Transgender Athletes, Returns To CNS' Good Graces
Topic: CNSNews.com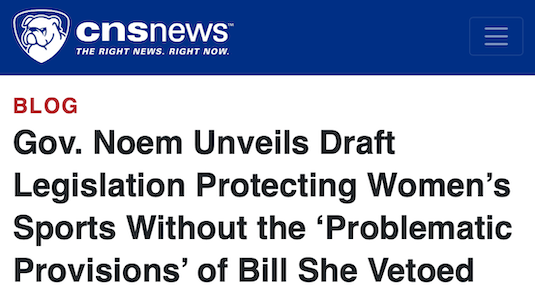 Last year, CNSNews.com fell out of love with Republican South Dakota Gov. Kristi Noem, displaying its anger that she woulddn't immediate rush headlong with her fellow right-wingers in spewing hate at transgender athletes by banning them from sports. It's been a slow climb back for her to return to CNS' good graces.
After the transgender kerfuffle, CNS didn't devote an article to Noem for five months. A Sept. 8 article by Craig Bannister praised Noem for serving up right-wing red meaty on a different culture-war issue:
On Tuesday, Republican South Dakota Governor Kristi Noem signed Executive Order 2021-12, directing the state's Department of Health to establish rules preventing telemedicine abortions in South Dakota. The executive order also restricts chemical abortions in the state.

The executive order is one step in her effort to protect the unborn from the Biden Administration's efforts to thwart state pro-life measures and make abortions easier to obtain via telemedicine, Gov. Noem says in a statement released on Tuesday:
Two days later, an article by Susan Jones listed Noem among Republican governors who were virtue-signaling by "threatening to sue the Biden administration for its 'blatantly unlawful overreach' on COVID vaccination." In a Sept. 20 article, Melanie Arter complained that former Food and Drug Administration leader Scott Gottlieb singled out Noem for uniquely terrible handling of COVID, resulting in "one of the highest death rates per capita."
Arter returned for a Nov. 5 article praising Noem for more right-wing virtue-signaling on vaccines:
South Dakota Gov. Kristi Noem said Thursday that President Joe Biden doesn't have the authority to force people to get vaccinated against COVID-19 or risk losing their job, and he doesn't have the authority to compel weekly testing for COVID.

That's up to the states and people, she said, which is why she and other Republican governors are suing the Biden administration now that the Occupational Safety and Health Administration (OSHA) issued an "emergency temporary standard " Thursday compelling private sector companies to do just that.

[...]

When Noem ran for governor, she promised the people of South Dakota that she would protect them from federal government intrusion," she said, "and exactly what we are doing today is America versus Joe Biden or Joe Biden versus America, because several governors and states are joined together, and we're filing litigation in the morning, and we will see him in court, and we will win."

The governor accused the Biden administration and Dr. Anthony Fauci, director of the National Institute for Allergy and Infectious Diseases (NAID), of promoting a socialist agenda and using COVID-19 as a weapon to take away the freedoms of the American people.
It wasn't until December that Noem fully retuned to CNS' good graces, when she found an anti-transgender bill she could suppoort, as Bannister lovingly documented in a Dec. 14 article:
On Tuesday, Republican South Dakota Governor Kristi Noem released the text of draft legislation to defend fairness in girls' sports at both the K-12 and collegiate level, after having vetoed a similar bill back in March.

"Common sense tells us that males have an unfair physical advantage over females in athletic competition. It is for those reasons that only girls should be competing in girls' sports," Gov. Noem said, announcing the draft of her bill.
Bannister made sure to rehash CNS' earlier criticism of Noem, highlighting how her refusal to support the earlier bill for having "problematic provisions," despite having "previously declared that she was 'excited to sign,'" declaring that "Noem was quickly and harshly rebuked following her about-face, with 47 pro-family, conservative organizations publishing a letter accusing her of sending female athletes "back to the sidelines."
That level of hatred of transgenders is what it takes for CNS to like you. Congratulations, Gov. Noem.
Posted by Terry K. at 11:55 AM EST
Updated: Sunday, January 23, 2022 8:39 PM EST