How Is The MRC Freaking Out About George Soros Now?
Topic: Media Research Center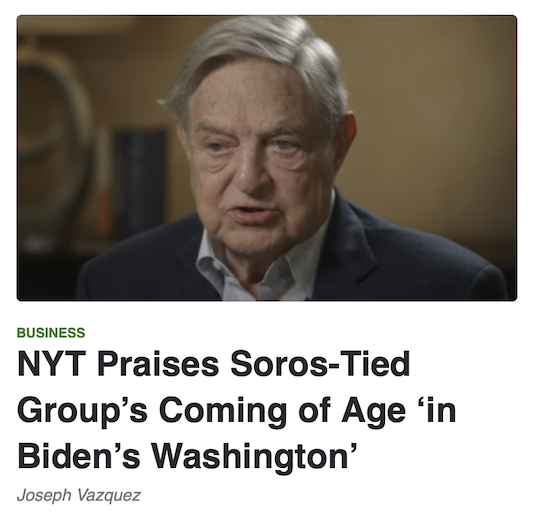 Joseph Vazquez is the Media Research Center's designated George Soros-hater, and he's continued to crank out the hate since the last time we checked in.
A February post by Vazquez listed Soros as among a group of "America's most notorious liberal billionaires" who are purportedly targetingFox News host Tucker Carlson, though he (and apparently Carlson) never stated how, exactly, Soros is targeting Carlson. Vazquez kept up the piling on of hyperbolic accusations:
Vazquez even tried to blame Soros for things he had nothing to do with. On August 2, he pushed a salacious story under the headline "SICK: 6 Women Sue Soros 'Right-Hand Man' After BDSM in His 'Sex Dungeon'.' In fact, the person in question, Howard Rubin, hadn't worked for Soros Fund Management since 2015. Vazquez also sourced his claim largely from the notoriously unreliable Daily Mail, which offered no evidence to back up its claim that Rubin was ever Soros' "right-hand man,'" and from the New York Post, which has a notorious right-wing bias.
In June, Vazquez complained that a "A U.K.-based fact-checking outlet financed by liberal billionaire George Soros tried as early as February 2020, to swat down the idea that COVID-19 had leaked from a laboratory in communist China." In fact, there is still little proof to substantiate that theory (though that's in no small part because the Chinese have been less than cooperative), and it remains at least as likely that it is a naturally occurring virus and was not genetically altered in the Wuhan lab.
We've previously noted the MRC trying to blame a "Soros-funded group" for what it called a "flawed" study of Facebook being used as a platform for misinformation, and Vazquez attacklng Swiss financier Hansjörg Wyss as the next Soros in the "evil liberal billionaire" sweepstakes. We also caught Vazquez cheering a ProPublica report on how little in taxes rich people play when it exposed Soros -- only to flip-flop a few days later to condemn that very same report because it exposed the financial info of non-liberal rich people.
Posted by Terry K. at 6:46 PM EDT
Updated: Thursday, September 9, 2021 3:49 PM EDT