Despite Declaring Her Irrevelevant, MRC Still Bashes Bette Midler
Topic: Media Research Center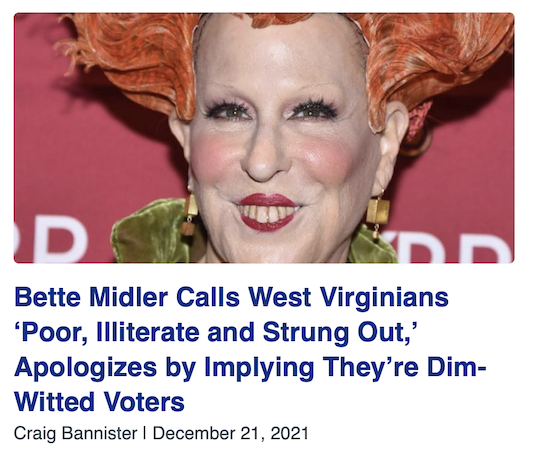 For someone it has deemed irrelevant, the Media Research Center sure continues to spend an inordinate amount of time monitoring what Bette Midler says and attacking her for it. the MRC published 20 articles referencing Midler in 2021 (a drop from the 40 articles that referenced her in 2020), some of which we noted here.Tim Graham whined in a Sept. 6 post:
Sister Toldjah at RedState is reminding us that actress Bette Midler is once again expressing her outrage at pro-life legislation (this time in Texas) by demanding all the ladies engage in a "sex strike" until the liberals win and abortions are as easily available as a manicure.

[...]

>Bitter Bette is the same Hollywood scholar who tweeted in 2018 after the Kavanaugh accuser parade failed to defeat him that "'Women, are the n-word of the world.' Raped, beaten, enslaved, married off...enduring the pain and danger of childbirth and life IN SILENCE for THOUSANDS of years..."
Graham sure seems quite well versed in all things Bette, even though we're not supposed to care about her or anything she has to say.
Graham returned to whine on Dec. 4 that the New York Times did an article on Midler's current book-reading habits, pettily complaining that the drawing of that that accompanied the article "was also very complimentary."
Gabriel Hays devoted a Dec. 21 post to ranting about something else Midler tweeted:
Bette Midler has a history of mean-spirited and obnoxious tweets, even by the standards of Hollywood progressives. But Midler has outdone herself.

After West Virginia Senator Joe Manchin (D) refused to vote for President Biden's massive government spending package – dubbed the $1.75 trillion "Build Back Better Bill" and its various radical leftwing policy proposals and purchases – Hollywood wench Bette Midler cracked her knuckles and typed a furious and demeaning message to the senator and his constituents in West Virginia.

She began by tweeting, "What #JoeManchin, who represents a population smaller than Brooklyn, has done to the rest of America, who wants to move forward, not backward, like his state, is horrible." Yep, a nearly $2 trillion spending package filled with Democrat regulations and policies is the only way forward. How could Manchin not see the light!

The message revealed exactly what Hollywood elitists think of middle America and was very much in line with the stereotype. Midler loathes middle Americans and by loathe we mean gleefully thinks about them as illiterate morons who can't help but be "strung out" on opioids in their free time.

[...]

The tweet did not go over well, especially with conservatives. One influencer, Catturd, responded to Midler's tweet, saying, "This is one of the most horrible tweets in history - pure evil." He might be right.

Conservative comedy duo, The HodgeTwins tweeted, "You suck as a person." And while we can't condone that, it's hard not to agree.
So Hays is following the orders of someone named Catturd? That sounds like him.
The MRC concluded the year by giving Midler the "Celebrity Freak-Outs Award" for the offense of reminding people what a terrible person Rush Limbaugh was upon his death, declaring her "soulless" for doing so. Then again, Limbaugh showed how soulless he was while he was alive by viciously smearing a woman as a "slut" because she took birth control -- and the MRC was just as soulless in defending him by running an "I Stand With Rush" campaign.
But somehow Midler is the evil person here. And is apparently so irrelevant that the MRC can't stop writing about her.
Posted by Terry K. at 8:18 PM EST