WND Parrots Bogus MRC Attack On 2020 Election
Topic: WorldNetDaily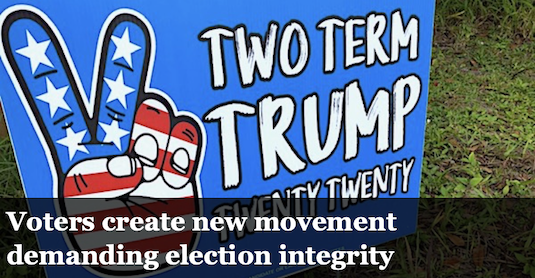 Bob Unruh spent a Nov. 23 WorldNetDaily article touting an alternative version of the Big Lie:
The problems with the 2020 presidential vote are well-documented.

For example, a poll after the election showed more than one-third of voters who chose Joe Biden were not aware of the evidence linking the former vice president to corrupt financial dealings with China through his son Hunter.

Had they known, according to the survey commissioned bv the Media Research Center, President Trump would have won at least 289 Electoral College votes.

The survey found that 13% voters of the voters who said they were unaware of the scandals would not have voted for Biden had they been made aware.

That amounted to 4.6% of Biden's total votes.
As we documented, the survey whose results the MRC paid for was McLaughlin & Associates, who worked for Trump during the 2020 campaign, so its results are highly suspect at best. The MRC's Big Lie is a conspiracy theory on a part with Trump's own. (The creeping WND-ization at the MRC has been going on for years.)
Unruh went on to repeat another election conspiracy:
And research revealed that Mark Zuckerberg handed over a total of $419.5 million to the Center for Technology and Civil Life and the Center for Election Innovation and Research leading up to the 2020 presidential election, and the two groups used it to buy Democrat votes.

Essentially.
In fact, Zuckerberg's foundation is nonpartisan and its money was available to any election organization that wanted it. Indeed, more Republican-controlled counties applied for and got money from the foundation, though more money went to Democratic-controlled counties.Unruh didn't explain why it's a bad thing for more people to be involved in the election process.
In other words, Unruh's "essentially" actually means "not at all."
Unruh went on to tout a right-wing initiative in Michigan that is "circulating a petition to prevent voter fraud" that would "require photo ID for voting" and make it that "government officials would be barred from sending absentee voter ballot applications unless the voter asked for that." But Unruh censored mention of criticism of the initiative, which exploits a loophole in the Michigan state constitution to ram though the changes without a vote of the people and exempt it from a veto by the (Democratic) governor, as well as that the initiative does, in fact, restrict voting.
Remember, WND is a leading propagandist for Trump's Big Lie, and it won't report anything that undermines that narrative.
Posted by Terry K. at 4:54 PM EST