MRC Cheers Another Right-Wing Authoritarian Leader's Attacks on 'Big Tech'
Topic: Media Research Center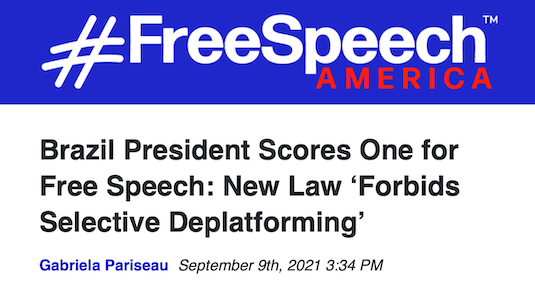 The Media Research Center's long tradition of embracing right-wing authoritarian leaders who hate "big tech" as much as the MRC does coninues in a Sept.9 post by Gabriela Pariseau:
Brazil President Jair Bolsonaro made a bold move, marking one up for free speech in his nation. The embattled president signed a provisional measure that will make it illegal for Big Tech to arbitrarily remove legal social media content.

The Government of Brazil claimed in a tweet thread that the law was sparked by concerns of Big Tech's actions "that have been perceived as harmful to healthy debate and freedom of expression in Brazil." The provisional measure "forbids selective deplatforming" and "the removal of content that may result in any kind of 'censorship of political, ideological, scientific, artistic or religious order,'" according to the Twitter thread. The Brazilian government account said it "hope[s] [the law] will serve to help restore online political dialogue in the country."

The measure protects freedom of expression but excludes illegal content "such as nudity, drugs and violence, or if they encourage crime or violate copyrights," reported The New York Times. Tech companies also purportedly need a court order for permission to remove any other content, according to The Times.
Actually, Bolsonaro is more a threat to free speech than the champion Pariseau wants you to think he is. In 2020, Bolsonaro enacted a law that effectively opens his critics to arrest under the guise of "national security." Since then Bolsonaro revived a law from the country's dictatorship era to arrest critics of his response to the coronavirus pandemic. Interestingly, last year Facebook suspended a network of accounts it said were run by employees of Bolsoaro and his family to spread divisive political messages, so it's clear Bolsonaro knows his way around misinformation.
Still, Pariseau was determined to make him a part of the MRC's bogus "victimhood" narrative:
The Brazilian president is up for reelection, and like former President Donald Trump, has been repeatedly censored by Big Tech. YouTube removed 15 of his videos for so-called COVID-19 misinformation in July, according to the BBC. The New York Times reported that "[l]ast year, Facebook removed statements by Mr. Bolsonaro after he promoted hydroxychloroquine as a cure for the virus. Around the same time, Twitter deleted posts from the far-right Brazilian president for pushing [allegedly] false remedies and calling for an end to social distancing."
In July, the MRC declared that Bolsonaro was "censored" for having "dared to question the liberal narrative concerning COVID-19" -- which translates into getting caught spreading COVID misinformation that the MRC will never admit is misinformatoin.
Posted by Terry K. at 8:31 PM EDT