MRC Melts Down Over More Non-Hateful Psaki Profiles -- But Gushes Over Fawning Peter Doocy Interview
Topic: Media Research Center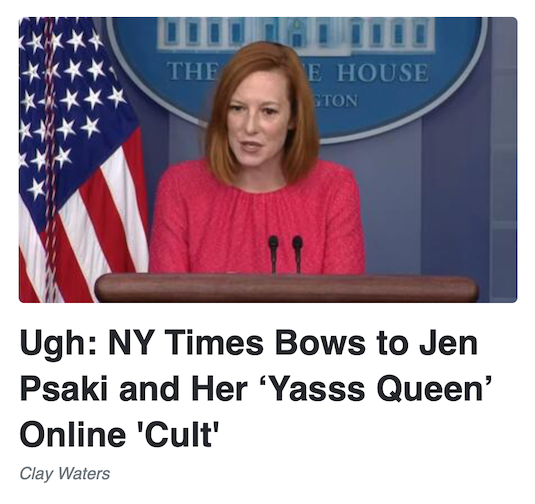 As it often does, the Media Research Center has had another meltdown over a profile of White House press secretary Jen Psaki that didn't express the same contempt for her that the MRC has. First up was Tim Graham in an Aug. 29 post complaining that the Washington Post pointed out how Psaki makes good use of partisan Fox News reporter Peter Doocy:
You can tell just how perfectly The Washington Post fits into the White House publicity apparatus when it posts articles proclaiming that they have Fox News reporter Peter Doocy exactly where they want him. He is a "useful foil," reports Philip Bump, and he's easily foiled.

The headline on this Friday analysis was "Biden escalates his efforts to puncture the Fox News bubble." Jen Psaki is that genius who regularly calls on Doocy because he's going to be lame and embarrassing.

[...]

Now ask yourself: can you remember a single viral "bang snap" in the Psaki briefing room from a Washington Post White House reporter? Or are they all cozy cooperators like Matt "I marvel at Biden's fortune cookie tweets" Viser?

Bump then chronicled how Biden got the better of Doocy as he suggested Biden had failed in Afghanistan, and Biden oh-so-effectively suggested Trump had failed, too, and exposed Doocy for posing an "unsound" question.

[...]

Philip Bump-Bump was shaking the pom-poms. He concluded by equating Fox with a "hostile power" and with "misinformation."
Weirdly, Graham did not dispute anything in Bump's article, let alone the thesis that Doocy serves as a useful foil for Psaki -- he's merely complaining that it was said out loud in an apparent attempt to boost Doocy's "liberal media" victimhood.
Next, Clay Waters did the honors in a Sept. 19 post:
New York Times media reporter Michael Grynbaum devoted 2,300 words to profiling President Biden's press secretary Jen Psaki for Sunday's edition, bragging in the online headline that normalcy (and a more compliant press corps?) had returned to the White House with Trump out: "Bully Pulpit No More: Jen Psaki's Turn at the Lectern."

Grynbaum's piece reeked of cringy attempts to be hip, down to the Instagram-ready opening line in which we learn that "political fame hits different" (i.e., has a different effect on one than it did previously) with bad man Trump off the scene.

[...]

He let Psaki prevail while staging a social media smackdown against her "regular foil," Fox News reporter Peter Doocy.

[...]

Grynbaum briefly noted critics "on the right," but strove to neutralize their criticisms of the White House press corps, using Psaki herself.
Waters even whined that the article "also noted Breitbart White House reporter Charlie Spiering called her briefings "rehearsed, scripted, and boring." He seems mad that the Times deviates from the MRC's narrative that Psaki is a sleazy mess and Doocy is America's hero.
Of course, if Waters and Graham actually want to see media pom-poms in action, they don't need to venture outside the building. They juast have to look at Curtis Houck's slobbering Sept. 27 writeup of an interview Doocy did with the MRC's favorite right-wing radio host, Mark Levin:
Fox News's Peter Doocy gave a rare interview on his job as White House correspondent to legendary conservative author and talk radio host Mark Levin on his Sunday night FNC show Life, Liberty, & Levin and shared what it's like to question President Biden on his ever-changing views, what goes into his questions at press briefings, and even what reporters at other outlets think about him.

Dubbed by Levin as a star "of modern day journalism," Doocy began by saying that, when it comes to questioning Biden, his approach has been "think about what he is saying presently, and then how that is possibly not lining up with things that he has said in the past" and therefore "compare and contrast Joe Biden and Joe Biden."

[...]

After a break, Doocy showed he's all class and didn't explode in the way others did with the Trump administration, conceding that he's had "some times" in which the White House doesn't give him straight answers and, when it happens, he realized "I am going to have to follow up on this...or just that, this is all we're going to get[.]"

Doocy again took the high road when asked about Biden continuing to duck questions, saying that, going back to the campaign, there were times when Biden would "continuously...linger[ed] around...to see, 'okay what's that tall, blonde guy in the back barking at me about today.'"

Levin closed with illuminating questions about what Doocy's colleagues think of him and last week's kerfuffle in which the White House excused Biden not taking questions alongside U.K. Prime Minister Boris Johnson by blaming...Johnson (click "expand"):

[...]

Levin wrapped with quite the series of compliments: "And you really are, even at a young age, you're demonstrating to so many people what journalism is all about."

Between Doocy and correspondents like Aisha Hasnie, Bill Melugin, and Trey Yingst, the future of the news side of Fox News is bright (despite what CNN would want you to believe).
That's the very definition of a softball interview -- and a fawning recitation of said softballs. Since Levin is the MRC's close personal friend, they wouldn't dare call him out for peddling such embarrassing fluff.
Posted by Terry K. at 7:10 PM EDT
Updated: Friday, October 22, 2021 8:12 PM EDT