MRC Psaki-Bashing, Doocy-Fluffing Watch
Topic: Media Research Center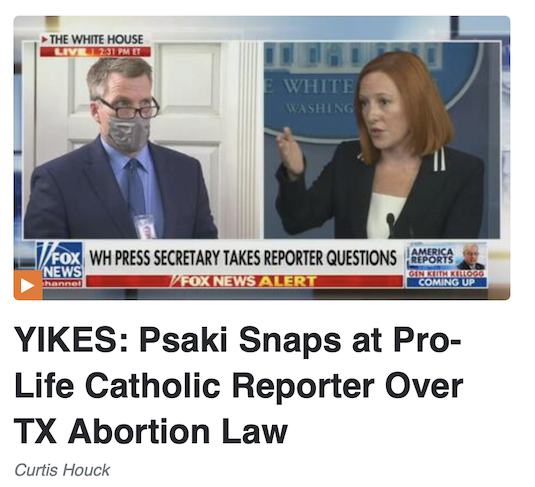 Throughout 2020, Media Research Center writer Curits Houck repeatedly whined that reporters asked tough questions of his beloved White House press secretary, Kayleigh McEnany. Now, with Jen Psaki at the helm, he's cheering every tough and biased question that gets tossed her way, particularly on the Afghanistan withdrawal. Houck kept up the cheering in his take on the Sept. 1 briefing:
The continued decline of substantive Afghanistan questions continued on Wednesday's edition of The Psaki Show with a shift towards the coronavirus and Texas's abortion law, but ABC's Stephanie Ramos and Fox's Jacqui Heinrich kept up the heat with questions for Press Secretary Jen Psaki on the embarrassing collapse of the country following a two-decade war.

Along with other solid Afghanistan, questions from CBS's Ed O'Keefe, Heinrich and Ramos honed in on a Reuters bombshell detailing a July 23 phone call in which President Biden pressured Afghan President Ashraf Ghani to "project a different picture" about the country's state of affairs.
Since it's Houck's jjob as an MRC employee to portray anything the non-right-wing media does as some secret lockstep conspiracy, he went on to whine that the hearing wasn't all Afghanistan all the time: "It's safe to say that, with this Texas abortion law, the liberal media may have found their opening to ditch Afghanistan."
For the Sept. 2 hearing, Houck came to the defense of a biased right-wing reporter who, surprisingly, wasn't named Peter Doocy:
Along with the decline of Afghanistan questions continuing into Thursday's White House press briefing with only 13 being asked, the Texas abortion law gave the liberal media an off-ramp to drop that humanitarian and security disaster as they dedicated roughly 29 questions to defending the left's rabid support for murder. But when it came to EWTN White House correspondent Owen Jensen standing up for life, Press Secretary Jen Psaki couldn't stand that.

Jensen interjected roughly 10 minutes into Psaki's Q&A with the fact Biden's abortion views go against his Catholic faith:"Following up on the Texas law, why does the President support abortion when his own Catholic faith teaches abortion is morally wrong?"

Psaki has long exhibited testiness toward Jensen, so it wasn't a surprise when she hit back: "Well, he believes that it's a woman's right, it's a woman's body, and it's her choice."

Jensen stayed tough as he fired off an excellent follow-up: "Who does he believe then should look out for the unborn child?"

By this point, Psaki couldn't contain her annoyance:

He believes that it's up to a woman to make those decisions and up to women to make those decisions with her doctor. I know you've never faced those choices nor have you ever been pregnant, but for women out there who have faced those choices, this is an incredibly difficult thing. President believes their right should be respected.

How offensive! Psaki needs to be cancelled for (a) not using the term "birthing people" or "pregnant people"; (b) not realizing that, according to her side of the aisle, men could become pregnant; and (c) assuming Jensen's gender. What a mess!
Weird, we don't remember Houck ever saying that his beloved McEnany "exhibited testiness" or "annoyance" with the non-right-wing media -- he cheered her for being "passionate" and treated her inmmature insult-fests as "smacking down" the media.
(This was followed by a post from Kristine Marsh calling anti-Trump Repubican talking head Matthew Dowd "huffy" and "wildly illogical" for cfriticizing Jensen's biased question.)
Houck returned to the Doocy-fluffing beat after the Labor Day holiday for the Sept. 8 briefing, gushing that Doocy was being conservatively correct in continuing to hound Psaki about Afghanistan:
With a week off from the briefing room (having switched off with colleague Jacqui Heinrich) and the Labor Day weekend, Fox's Peter Doocy returned Wednesday with plenty of questions for Jen Psaki about the Americans stranded in Afghanistan, the Taliban government having more people on the FBI's Most Wanted List than women, and if engaging with them means they'll be granted global legitimacy.

And Doocy wasn't the only reporter on the case as he had plenty of help from CNN's Phil Mattingly and Voice of America's Patsy Widakuswara.

[...]

Doocy's next question was fair and spicy: "There are now more terrorists wanted by the FBI in the new Afghan government than there are women. Does the President think that is a foreign policy success?"
Does Houck think that Doocy ever asked an "unfair" question? Doubtful -- the MRC is not paying him to criticize his man-crush.
Posted by Terry K. at 11:35 AM EDT