MRC's Houck Spews Insults At Joy Reid For The Offense Of Defending Biden
Topic: Media Research Center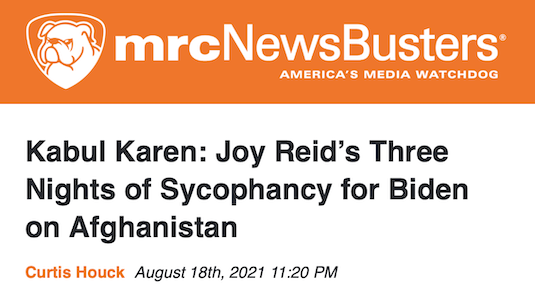 In the right-wing bubble in which the Media Research Center resides, people on TV are simply not allowed to say anything nice about people who are not right-wingers -- even the president if he is a Democrat. Combine that with MRC writer Curtis Houck's particular enmity for MSNBC host Joy Reid -- which rivals that for Jim Acosta and Jen Psaki -- and Houck had a meltdown in August when Reid dared to defend President Biden amid the Afghanistan pullout. nHouck ranted in an Aug. 18 screed in which viciously called Reid "Kabul Karen":
All week, MSNBC's The ReidOut host Joy Reid has shilled for the Biden administration amidst the embarrassing and deadly collapse of Afghanistan that's trapped thousands of Americans and Afghan allies. On Monday, Tuesday, and Wednesday, Reid's spin ranged from arguing this was what the American people wanted to blaming Donald Trump for the calamity to denouncing Afghans and the U.S. military.

And to further beclown herself, Reid's fellow quislings included cartoonish hacks such as David Corn, Tom Nichols, Ben Rhodes, and Jennifer Rubin.
That's right -- not following right-winganti-Biden talking points makes you a "quisling" -- that is, a traitor. Because that's how Houc and his ilk see anyone who doesn't agree with them.
The next day, Houck was spewing hate at Reid again, this time smearing her as "Jalalabad Joy":
Jockeying with MSNBC colleagues to be the Biden administration's Baghdad Bob on Afghanistan, ReidOut host Joy Reid spent Thursday's show bolstering her resume by chastising the media for having a "gaze...fixed on Afghanistan" and being "pissed off" that the deadly and chaotic withdraw hadn't "go[ne] smoothly" instead of spending more time focusing on the January 6 riot or Thursday's bomb threat.

Reid bolstered her mental gymnastics by arguing the press have remained unhappy about what's happened despite the "remarkable" sight of "daily press conferences and demands for oversight and constant information." And if that wasn't enough, Reid vocalized what she tweeted on Sunday, that the American right was on equal footing with the Taliban.

[...]

In the next block, Reid expanded on her colossal strawman about the right as opposed to Afghans coming to the U.S., calling it a "bewildering" and "growing Republican backlash" to "welcoming them with open arms for putting their lives in danger to help keep us safe at home."

That conveniently left out at least eight Republican governors, a primetime Fox News host, multiple Fox News contributors, a Trump White House communications director, and the co-founder of The Federalist to name a few.
QWho doesn't it leave out? Numerous Republican politicians and activists, not to mention Houck's co-workers at the MRC's "news" division, CNSNews.com, which has been touting all that fearmongering about Afghan refugees.
By8 Aug. 25, Houck was apparently running out of Afghan cities he was familiar with, so he was reduced to insulting Reid with the much less alliterative name "Khandahar Joy":
After having ignored Afghanistan on Monday's show, MSNBC's ReidOut host Joy Reid circled back to being a Biden flunkie by insisting all is going well for the Biden administration on Afghanistan, saying they've done "a thorough job" in Kabul despite a lack of ldquo;burden-sharing"< on the part of NATO allies.

Reid also made sure to level bad-faith attacks on Team Biden (with some help from MSNBC analyst Malcolm Nance), saying the only way critics would be satisfied with what's transpired in Afghanistan would be Biden "promis[ing] to leave troops in there for another 20 years."
It's quite funny to hear someone who has nothing less than a Trump flunkie for the past four years accuse someone else of being a "Biden flunkie."
Posted by Terry K. at 8:02 PM EDT