MRC Censors Problems With Its Right-Wing Advocates Of 'Free Speech' On Social Media
Topic: Media Research Center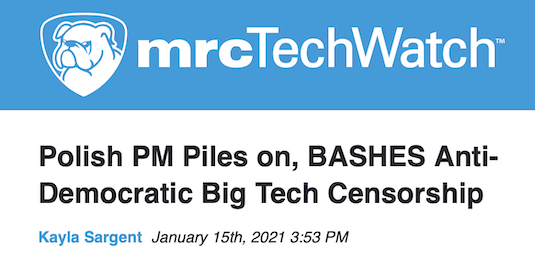 The Media Research Center is so into pushing the conservative victimization narrative about social media that it is censoring the, um, issues with the advocates for "free speech" (which, in the MRC's eyes, should only apply to conservatives). Kayla Sargent touted in a Jan. 13 post:
Despite Big Tech's efforts to silence conservatives on Parler, one state's Attorney General will not stand for it.

Texas Attorney General Ken Paxton (R) has demanded answers from several Big Tech companies about the suppression of the free speech-oriented platform Parler.

Paxton has "issued civil investigative demands (CIDs) to Google, Facebook, Twitter, Amazon Web Services, and Apple, asking the companies for their policies and practices regarding content moderation and, more specifically, for information related to Parler, a social media application recently terminated or blocked by Google, Amazon, and Apple," according to a Jan. 13 press release.

"For years, these Big Tech companies have silenced voices in the social media sphere and shut down competing companies and platforms. It has only grown worse in recent months. And just last week, this discriminatory action included the unprecedented step of removing and blocking President Donald Trump from online media platforms," said the release.

Paxton's investigation followed the recent purge of Parler from Apple and Google's app stores, Amazon went so far as to remove the website from its web hosting servers.
Sargent didn't mention that Paxton appears to be less than law-abiding, given that he's under investigation by the FBI and that his lieutenants in the attorney general's office are the ones who turned him in. The Associated Press reported in November:
Seven senior lawyers in Paxton's office reported him to the FBI in late September, accusing him of abusing his office, bribery and other crimes. The group included some of Paxton's longtime allies and was later joined by the agency's head of law enforcement. All eight have since resigned, been put on leave or been fired, prompting a whistleblower lawsuit.

The full extent of what Paxton's employees told the FBI is unknown and the agency has consistently declined to comment.

Paxton's actions appear to have helped [businessman Nate] Paul in at least four ways. But the one that led his staff to report him was Paxton's hiring of an outside lawyer to investigate Paul's claims that the FBI, federal judges and others were conspiring against him.

The lawyers in Paxton's office felt Paul's claims were unsupported and outside of their office's jurisdiction. The Houston lawyer Paxton hired had no prosecutorial experience but did have ties to Paul's defense attorney.
The next day, Sargent embraced another dubious ally:
Conservatives have faced a barrage of censorship in the last few weeks, but at least one European country is standing up against Big Tech.

Polish Prime Minister Mateusz Morawiecki expressed his desire for an open and free internet without censorship in a Facebook post.

For Morawiecki, the fight for free speech appears to be very personal. "For close to 50 years we lived in a country in which censorship was practiced, in which Big Brother told us how we are meant to live and what we are meant to feel, and what we are not allowed to think, say or write. That is why we are so concerned with any attempt to limit freedom," he said.

"We are now increasingly faced with practices we believed were left in the past. The censoring of free speech, once the domain of totalitarian and authoritarian regimes, is now back, but in a new form, run by corporations, who silence those who think differently," Morawiecki continued.

[...]

In recent months, Poland has stepped up in the fight against censorship online. In December, Polish Justice Minister Zbigniew Ziobro announced a legal initiative to allow users to file complaints if their posts were removed. The initiate would also create a specific court for the freedom of speech.
But Sargent censored the fact that Poland's government does, in fact, embrace censorship of anyone critical of it or is otherwise independent of the government. In July, Reporters Without Borders detailed a planned "repolonization" law that would limit foreign investment in media outlets and limit the number of outlets a non-state owner can have, whose thinly veiled purpose is to censor and intimidate non-state-owned media. Meanwhile, the Polish state oil company purchased a top newspaper chain in the country, leading to fears of it becoming a propaganda outlet, while state-owned media is increasingly moving toward becoming mouthpieces for the same government that Sargent is lionizing.
The idera that a government official who's actively working to shut down speech he doesn't agree with in his own country is somehow a champion of "free speech" is laughable, but Sargent doesn't want you to know all the facts.
UPDATE: In a Dec. 22 post, Sargent similarly touted "one nation is looking to change the way Big Tech can censor speech." by citing how Poland "announced a legal initiative on Thursday [Dec. 10] aimed at enabling internet users to file complaints against the removal of online posts as well as the creation of a special court for freedom of speech," adding that "Not only will users be able to sue Big Tech companies in some instances, but there will reportedly be consequences for Big Tech companies if they do not comply with Poland's law." Again, she didn't mention the Polish government's efforts at censoring media who don't spout government propaganda.
Posted by Terry K. at 8:49 PM EST
Updated: Thursday, January 28, 2021 9:26 PM EST