MRC: It's 'Politicizing Death' To Note There Are Missing Non-White Women
Topic: Media Research Center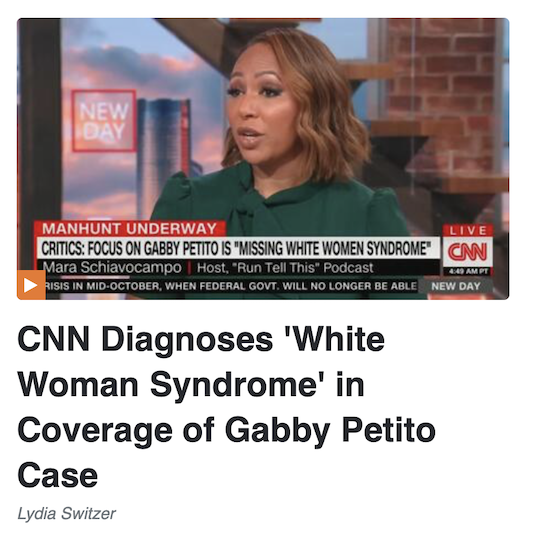 The Media Research Center has managed to politicize the death of Gabby Petito ... by accusing others of politicizing it. Kristine Marsh complained in a Sept. 22 post:
After the body of a missing 22-year-old woman Gabby Petito was found earlier this week and ruled as a homicide Tuesday, ABC was already politicizing the young woman's death. On Good Morning America, co-anchor T.J. Holmes criticized the media for not giving enough attention to missing people of color and urging them to follow the left-wing Black Lives Matter movement.

Holmes seems to have been inspired by MSNBC's Joy Reid, who voiced the same criticism on her show Tuesday night.
Marsh then played whataboutism:
From there, [Holmes] highlighted three missing person cases of Jelani Day, Daniel Robinson and Maya Millete, all not white women, to show how they weren't household names. The elephant in the room is why ABC didn't cover their stories when they went missing to begin with. Not to mention the dozens of minorities who are killed by gang violence every few weeks in places like Chicago, doesn't get the notice of the networks. So the media themselves are the ones responsible for catering a narrative that diminishes the importance of black lives.
Lydia Switzer served up a similar complaint the next day:
On Wednesday, just days following the tragic discovery of missing woman Gabby Petito's body and the autopsy ruling her death a homicide, CNN's New Day aired a segment in shocking bad taste accusing society of suffering from "missing white woman syndrome." The guest on the show, journalist Mara Schiavocampo, began by claiming, "This isn't saying Gabby Petito is not important," and then went on to complain about the way the media has relentlessly covered her story.

"When everybody knows their face, when everyone knows the world is looking for them, it makes a real difference," she said. This, of course, is a good thing, and assisted in the search for Petito. However, Schiavocampo interpreted the national media attention as a flaw in the nation's "value system":

[...]

Yes, that's right. Covering the Petito tragedy is just another symptom of systemic racism, and this type of media coverage is directly endangering women of color, according to Schiavocampo: "This makes them less safe. Perpetrators, predators know that if you want to get away with murder, you seek the victim that no one is going to look for. So this has very real implications for women who are walking around today."

[...]

Curiously, Schiavocampo did not have a problem with the statistical underrepresentation of men in missing persons cases: in 2020, 35,000 more men than women over 21 went missing. It doesn't quite fit with her narrative that the problem is racism.

As the nation grieves alongside the Petito family and anxiously awaits new developments in the story, it is stunning to see such bitterness from pundits who can only think about fairness in the wake of a young woman's murder.
Neither Marsh nor Switzer bothers to hold up righty-wing media as a shining example of how missing-persons cases are covered -- because they presumably know that their record is at least as bad. Plus, "missing white girl syndrome" is very much a thing, and there's no reason to believe that systemic racism doesn't play a part in that. Also, systemic racism is very much a thing too, but the MRC's partisan agenda means it will never admit it exists.
Posted by Terry K. at 11:12 PM EDT