MRC Psaki-Bashing, Doocy-Fluffing Watch, Doocy-Gasm Edition
Topic: Media Research Center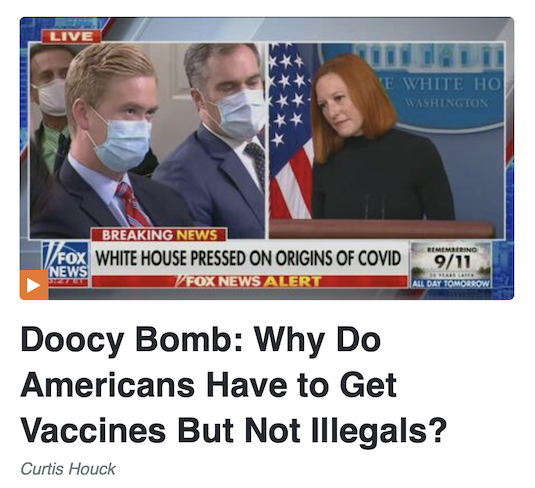 It was Doocy-gasm time for Media Research Center writer Curtis HOuck again, as he once more got off on Peter Doocy asking biased questions of Jen Psaki. On Sept. 9, Houck
gushed hard
under the headline "Doocy Goes HARD After Team Biden on Covid Origins, Praising the Taliban":
Ahead of President Biden's early Thursday evening speech calling for more forced vaccinations and touting masks, White House Press Secretary Jen Psaki took to the Briefing Room podium and faced fire from Fox's Peter Doocy and Real Clear Politics's Philip Wegmann on Afghanistan and also CBS's Weijia Jiang and ABC's Rachel Scott about the sudden change of heart on vaccine mandates.

[...]

After a quick follow-up about Fauci's job safety, Doocy wanted to know "why the White House in a statement is calling the Taliban businesslike and professional."

Psaki replied that the statement was meant to commemorate the first flight and acknowledge that "the Taliban was cooperative in facilitating the departure of these American citizens and legal permanent residents from HKIA."
The next day, Houck proclaimed "Doocy Bomb" in his headline:
On Friday's episode of The Psaki Show, Fox's Peter Doocy capped off a busy week with newsy questions about President Biden's Thursday call with Chinese President Xi Jinping and why is it that millions of Americans are being subjected to President Biden's rash of Covid vaccine mandates but not illegal immigrants.

Doocy chose to lead with China and Biden's call and whether Biden "press[ed] [Xi] like he said he was going to" when he said two weeks ago in a statement that China was still hiding "critical information" about the origins of Covid.

Psaki wouldn't commit to "going...into lists of every topic covered," but said the virus was one of many "transnational issues" discussed. Doocy twice tried to get a definitive answer, but Psaki said what matters was that they've previously "conveyed" the need for more information, so China "know[s]" where they stand.

But the question of the briefing came next when Doocy launched this humdinger: "[W]hy is it that you are trying to record anybody with a job or anybody who goes to school to get the COVID-19 vaccine, but you're not requiring that of migrants that continue walking across the southern border into the country?"

Psaki ignored the question other than saying "our objective is to get as many people vaccinated across the country as humanly possible" "more people are vaccinated" within our borders.
From here, we skip to Sept. 16 for Houck's next skewed review, in which he cheered that non-right-wing reporters were advancing the right-wing Biden-is-frail narrative:
Thursday's episode of The Psaki Show featured two welcome surprises as NBC's Kelly O'Donnell and then ABC's Karen Travers asked Press Secretary Jen Psaki about President Biden's health in light of the fact that Biden repeatedly had to battle a cough to get through his remarks an hour prior about the economy. The questions came after the liberal media spent years insisting President Trump showed severe cognitive and physical declines.
Following some solid questions about Afghanistan, O'Donnell switched gears: "Many of us were in the East Room watching the President. We've seen him on many occasions where he has a repeated cough. What is the situation with that cough and is that a concern?"

Psaki immediately shot back that "we have a doctor who travels with him — obviously, who checks in if — if it is ever warranted and, certainly that continues to be the case, as it has been since the beginning of his presidency."

O'Donnell wasn't taking that for an answer, so she followed up: "Is there an explanation for why he coughs so frequently in situations like that? I'm sure you saw it."

[...]

Skip ahead about 30 minutes and Travers asked about it in context of when Biden will get a physical: "Following up on one of the questions from Kelly. Do you have an update on when the President will get a physical?"

Psaki provided an answer that sure wouldn't slide under Trump, calling it "an understandable question," though "I don't have an update."

"He will get one soon. And when he does, we will make sure you all are aware of it and get the information," she added.
Of course, all of those NewsBusters posts about Trump that Houck higlighted attacked the people fowarding the idea -- somehing Houck is clearly loath to do regarding similar allegations against Biden. But doesn't the fact that Trump has spent the past several months in abject denial insisting he won an election he clearly lost and attempt to foment a coup against the government to overturn the outcome, evidence enough that he is suffering for some type of mental instability -- not to mention prove those questioners NewsBusters denoucned correct? Houck will never answer that question.
Houck went on to cheer another right-wing reporter, Newsmax's Emerald Robinson, advancing the conspiracy theory that Biden was deliberately limiting shipments of monoclonal antibodies to treat COVID to "red states."
Then it was back to Doocy-gasm mode on Sept. 20, under the headline "Doocy HAMMERS Psaki":
It was a tale of two approaches during Monday's White House press briefing as Fox's Peter Doocy and select reporters (including even CNN's Jeremy Diamond) chose to challenge Press Secretary Jen Psaki on Afghanistan, illegal immigration, travel bans, and U.S.–France relations while CNN analyst April Ryan led another group in standing up for Haitian illegal immigrants and spreading fake news about border officials using whips.

[...]

Doocy eventually got a turn and led with using Psaki's own comments about America's "over the horizon capacity" against her seeing as how "you guys didn't kill people who went after our troops" but instead droned to death "10 civilians, including seven children."

A Psaki word salad and follow-up about bringing family members of those killed into the country, Doocy brought the heat with this inconvenient truth about the border: "Is somebody asking the foreign nationals who are walking into Del Rio, Texas and setting up camps on this side of the border for proof of vaccination or a negative Covid test?"

Psaki tried to wiggle out of it, but Doocy wasn't having it: "[I]f somebody walks into the country, right across the river, does somebody ask them to see their vaccination card?"

The spokeswoman lobbed meaningless claims about health screenings and quarantines and even had the gall to claim that the tens of thousands at the border weren't "intending to stay here for a lengthy period of time."

With an incredulous look on his face, Doocy called this out, but Psaki shamelessly plugged along by talking about Title 42 being used to expel migrants (even though only single males are being deported with the others all being allowed to fan out across the U.S.).

Before ending on vaccine boosters, Doocy wondered about Vice President Harris: "Where's the Vice President on any of this? Wasn't she supposed to be addressing the root causes of migration?"

Psaki hilariously replied that Harris "has been addressing the root causes of migration by working with countries in the region" and "[w]e've actually seen a reduction in some of those numbers."
Houck went on to note only that Doocy was "ending on vaccine boosters," hiding the fact that Doocy got owned by Psaki on that issue. As Mediaite noted, Psaki "made quick work of a 'quick' question from Fox News' Peter Doocy by reading a key quote from President Joe Biden that Doocy did not include in his query on Covid boosters." But Houck absolutely refuses to make Doocy look bad -- that's not what the MRC is paying him to do -- so he completely censored the "Psaki bomb."
Houck clearly doesn't see how ridiciulous he looks in his Doocy-fluffing -- and, by extension, proving beyond a doubt that Doocy is a reporter who's more biased than anyone on the "liberal" ledger in that room, or who were in the room during the previous presidency questioning his beloved Kayleigh McEnany.Like McEnany, Houck is not a serious person, caring only about advancing polical narratives and scoring political points and nothing at all about genuinely informing people.
Posted by Terry K. at 10:46 PM EDT
Updated: Friday, October 8, 2021 11:52 PM EDT