MRC Flip-Flops, Trashes Tax Study It Had Praised When It Criticized Soros
Topic: Media Research Center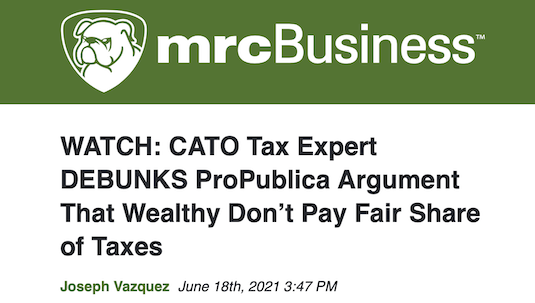 The Media Research Center's designed Soros-hater, Joseph Vazquez, served up more hate in a June 9 post:
Liberal billionaire George Soros signed an open letter in 2019 calling on 2020 presidential candidates to adopt the infamous "wealth tax" on the rich. But he reportedly paid no federal income tax three years in a row.

Soros-funded outlet ProPublica published a report exposing how "Soros paid no federal income tax three years in a row." A Soros spokesman reportedly told ProPublica: "'Between 2016 and 2018 George Soros lost money on his investments, therefore he did not owe federal income taxes in those years. Mr. Soros has long supported higher taxes for wealthy Americans.'" But as The Dan Bongino Show's Matt Palumbo noted, "the performance of Soros Fund Management, the fund responsible for Soros' massive wealth, gained 5% in 2016, 8.9% in 2017, and 0.9% in 2018. Where exactly is the loss that they're speaking of?" [Emphasis added.]

Soros signed an open letter in 2019 calling on presidential candidates to adopt a wealth tax on the top one-tenth of one percent. The letter reeked of left-wing propaganda: "Those of us in the richest 1/10 of the richest 1% should be proud to pay a bit more of our fortune forward to America's future. We'll be fine — taking on this tax is the least we can do to strengthen the country we love." In essence, it appeared Soros was being hypocritical.
Vazquez and Palumbo, however, offer no evidence that Soros Fund Management is the same thing as Soros' personal wealth -- indeed, Soros Fund Management is in the business of managing other people's money, not Soros' money aloone -- and Soros advocating for higher taxes while taking advantage of current tax laws to shield his money from taxes is not hypocritical, just good business sense. If Donald Trump is allowed to take tax deductions for financial losses on investments -- which the MRC had no problem with -- why not Soros?
Vazquez also falsely suggested that the story was only about Soros -- it actually looked at the tax returns of several other prominent billionaires as well, such as Jeff Bezos and Warren Buffett. (He also glossed over the fact that it says a lot about ProPublica's editorial integrity that the "Soros-funded outlet" was willing to take on Soros.)
So it was strange to see that a mere nine days later, Vazquez was trashing this very ProPublica study because it, um, exposed how billionaires not named George Soros weren't paying taxes, pulling his usual trick of invoking biased right-wing economists to back him up:
CATO Director of Tax Policy Studies Chris Edwards joined Fox Business to dismantle a leftist argument from the Soros-funded ProPublica that the rich don't pay their fair share in taxes.

Edwards ripped ProPublica's recent report that used selective data to claim that "[e]xperts have long understood the broad outlines of how little the wealthy are taxed in the United States." He retorted on the June 17 edition of Kudlow: "ProPublica summarized data on just 25 tax returns of selected wealthy people, but they were unrepresentative of the broader group of wealthy people in America." Edwards lambasted the outlet for being "very selective in what they're releasing here."

[...]

Edwards also tore apart other misleading claims from ProPublica. "ProPublica's claim that if you add in payroll taxes, people in the middle pay higher tax rates than the 25 taxpayers at the top is totally wrong," Edwards rebuked. "There's Congressional Budget Office data [that] shows that people at the top pay more than twice as much in income and payroll taxes than people in the middle."

Fox Business host Larry Kudlow chimed in that ProPublica was blurring the line between income and wealth in its analysis and accused ProPublica of "chicanery." Edwards agreed: "Capital gains is not income. It's a separate thing. So, for example, in the national income or GDP accounts, capital gain is not included in income." He continued: "No country in the [Organisation for Economic Co-operation and Development] — all 35 or so countries — no country taxes capital gains on a so-called accrual or mark-to-market basis like ProPublica is sort of claiming that we should."

Edwards argued that ProPublica's policy prescription, based on its confusion between income and wealth, was nonsensical. "Taxing people on fluctuating asset values, like ProPublica is implying, makes absolutely no sense for many reasons," Edwards said. Kudlow then accused ProPublica of having "jimmied" the numbers.
Vazquez didn't mention he had praised this very same report nine days earlier for exposing Soros. Does he think that only Soros should have to pay his fair share in taxes while other non-liberal billionaires get away with it?
That wasn't the only flip-flop at the MRC. The same day Vazquez praised the report for attacking Soros, Scott Whitlock ranted that "Super wealthy CBS This Morning co-host Tony Dokoupil channeled his inner socialist on Wednesday as he hyped a likely illegally-obtained ProPublica report that exposed the IRS documents of the 25 wealthiest Americans. At no time did the mega-rich Dokoupil worry about the ethics of how this were done or mention if he'd like his tax filings revealed." He then cited the right-wing Heritage Foundation to hiss that "The foundation of the ProPublica report is false."

Posted by Terry K. at 2:38 PM EDT