Flip-Flop: MRC Suddenly Trusts Polls Again (Now That They Show Biden Down)
Topic: Media Research Center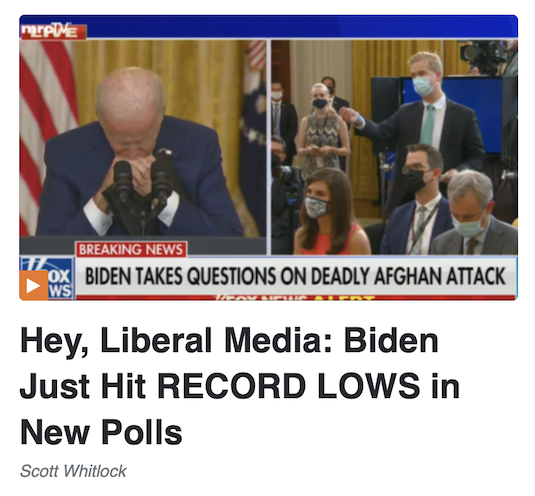 Last year, the Media Research Center proclaimed its distrust of media polls, declaring that polls showing Donald Trump badly losing the election were "intentionally" wrong -- a serious claim for which it has never presented any evidence to support. (This seems like an opening for a pollster to sue the MRC for libel and defamation.) But with polls showing President Biden down from his initial high favorability rates, the MRC is suddently trusting polls again -- despite them coming from many of the "liberal media" sources it was trashing last year.
The flip-flop started last spring, when Nicholas Fondacaro hyped a poll showing "President Biden's approval rating was supposedly sitting at an anemic 52 percent. And according to their methodology, the margin of error for the poll was 3.5 percent. Now given how that meant Biden could be below 50 percent, it was understandable that the cast of characters on ABC's Good Morning America were floored by the results." The next day, Kyle Drennen kept up the hype job under the headline "Here's the Bad Biden Polling News Networks Are Hiding."
Neither Fondacaro nor Drennen mentioned that most mainstream polls didn't show Trump above 50 percent at any point during his presidency, nor did they mention their employer's insistence that polls are rigged.
In July, Drennen had another poll to hype: "With COVID cases, violent crime, inflation, and illegal immigration all on the rise after the first six months of Joe Biden's presidency, it's no surprise that pessimism about the country's future has surged in a new ABC News/Ipsos poll released Sunday morning. However, rather than provide full coverage of this bad news for the Democrat in the White House, the liberal network only managed a paltry 91 seconds of air time divided among three broadcasts on Sunday and Monday." Again, it was not discussed why the MRC suddenly finds media polls credible again.
When the Afghanistan withdrawal in August didn't go well, the MRC pounced on polls expressing disapproval -- and said nothing about why those polls are suddenly trustworthy. Fondacaro was happy with a poll gotcha from a despised "liberal media" reporter in an Aug. 22 post:
During another White House press conference where he tried to gaslight Americans about his poor decision-making and planning in Afghanistan, President Biden was confronted by CBS senior White House correspondent Ed O'Keefe with a network poll that shows the public was questioning his competence and ability to be president.

After asking a question about whether or not he trusted the Taliban, O'Keefe prefaced "a new poll out today shows Americans wanted to withdraw from Afghanistan, but they disapprove of the way you've handled it."

And given how harsh the poll was for the President, O'Keefe actually begged for Biden's forgiveness: "The poll also found that based in part on what's transpired in the past week, a majority of Americans – forgive me, I'm just the messenger – no longer consider you to be competent, focused, or effective at the job."

[...]

The poll definitely struck a nerve with Biden. When he got around to answering O'Keefe's first question, he snapped at the journalist. "I don't trust anybody, including you. I love ya, but, you know, there's not a lot of people I trust," he said.
Drennen whined the next day:
Despite Chuck Todd warning on Sunday's Meet the Press that President Biden's falling poll numbers amid the disaster in Afghanistan could signal a "forever stain" on his presidency, that evening's Nightly News and Monday's Today show completely ignored the negative findings in the network's latest survey. While both broadcasts continued covering the Afghanistan debacle, reporters weren't interested in talking about the American people giving Biden failing marks on his woeful mishandling of the crisis.

[...]

Despite having a full two hours, Monday's Today show also lacked a single second on the poll – though it did manage to offer nearly three minutes on the ongoing search for a new Jeopardy host.
Tim Graham's Aug. 25 podcast similarly hyped bad polls: "On the latest NewsBusters Podcast, we discuss the media's temperamental use of polling results. They have a tendency to highlight polls that underline the narratives and candidates they like, but tend to bury poll results they don't like and don't match their talking points." We didn't listen to the podcast, but we're guessing that Graham didn't discuss his employer's flip-flop from denouncing polls last fall to demanding they be covered now.
Scott Whitlock picked up the hype baton in a Sept. 2 post:
Joe Biden hit record lows in two new polls on Thursday. Will the journalists at ABC, CBS and NBC bother to cover, or even notice, the cratering polling for the Democrat? They certainly enjoyed covering bad news for Donald Trump. In the new NPR/PBS survey, Biden's approval has slipped to just 43 percent, a new low. In the new Rasmussen poll, the President has fallen to 42 percent, a tie for his record low.

[...]

The Biden White House is cratering in the polls. The Real Clear Politics average showed the approve/disapprove numbers intersect in late August as the Afghanistan disaster worsened.
Whitlock went on to complain about "the 'Republicans pounce'-esque tone" of an article that pointed out how Republicans are trying to exploit Biden's low poll numbers for political gain ... in an article in whcih the Republican Whitlock is pouncing on Biden's low poll numbers in order to exploit them for political gain.
What Whitlock didn't mention: Biden's numbers were still higher than Trump's at the same point in his presidency.
Whitlock pounced again the next day:
Another day, another record low poll for Joe Biden. But the media are still doing their best to hide the implosion of the Democrat's presidency. ABC's Good Morning America on Friday buried a survey the network did with The Washington Post finding Biden cratering to 44 percent. On Thursday, new polls showed Biden at 43 and 42 percent, also record lows.

[...]

There's no indication that Biden's numbers show any hint of improving. But journalists will do their best to hide the bad news for Democrats.
Just like Whitlock is doing his best to hide the fact that his employer vehemently distrusted media polls just a few short months ago.
Fondacaro came back on Sept 5 in full pounce mode:
The deadly incompetence in Afghanistan, the summer of skyrocketing prices, and sluggish job growth all stemming from massive spending that's driven up inflation had woke up Americans to the liberal media's lies about President Biden being a world-class leader. With pollsters now showing Biden as a largely unpopular president, ABC was suddenly shocked during Sunday's Good Morning America as they finally gave their polling some daylight and analysis.

ABC couldn't even be honest about when the poll came out. According to co-anchor Dan Harris, the ABC News/Washington Post poll was "released overnight." But in reality, the poll was released on September 3, Friday.

But, of course, ABC would lie about when their poll of released because this may have been the first time their viewers had really heard about it. As NewsBusters' Scott Whitlock reported on Friday, that morning's GMA only gave the findings 30 seconds=. The Sunday segment was just over two minutes (2:05).
Meanwhile, Fondacaro and the rest of the MRC have given zero seconds to explaining the MRC's polling flip-flop.
Posted by Terry K. at 10:43 PM EDT
Updated: Thursday, October 7, 2021 11:25 PM EDT