MRC Psaki-Bashing, Doocy-Fluffing Watch, Multiple Doocy-Gasm Edition
Topic: Media Research Center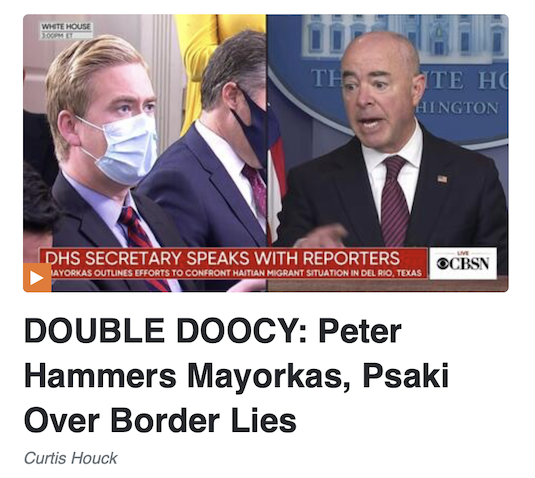 Media Research Center writer Curtis Houck's multiple Doocy-gasms continued in his write-up on the Sept. 22 White House press briefing:
On Wednesday's episode of The Psaki Show, Fox's Peter Doocy continued to demand answers on the border crisis by stumping Press Secretary Jen Psaki with questions about how many Haitians have been apprehended at the southern border, why hasn't the Biden administration addressed the months-long crisis, and whether Biden has ever been to the border in his life.

[...]

Doocy started by following up on a "very basic, but very important question" from ABC's Cecilia Vega about whether anyone in the federal government can say how many Haitians "have been sent back and how many have been released."

Psaki demurred, so Doocy had this hardball: "Is this an issue of not knowing or is this an issue of a lot more people are being released into the U.S. than are being sent out? That is certainly not the issue."

A perturbed Psaki swatted these away, saying she's "confident" that the Department of Homeland Security will come through with numbers and that many Haitians weren't actually being released into the U.S. because of Title 42. After the briefing, Fox's Bill Melugin reported from the migrant camp and eviscerated that claim in a brutal fact-check.

[...]

But Doocy's best moment came at the end of his turn when he simply wanted to know whether Biden has ever been to the border. Needless to say, Psaki didn't know[.]
Needless to say, Houck didn't explain why it was necessary for Biden to visit the border to make policy regarding it. And, of course, Houck failed to report that Psaki busted Doocy on his lie about immigration policies.
Also note that Houck suddenly loves fact-checks when biased right-wing outlets llike Fox News conduct them despite the MRC's war on fact-checkers -- so much so that Houck devoted a separate post to the "indefatiguable" Megulin's fact-check, oozing: "If the liberal media wanted genuine pointers on how to fact-check this administration, Melugin and Fox White House correspondent Peter Doocy would be the perfect people to start with."
Houck served up more Doocy-gasming for the Sept. 23 briefing:
Thursday's White House press briefing was a barnburner about the border crisis as, at one end, Fox News's Peter Doocy pushed a perturbed Press Secretary Jen Psaki for answers on Team Biden's erroneous math about Haitian illegal immigrants, their lax COVID policies, and how women are being allowed to stay as long as they claim they're pregnant (which led Psaki to imply Doocy was a sexist).

[...]

Doocy began by going back to some statistical inconsistencies Psaki had offered minutes earlier: "So, there are 15,000 migrants under the Del Rio bridge Saturday. If you add up the ones that you say were expelled or released it's less than 5,000. Say there's 5,000 that are still left. Where's everybody else?"

After Psaki dismissed Doocy's fact-check by saying she'd be "happy to get you a more fruitful rundown," he pointed out the fact that "when you talk about how some of these people are being placed in removal proceedings, that does not mean removed."

Psaki's response all but conceded Doocy's point as she said it "means they're in the process of going through removal proceedings," which, for those playing along, means absolutely nothing.
We don't recall Houck ever calling out his beloved Kayleigh McEnany's anti-media rantings from the White House press room podium as meaning "absolutely nothing" or described those rantings as meaning she was "perturbed." It's as if Houck is utterly biased against Psaki and refuses to see her as a human being because she's working for a Democratic administration.
Like a fangirl, Houck squealed "DOUBLE DOOCY" in the headline for his writeup of the Sept. 24 briefing. First up was laughably portraying Doocy as a victim:
The Psaki Show went into the weekend on Friday with a bang thanks to an appearance from Homeland Security Secretary Alejandro Mayorkas amidst the latest Biden border crisis and the administration peddling false claims that Border Patrol agents treated Haitian illegal immigrants like cattle and used whips against them. Of course, Fox's Peter Doocy was there and fought with both Mayorkas and Press Secretary Jen Psaki over their lies.

[...]

Though Doocy wasn't saying a thing, Mayorkas repeatedly snapped at him, demanding, "let me finish" as he said, upon further examination, what took place "horrified the nation" and "raised serious questions...about what occurred and, as I stated clearly, it conjured up images of what happened in the past."

Incredibly, Mayorkas added that he'll "let the investigation run its course" and he won't "interfere with" it.

Doocy wasn't having it: "And just, to follow-up, please. Before the facts are in, is it helpful to your investigation for the President of the United States to use inflammatory language like people being strapped?"

An annoyed Mayorkas seemed incensed that Doocy would challenge him, arguing he's "not concerned with the respect of the integrity of the investigation"< and his own conduct has been pitch perfect because he "served as 12 years as a federal prosecutor."
Then it was time to hype Doocy's act against Psaki:
Shifting to Psaki, Doocy also came out swinging. Before talking about the border, however, he had a Hunter Biden question (and one that Psaki had ignored from Newsmax's Emerald Robinson):

[T]he President has said, and you have tweeted, that allegations of wrongdoing based on files pulled from Hunter Biden's laptop are Russian disinformation. There is a new book by a Politico reporter that finds some of the files on there are genuine. Is the White House still going with Russian disinformation?

Psaki's response? A pants-on-fire lie: "I think it's broadly known and widely known, Peter, that there was a broad range of Russian disinformation back in 2020."
Actually, there's plenty of evidence that Russia tried to interfere in the 2020 election to help Trump, but you do you, Curt.
Houck focused on bashing Psaki for his writeup of the Doocy-free Sept. 28 briefing:
On Tuesday, White House Press Secretary Jen Psaki found herself as a modern reincarnation of the boy Alexander from the famous children's book as she faced a torrent of tough questions from reporter after reporter on Afghanistan, the border, and spending. And with little in the way of answers to defend President Biden and his administration's failures, shortcomings, and spin, the questions kept coming.

[...]

Speaking of being in trouble, Fox's Jacqui Heinrich wondered what Psaki made of former President Obama's claim hours earlier to ABC that open borders were "unsustainable." In response, Psaki laughably claimed that "[w]e don't have open borders." Oops.
Are people still being apprehended on the border? Yes, they are. That means it's not an "open border," and Psaki is correct. But Houck has decided that words don't mean things, and that pushing right-wing narratives is more important than providing an objective review of the briefings.
Posted by Terry K. at 10:37 AM EDT