It Wasn't True, And It Didn't Happen In August
Topic: WorldNetDaily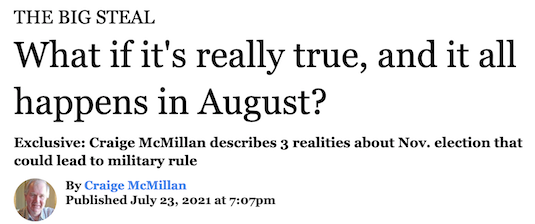 On July 23, WorldNetDaily columnist Craige McMillan -- who has spread conspiracy theories about the election -- wrote a column headlined, "What if it's really true, and it all happens in August?" In it, he pushed a mishmash of QAnon and other right-wing conspiracy theories about Donald Trump returning to power in August:
The question I'm asking is, what if there has always been fire in the midst of all the smoke being blown about by big media huffing and puffing, Big Tech censorship and big government "we're gonna do it anyway" career civil servants?

Early in President Trump's term of office, amidst a room full of military brass and their wives, Trump referred to that particular moment in time as, "The calm before the storm." A reporter immediately followed up: "What storm, Mr. President?" The only response was, "You'll find out."

I'm ambivalent about Taylor Swift, but her song "August" was released on July 24, 2020. Her lyrics came up during a search for "August folklore." The month itself is named after the Roman Emperor Augustus.

Since the 2020 election there have been persistent rumors (smoke) that the election was stolen through absentee ballots (expanded for use during COVID-19) and electronic voting machines. This evidence is said to consist of packet captures from voting machines (that were not supposed to be connected to the internet).

There is no question that packet capture is a real thing. The amount of data for an entire election would have been enormous, and would have required access points (to connect the equipment) and a way to sort through the packets coming and going throughout the election. My thought is that only the military or an intelligence agency could execute such an operation. Big Tech, possibly. Hackers? I'm dubious.

Having set the stage, let's finally get to the real question. What happens if:

The U.S. election was stolen;
conclusive evidence to prove that it was stolen exists; and
our military or an intel agency gathered evidence of the real vote counts?

At that point, the calm before the storm will be over. The storm will be upon us.
McMillan went to argue this could result in military rule: "If the evidence shows a foreign actor conspired to aid the Democrats in the presidential election, we're looking at a period of military rule, not only nationally (D.C.) but in most large cities as well. This will have to happen while the bad actors are removed from their positions and punished for their crimes."
Of course, none of this happened. Mike Lindell's "cyber symposium" ended up demonstrating that "packet captures" were a bust, proving absolutely nothing about the election, let alone that it was stolen.
Needless to say, McMillan felt no need to apologize for being so wrong. His Sept. 3 column is a weird fantasy on the theme, "If you were God, would you save America today?" One gets the feeling he's rooting for that answer to be no ... simply because his beloved Trump lost.
Like many other WND employees and writers, McMillan is living in a fantasy world, unable to accept the reality that Biden legitimately won the election. He will continue to embarass himself by writing about his delusions (provided WND survives long enough to continue publishing them).
UPDATE: By contrast, an Aug. 9 WND column by Michael Brown admitted that no matter what proof Mike Lindell might offer in his then-upcoming cyber symposium (and he didn't offer any), "Trump will not be reinstated to the presidency this month":
That should be self-evident, since President Biden is not about to be arrested and imprisoned, and the military (or any other power) is not about to restore Trump to the White House. All the dates predicted thus far for the big shift, be it by pro-Trump prophets or QAnon conspirators, have come and gone, and none of the predictions have come to pass.

On that score, the ship has sailed, and it is high time to move on (really, well past high time).
He did go on to praise Trump, however, as he has done before.
Posted by Terry K. at 1:13 PM EDT
Updated: Saturday, September 11, 2021 1:12 AM EDT