CNS Deflects Trump From Blame Over His Deal With The Taliban
Topic: CNSNews.com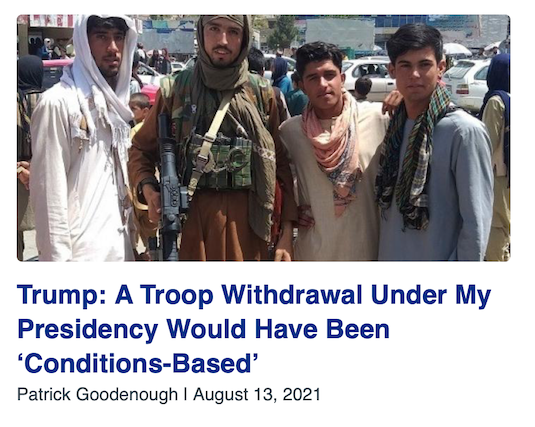 As the U.S. pullout from Afghanistan led to the unexpectedly quick takeover of the country, CNSNews.com knew what it had to do, besides blaming President Biden: absolve and deflect President Trump from blame for his role, given that he negotiated the peace and withdrawal deal with the Taliban that Biden was carrying out.
In an Aug. 13 article, Patrick Goodeneough -- who has been CNS' leader in defending Trump after his departure from office -- touted a Trump statement in which heclaimed that "I personally had discussions with top Taliban leaders whereby they understood what they are doing now would not have been acceptable," then tried to defend Trump's Taliban deal:
In fact, the U.S.-Taliban agreement did make the withdrawal of U.S. forces by May 1 contingent on the Taliban meeting certain obligations: It declared as "interconnected" and "interrelated" the timeline for the troop withdrawal on one hand, and on the other a Taliban commitment to "prevent the use of the soil of Afghanistan by any group or individual against the security of the United States and its allies."

The agreement did also call for a "permanent and comprehensive ceasefire," but to be negotiated and agreed upon in "intra-Afghan" talks. Those talks have yet to produce an agreement.
On Aug. 15, Goodenough highlighted how "Chuck Todd pointed out that Biden has walked away from other decisions he inherited from the Trump administration that he considered 'bad,'" then hyped a right-wing activist dragging Barack Obama and Benghazi into the argument:
Pushing back at the blame-Trump talking points, Heritage Foundation vice president for foreign and defense policy studies James Jay Carafano said Biden "can make all the excuses and spin all the narratives he wants, but a narrative can't stop a bullet."

"The situation did not collapse until he withdrew troops – and it is impossible not to conclude this happened because of what he decided."

Carafano placed the decision in the broader context of the "Obama-Biden foreign policy," recalling the withdrawal of U.S. troops from Iraq at the end of 2011 – and resulting rise of ISIS – and a response to the Libya crisis which, he said, included "the spiraling decline in the security situation until our diplomatic facilities in Benghazi were smoking ruins."
Susan Jones did more of her usual editorializing in an Aug. 16 "news" article:
From the moment he took office on January 20, President Joe Biden began signing a flurry of executive orders to undo or reverse many of the policies instituted by President Trump.

But Biden did not scrap Trump's plan to withdraw all remaining troops from Afghanistan. And in a statement on Saturday, Biden -- who has not been seen since his departure for Camp David on Friday -- blamed Trump for the mess he "inherited."
Jones then uncritically repeated Trump and then-Secretary of State Mike Pompeo defending the peace deal with the Taliban and excluding the Afghan government from taking part.
Later that day, Jones complained that Republicans Ben Sasse and Liz Cheney criticized Trump's role in setting up the situation in Afghanistan, and that Cheney reminded people that Trump had at one time invited the Taliban to meet with him at Camp David.
Craig Bannister complained on Aug. 17:
In a speech on Monday, President Joe Biden blamed his predecessor, Donald Trump, and the Afghan people, for his administration's botched withdrawal of U.S. troops from Afghanistan and the rapid takeover of the country's capital by Taliban forces.

As a candidate, however, Biden repeatedly promised that, if elected, he would "take responsibility" and not blame others.
In fact, Biden said in the speech that "I stand squarely behind my decision," adding that "Nor will I shrink from my share of responsibility for where we are today and how we must move forward from here. I am President of the United States of America, and the buck stops with me." Meaning that he did, in fact, take responsibility for how the withdrawal played out, which does not preclude him for pointing out that Trump felt the need to negotiate with the Taliban.
Two days later, Bannister was back defending Trump's Taliban deal:
The Taliban committed to honor five conditions stipulated in the agreement it signed with the United States on February 29, 2020 regarding the planned U.S. withdrawal of troops from Afghanistan.

As the Associated Press reported at the time, in the deal struck by President Donald Trump's State Department, the Taliban promised to oppose terrorist threats to the U.S. and thwart efforts by terrorist groups seeking to establish a safe have in Afghanistan, while the U.S. agreed to withdraw its troops by May of 2021:
Bannister later touted how "On Tuesday, Trump said that President Joe Biden's withdrawal from Afghanistan will go down as one of the most disastrous evacuations in world history." His article was weirdly illustrated with a file photo of Trump awkwardly hugging a flag.
On Aug. 23, Melanie Arter served up more uncritical defense of Trump's Taliban deal from a former Trump official:
Former UN Ambassador Nikki Haley equated negotiating with the Taliban to negotiating with the devil, but "you have to negotiate with the devil from a point of strength," and the United States has no leverage with the Taliban right now, she told CBS's "Face the Nation" on Sunday.

[...]

"Well, I think let's be clear, President Trump very much wanted to see soldiers come out of Afghanistan, so it's not about soldiers coming out. It's not what you do. It's how you do it. He would never have pulled our soldiers out without making sure Americans and all of our equipment and our weaponry was out beforehand," Haley said.

"He would never have allowed the Taliban to take over Afghanistan without conditions. So anyone that wants to say this was already set in motion, it's not what was going to happen. It was how it happened, and this happened in the most embarrassing, humiliating way that has-- really angers soldiers like my husband and all those that-- that sacrificed," she said.
Arter followed up on Aug. 26 with an article claiming that Biden "said Thursday that he bears responsibility for what "happened of late" in the Afghanistan withdrawal, but he blamed former President Donald Trump for making a deal with the Taliban in the first place to withdraw U.S. forces from the region by May 1," repeating an exchange Biden had with biased Fox News reporter Peter Doocy.
In a Sept. 1 article, Bannister uncritically repeated claims by retired general and Fox News talking head Jack Keane that "Biden not only misrepresented former Pres. Trump's conditions-based deal with the Taliban, but also 'blew off those conditions, just like he blew off the military advice and intelligence advice,' in order to set an arbitrary withdrawal deadline of August 31."
Posted by Terry K. at 3:48 PM EDT
Updated: Thursday, October 21, 2021 6:23 PM EDT