CNS' Jeffrey Defends The Right To Misinform People
Topic: CNSNews.com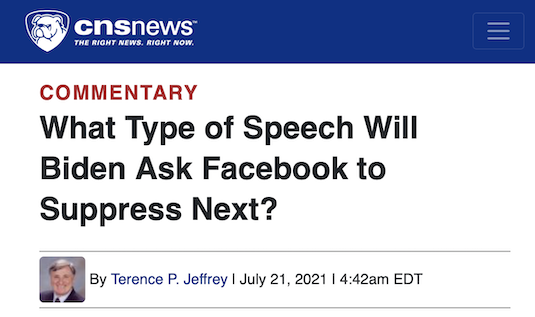 Unsurprisingly, CNSNews.com editor in chief Terry Jeffrey has embraced the mantra of his Media Research Center parent that misinformation is a squishy term that means nothing and is entirely subjective. Then again, he is the head of what purports to be a "news" organization, so deffending the right to misinform people is not a good look.
In his July 21 column, Jeffrey did some hand-wringing over the Biden administration apparently working with Facebook to address misinformation and false claims on the platform regarding coronavirus and vaccines. He tried to portray White House press secretary Jen Psaki as making dark accusastions about who is spreading that misinformation:
"There's about 12 people who are producing 65% of anti-vaccine misinformation on social media platforms," Psaki said. "All of them remain active on Facebook, despite some even being banned on other platforms, including ones that Facebook owns."

Psaki did not name these 12 people.
Actually, that list of 12 people is not a secret -- it was released in May by the Center for Countering Digital Hate.
Jeffrey then defended misinformation as speech, as if all speech has merit and should be treated the same:
Obviously, a person can make a true statement about a particular subject or a false one. They can also make a statement that presents a reasonable hypothesis based on facts, or that presents an unreasonable hypothesis based on the same facts.

Or they can make an unreasonable hypothesis based on no facts or on blatant falsehoods.

But whatever the merits or demerits of a person's thoughts and conclusions, when they express those thoughts and conclusions, they are invariably engaging in speech.
But the headline of Jeffrey's column is "What Type of Speech Will Biden Ask Facebook to Suppress Next?" so his point is that nothing should be suppressed. He's lying, because that's what he does for a living.As the head of "news" organization, he picks and chooses what gets covered and what doesn't -- and, thus, has the power to suppress speech he doesn't agree with or doesn't advance his and his employer's partisan political narratives. And Jeffrey is suppressing facts, not misinformation.
Jeffrey concluded by taking his argument to the absurd by shoehorning abortion into it:
Now, put this in the context of a subject other than COVID-19 where human lives are also at risk.

In its latest annual report, Planned Parenthood said that in fiscal year 2019, its affiliates did 354,871 "abortion procedures."

In a 2012 vice presidential debate with former Rep. Paul Ryan, as this column has noted before, Biden presented a scientific fact as if it were a religious position.

"Life begins at conception," Biden said. "That's the church's judgment. I accept it in my personal life."

On its Facebook page, by contrast, Planned Parenthood presents abortion as a form of "health care" provided by "heroes."

"Abortion is an essential part of health care," Planned Parenthood said on Facebook on July 17.

"Abortion providers are heroes," it said in a March 11 posting.

Does Biden — who said life begins at conception — believe it is misinformation to call the deliberate taking of a human life "health care" and those who do that taking "heroes"?

Does he believe Facebook needs to take action "against harmful posts" that promote the taking of unborn lives?
Does Jeffrey really think that trying to fight misinformation about COVID vaccines is the same thing as political arguments about abortion? Of couise, we know what information Jeffrey would suppress: anything that makes the argument that abortion is a human right or that shows the extremism of some anti-abortion activists. And because you will never find a balanced discussion of abortion at CNS, he has clearly already done that.
Posted by Terry K. at 1:11 AM EDT
Updated: Friday, September 3, 2021 1:12 AM EDT