At CNS, The Trump-Fluffing Never Stops
Months after Donald Trump left the presidency, CNSNews.com reporter Patrick Goodenough was still touting his alleged achievements in office.
By Terry Krepel
Posted 7/26/2021
---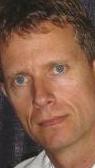 Patrick Goodenough
CNSNews.com reporter Patrick Goodenough is very much a pro-Trump and pro-Israel reporter, as evidence by his gushing over minor Arab countries making normalization deals with Israel before the election. Goodenough kept that up after the election as well.

Goodenough grumbled in a Nov. 13 article: "The world may be grappling with a once-in-a-century pandemic, but World Health Organization member-states dedicated four hours of its annual gathering in Geneva on Thursday to discuss and condemn Israel, accusing it of violating the health rights of Palestinians in the disputed territories and Syrians in the Golan Heights." By contrast, you'll never hear Goodenough say, "The world may be grappling with a once-in-a-century pandemic, but a 'news' operation sent its interns to pester members of Congress about transgender students in locker rooms."

On Nov. 18, Goodenough declared it a "parting blow" when the Obama administration "chose not to veto a U.N. Security Council resolution" condemning Israeli settlements in Palestinian territory shortly before Obama left office, then touted how "Secretary of State Mike Pompeo was expected on Thursday to became the first top U.S. diplomat to visit Jewish communities on disputed territory." Goodenough went on to frame the issue in right-wing talking points, writing that "Many Israelis view those areas, known for millennia as Judea (more than 800 references in the Bible) and Samaria (more than 110 references), as the Jewish nation's historical and biblical 'heartland.'"

In a Dec. 1 article, Goodenough defended the honor of Jared Kushner for allegedly negotiating all those minor peace deals:
As President Trump's administration winds towards a close, critics took to MSNBC airwaves on Monday to tear into White House senior advisor Jared Kushner for traveling to the Middle East, characterizing the president's 39-year-old son-in-law as an abject failure and a "ridiculous" figure, and expressing relief that "serious, competent, intelligent people" will be returning to the executive branch soon.

In the space of less than three months Kushner, tasked to tackle a problem that has vexed U.S. administrations for more than half a century, helped to deliver three Israeli-Arab normalization agreements, with the UAE, Bahrain, and Sudan.

He attributed the achievements to the administration's rejection of "the failed conventional thinking of the past" – the dogma stating that the resolution of the Palestinian problem is the prerequisite for any progress in Middle East peacemaking.

[...]

Before the UAE, Bahrain, and Sudan agreed to normalize ties with Israel in the summer and fall of 2020, only two other Arab nations had taken similar steps since the establishment of the modern state of Israel in 1948 – Egypt in 1979 and Jordan in 1994.
And when Morocco signed a normalization pact with Israel in early December-- with the deal-sweetener of the U.S. recognizing Morocco's sovereignty over a disputed African territory -- Goodenough was on hand to gush once more:
President Trump on Thursday announced a fourth Arab-Israeli normalization agreement in as many months, as Morocco agreed to recognize the Jewish state. In return he issued a proclamation recognizing Morocco's longstanding claim to sovereignty over a sparsely-populated disputed territory in north-western Africa – an attempt to break a decades-long stalemate.

"Another HISTORIC breakthrough today!" the president tweeted. "Our two GREAT friends Israel and the Kingdom of Morocco have agreed to full diplomatic relations – a massive breakthrough for peace in the Middle East!"

According to the White House, Morocco and Israel will restore diplomatic relations and expand economic and cultural cooperation, launch direct flights and grant overflight rights, and immediately reopen liaison offices in Rabat and Tel Aviv, followed "in the near future" by embassies.

As part of the agreement, the U.S. has agreed for the first time to back Morocco's claims in the Western Sahara.

The dealmaking is characteristic of the Trump administration's norm-breaking approach to the region: Sideline for now the Palestinian issue, and encourage Arab and Muslim states to normalize relations with Israel, offering concessions from the U.S. as an incentive.
It wasn't until the 21st paragraph of his article that Goodenough got around to admitting that "Morocco's human rights record in Western Sahara has been widely condemned. The territory is the seventh lowest-scoring country or territory in Freedom House's annual assessment of civil liberties and political freedoms, just one place above North Korea." He then let Kushner simply handwave the issue by declaring that "Obviously, we don't share the same values with all these countries" and that "we obviously respect the sovereignty of different places."
That enamor, for the deals and Israel itself, hasn't faded. Goodenough gushed in a Jan. 25 article:
Building on the foundation of the normalization agreement brokered by the Trump administration last summer, Israel on Sunday opened an embassy in the United Arab Emirates, and the Gulf state's cabinet approved the establishment of an embassy in Tel Aviv.

The progress came despite the coronavirus pandemic. Israel is currently in its third national lockdown, and an uptick in deaths attributed to COVID-19 prompted Prime Minister Binyamin Netanyahu on Sunday to announce a week-long shutdown of almost all flights in and out of the country.
Goodenough went on to complain that "some critics of President Trump played down their significance, arguing for instance that they were not peace agreements per se, since the Arab countries had not been at war with Israel."

Quinn Weimer supported the narrative in a Feb. 1 article touting how "President Trump's son-in-law Jared Kushner and his business partner Avi Berkowitz were nominated by Harvard Law Emeritus Professor Alan Dershowitz for the Nobel Peace Prize, to be awarded in October 2021," for their work on the normalization deals.

Meanwhile, Goodenough used a Feb. 17 article to complain that President Biden hadn't called Netanyahu already, pointing out that "Netanyahu, whose relationship with President Trump was a warm one, is known to be wary of Biden's plans to re-engage Iran, and his offer to re-enter the Obama-era nuclear deal if Tehran returns to compliance" and adding that "the length of time taken does appear to be a departure from the norm." But Goodenough had to revise his article later in the day after it was revealed that Biden did call Netanyahu.

Strangely, even though Goodenough and CNS care so much about Israel, it has completely censored an mention of the corruption trial Netanyahu was undergoing at the time (even though he petulantly walked out of the trial). Even though the trial has been going on since last May, CNS has devoted no article to it. Goodenough arguably has the time to do one, considering 1) he's the international editor and it's his beat, and 2) there was purportedly so little to do on that beat that he devoted a story to the "sexually explicit" lyrics of rappers campaigning for Democratic Senate candidates in Georgia (the state, not the country).
Still burnishing Trump
Months after Trump left office, Goodenough was still laboring to burnish trump's presidency. When Biden White House press secretary Jen Psaki failed to give Trump sufficient credit for his administration's Middle East initiatives, Goodenough took offense in a May 19 article, laboriously citing chapter and verse:
The Trump administration did little to advance peace in the Middle East, White House Press Secretary Jen Psaki suggested yesterday.

She dismissed initiatives whose crowning achievement was the securing of four normalization agreements between Israel and Arab nations in less than four months.

"Aside from putting forward a peace proposal that was dead on arrival, we don't think they did anything constructive, really, to bring an end to the longstanding conflict in the Middle East," Psaki told reporters on Air Force One accompanying President Biden to Michigan.

[...]

Psaki's dismissive comments about the Trump administration's efforts in the region stand in contrast to generally positive reactions by the Biden team to those initiatives, which produced a historic series of recognition agreements between Israel and Arab states.

[...]

Psaki was responding to a question by a reporter who suggested that "the thinking behind" the normalization agreements was, "forget the Palestinians, they're not a problem. We're just going to move on."

In fact, the thinking behind the agreements, according to those who brokered them, was that the U.S. should not allow the recurring deadlocks in Israeli-Palestinian negotiations to prevent progress in the broader region.

Then-White House senior advisor Jared Kushner described it as breaking with "the failed conventional thinking of the past."

[...]

The visible improvement of relations between Israel and the Arab world was welcomed at the time by then-Democratic presidential nominee Biden, even as he sought to give the Obama-Biden administration credit for the achievement.

Senior officials in the Biden administration have also referred to the agreements in positive terms, with both Secretary of State Antony Blinken and National Security Advisor Jake Sullivan expressing hope in January that the incoming administration could build on them.
Goodenough also demanded credit for Trump in a June 15 article:
As President Biden was attending the first NATO summit of his presidency, the lingering effects of his predecessor could be seen in the alliance's most recent defense spending data.

Ten of NATO's 30 allies have now reached the target of devoting two percent of their national gross domestic product to military spending. That is twice as many as hit the benchmark in 2016.

Neither Biden nor NATO Secretary-General Jens Stoltenberg in their public comments Monday gave President Trump credit for that, although the former president made the issue a top priority in his often fractious interactions with some NATO allies, notably Germany.
Goodenough even worked Trump into something he had nothing to do with -- the 2002 authorization of force that led to the Iraq War -- in a June 18 article:
The U.S. House on Thursday voted to repeal the 2002 authorization for the Iraq War, with almost one-quarter of Republicans voting in favor.

Others argued that it should have been replaced by an updated one, dealing with today's threats emanating from Iraq – primarily Iranian-sponsored proxies.

"This feels like yet another political effort to undo one of President Trump's boldest counterterrorism successes," House Foreign Affairs Committee ranking member Rep. Michael McCaul (R-Texas) said on the House floor before the vote.

After Trump ordered the drone strike that killed Qods Force commander Qassem Soleimani in Baghdad in January 2020, the White House cited the 2002 authorization for the use of military force (AUMF) as legal justification.
By contrast, Goodenough has been much less kind to President Biden, subjecting him to nitpicky fact-checks he avoided doing when Trump was president.
The latest from