MRC Embraces Highly Dubious Story About Kerry And Iran
Topic: Media Research Center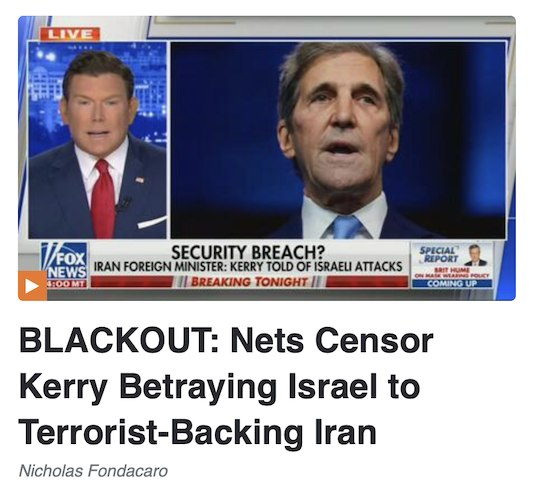 The Media Research Center's Nicholas Fondacaro screeched in an April 26 post:
It was a heck of a way to start a week as the evening newscasts of ABC, CBS, NBC, and Spanish-language networks CNN en Español, Telemundo, and Univision completely blacked out the bombshell leaked audio that suggested former Secretary of State John Kerry backstabbed Israel and shared secrets with Iran's terrorist-backing regime.

The audio of Iranian Foreign Minister Javad Zarif and an Iranian journalist was leaked to The New York Times and an Iranian outlet based in the U.K. And according to Zarif, Kerry had confirmed Israel's involvement in operations against Iranian forces in Syria. If true, it constituted a massive betrayal against the U.S.'s biggest ally in the region. But it didn't garner an iota of airtime on any of those networks.

Instead of covering that major story, all three of the major broadcast networks gushed about the Oscars and how woke they were. Only the CBS Evening News noted how terrible the ratings were, without going into detail. And the Spanish-language networks touted the Latinos that won awards.
Because the MRC is the PR agent for Fox News, Fondacaro added: "Fortunately, Fox News Channel wasn't beholden to the Biden administration and wasn't an ally to the Iranian regime, like those networks were. 'Breaking tonight, what could be a major breach of national security and international relations at the hands of former Secretary of State and current climate adviser John Kerry,' announced Special Report anchor Bret Baier at the top of the newscast."
After a few more paragraphs of gushing over Fox News pushing this story, Fondacaro got around to mentioning -- in the 11th paragraph of his item -- a crucial bit of information that undermines his declaration that Kerry "backstabbed Israel and shared secrets with Iran's terrorist-backing regime": the information was already public.
Indeed, it appears that may have been the case. As an actual news outlet pointed out, we don't know the date of that leaded Zarif conversation, but "in July 2017, Israeli Prime Minister Benjamin Netanyahu told fellow world leaders on a hot mic that Israel had struck Hezbollah dozens of times in Syria. By August, an Israeli general confirmed Israel had struck Syrian and Hezbollah arms convoys nearly 100 times in the previous five years. And by September 2018, a senior Israeli official upped the number to more than 200, specifically citing Iranian targets struck in the previous two years." Kerry has explicitly denied there was any such conversation. Also, it could be argued that Zarif "was effectively venting about his lack of influence in the Iranian government — the idea that he would hear this kind of thing from an American diplomat rather than his own government," adding that "it's worth being skeptical about the private gripes of an Iranian leader."
Buit because he has been so thoroughly indocrtinated in the MRC's system of vicious hatred of anyone who's not a right-winger like himself, Fondacaro has chosen to believe an enemy of the United States over Kerry.
Indeed, the rest of the MRC apparently has too. Curtis Houck ranted in an April 27 post that White House reporters didn't "ask Press Secretary Jen Psaki about former Secretary of State John Kerry reportedly selling out Israel to his friends in the terrorist-loving Iran." The same day, MRC executive Tim Graham appeared on Fox News, where he "railed against the liberal media's purposeful lack of interest in recordings purporting to show Iranian Foreign Minister Javad Zarif bragging about former Secretary of State John Kerry having informed him of Israel intelligence operations against his country."
Graham then devoted part of his April 28 podcast to the story, effectively justifying running with a story it almost certainly knows is dubious at best because the "liberal media" peddled questionable stories about Donald Trump. Which tells us that MRC has chosen to put its right-wing narrative before the facts.
Another reason we can surmise the MRC knows this has been debunked: it hasn't touched the story since -- not even to apologize to Kerry for claming he "backstabbed Israel."
Posted by Terry K. at 9:35 PM EDT
Updated: Thursday, May 20, 2021 9:38 PM EDT